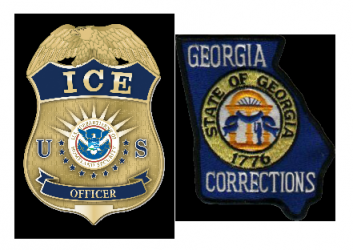 Last week, Governor Brian Kemp announced that the Georgia Department of Corrections recently signed a Memorandum of Agreement (MOA) with U.S. Immigration and Customs Enforcement (ICE) to renew the 287(g) program.
"As organized crime continues to threaten the safety of our citizens, this partnership will allow Georgia Correctional Officers to continue to identify and assist in the deportation of cartel members who are using our state as a distribution hub for drugs and weapons," Governor Kemp said in a news release. "We look forward to continuing to collaborate with the Trump Administration and our law enforcement community to enforce the rule of law and keep families safe."
The 287(g) program enables Georgia Department of Corrections officers to be cross-trained as designated immigration officers in a correctional setting and aid ICE in national security, public safety, and border security efforts, where necessary. The purpose of this collaboration is to "increase safety in neighborhoods throughout Georgia by focusing resources on identifying and processing for removal the illegal aliens who fall under ICE's civil immigration enforcement priorities."
The documents are below.
GA-DHS Signed 287g MOA

GA-DHS 287g EXTENSION FY20