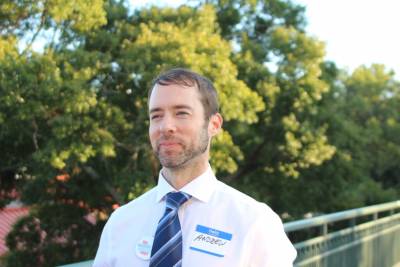 Andrew Ferguson, long-time Athens resident and founder of the Georgia Can't Wait movement, formally announced his candidacy for a seat in the House of Representatives for Georgia's 10th Congressional District after qualifying for the race on Monday.
From a news release:
In announcing his candidacy, Ferguson cited the urgency to build a Georgia that works for everyone. He laid out a vision where Georgia's 10th District has an affordable healthcare system, an education system that supports all children, and an economy that strengthens working families; however, unlike a traditional campaign, Ferguson isn't just sharing his vision with voters, he's asking them to share theirs. Ferguson is going from county to county asking residents what they can't wait for and listening to the needs of the 10th District.
"No one person or politician has all the answers. That's one of the biggest lies in politics. More often than not, the people closest to the problem know how best to solve it. But nobody will listen to them. That's why this is a campaign for the people who are working the hardest and suffering the most — because we know how to solve our problems better than career politicians."
Born and raised in Duluth, Ferguson has deep roots in Georgia. He attended the University of Georgia, graduating from both the Terry College of Business and the School of Public and International Affairs. A child of divorce, his mother was a public school teacher for 30 years, while his late father was a Gwinnett County Commissioner and a small business owner. They ingrained in him not just the value of education and public service, but a love of their home state, as well.
"My grandparents were farmers and railroad workers. My parents were educators and public servants. My brothers and sisters all teach or work at non-profits. They've all been proud to be called 'Georgians,' and it's a badge I'm proud to wear as well. Georgians are kind and welcoming. Generous and hard working. But we are fed up with politics as usual, and the people of this state, and of this district, deserve representation that truly reflects our values."
Since the 2016 election, Ferguson has worked on the campaigns of Chalis Montgomery and Stacey Abrams — strong, courageous women who answered the call of public service. They have both worked to bring jobs, healthcare, and hope to the areas and the people who need it the most, and now Ferguson seeks to do the same.
Because Georgia can't wait.