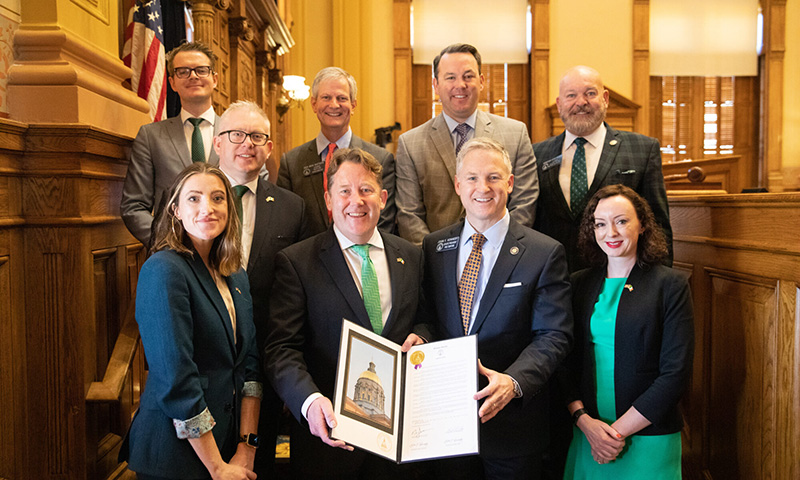 By: Sen. Mike Dugan (R – Carrollton)
The days grow longer and busier as we approach the end of the 2023 Georgia Legislative Session. With only five legislative days left to finish our important work, the tenth week of session was packed with committee meetings to hear House Bills that have been sent to the Senate for consideration. As we enter into another busy week under the Gold Dome, I'd like to reflect on a few bills of note that were passed throughout the week.
There were 18 House Bills passed through the Senate this week, with a few measures pertain to the health of Georgians across the state. House Bill 85, carried by Sen. Kay Kirkpatrick (R – Marietta), would require biomarker testing to be covered under health benefit policies if there is a proven medical and scientific need. A biomarker test can be defined as the analysis of a patient's tissue, blood or other bio specimen. Tests of this nature are used to identify a range of medical diagnoses such as cancer, and ensuring they are covered under a patient's health insurance is imperative. These tests are not uncommon, and I appreciate the Senate for coming together to pass legislation that will provide financial relief for Georgians who must receive these medical tests.
House Bill 440, carried by Sen. Matt Brass, would allow authorized medical professionals to prescribe, and pharmacists to dispense, undesignated ready-to-use glucagon. In addition, House Bill 440 would allow a school nurse or trained diabetes personnel to possess and administer glucagon under appropriate circumstances. The measure also authorizes public and private schools to acquire and stock a supply of glucagon. This drug could be a life-saving measure for students who deal with diabetes, and this legislation will broaden the scope of healthcare for Georgia students. I am happy to report that HB 440 passed unanimously and will now be sent to the Governor for his signature.
The State Senate welcomed many foreign dignitaries to the chamber this week as well. It was a pleasure to host the Consul Generals of Israel and India, in addition to the Minister of Ireland and diplomatic representatives from the country of Taiwan within the halls of the State Capitol. Georgia's strong partnership with these nations is a key factor in our state's economic development, and it is imperative that these ties remain strong for years to come.
As we look to legislative days 36 through 38 of the 2023 Georgia Legislative session, I assure you that we are keeping the interest of Georgia's citizens at the forefront of our minds through each decision. I look forward to working with my colleagues as this session progresses through the coming weeks. If you have any questions, comments or concerns about matters relating to the Georgia Senate, please do not hesitate to reach out to my office.
---
Sen. Mike Dugan serves as Chairman of the Senate Committee on Veterans, Military, and Homeland Security. He represents Senate District 30 which includes Carroll, and Haralson Counties and portions of Paulding and Douglas Counties. He may be reached at 404.656.7872 mike.dugan@senate.ga.gov
---
legis.ga.gov