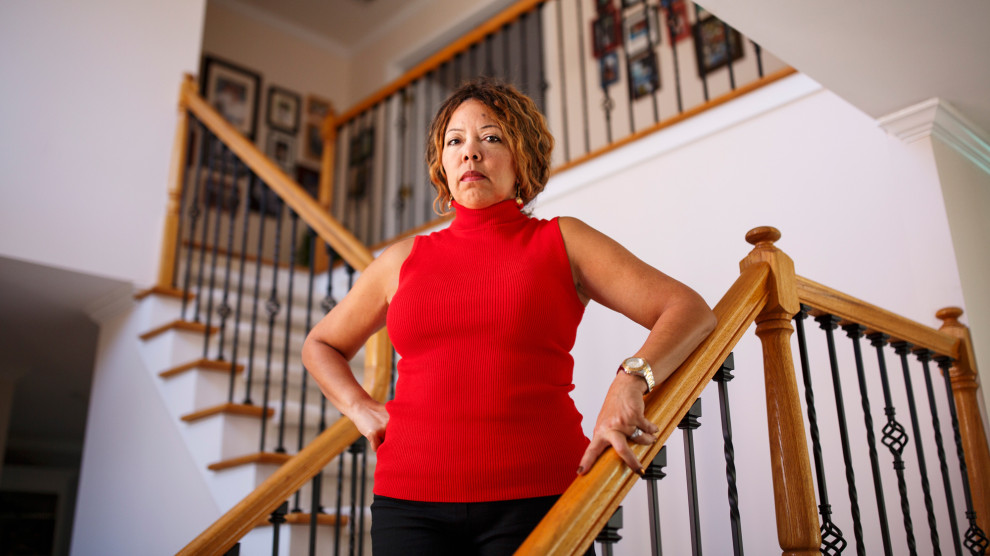 The homestead exemption status of a Democratic candidate for Congress in Georgia is set to be revoked by the county tax commissioner's office, tax documents show.

Democrat Lucy McBath and her husband, Curtis McBath, are facing the revocation of their homestead exemption in Cobb County for the last three tax years and the 2018 tax year because they no longer meet the primary residence requirements.
McBath, who is challenging Republican Karen Handel in Georgia's 6th Congressional
District, has publicly said she 'recently moved back to the district' after living in Tennessee, but her husband Curtis McBath has been claiming a homestead exemption in Cobb County for the last 16 years, even though many documents that would otherwise verify residency in Georgia are legally recorded in Tennessee.
A Georgia homestead exemption primer and a background on McBath's residency
A homestead exemption is, by definition, a protection of the value of a home from property taxes and creditors. One must be a permanent resident of Georgia to claim a homestead exemption in Georgia and, under Georgia law, a married couple is deemed to be a single applicant, meaning jointly, only one property qualifies to receive a homestead exemption. Most homestead exemptions use a monetary value to determine property tax protection, implementing a progressive-style tax to home value in order to assure that homes with lower assessed value benefit the most from the exemption.
McBath has been criticized for her inconsistent comments about her residency in recent years, saying in an Atlanta Press Club debate in May 2018 that she has been a resident of Georgia since 1990, but records indicate she voted in Tennessee in 2016, and then reverted back to Georgia voting in 2017. The Tennessee Secretary of State's office confirmed in July 2018 that McBath registered to vote in Tennessee again on March 23, 2016, but the McBath campaign claims Lucy voted for herself in May and July of this year..
The Blount County Tax Office in Tennessee indicates that Curtis McBath owns three parcels of land in the county and Lucy McBath has said repeatedly that her husband is a 'permanent resident' of Tennessee. The Atlanta Journal Constitution recently reported that Curtis McBath has been registered to vote in Tennessee since 1991. And despite the televised claims of permanent residency, no attempts have been made to update the status of the homestead exemption in Cobb County, which has been claimed since 2002 – a whopping 16 years.
So why the homestead exemption claim in Cobb County?
AllOnGeorgia requested the correspondence between the Cobb County Tax Commissioner's Office and the Lucy and Curtis McBath after allegations that the McBaths were double dipping on homestead exemptions.
A letter dated October 10, 2018 provided to AllOnGeorgia by the Cobb County Tax Commissioner's office, defined as an 'audit letter,' indicates that the Tax Commissioner's office recently determined that the McBath's do not qualify for a homestead exemption in Cobb County anymore.
The audit letter was sent to the McBath's at an address in Rockford, Tennessee (which is among the properties owned by McBath in Tennessee, per the Blount County property tax records) but details the property in question on Brentwood Drive in Marietta. Worth noting, the property tax records from Blount County, TN list the Marietta address as the correspondence address for Curtis McBath. The Marietta address is the same one on which Curtis McBath has claimed a homestead exemption since 2002.
The letter specifically reads that the homestead exemption for the tax years beginning in 2015 and ending in 2018 will be removed from the homestead exemption list and indicates that the burden to update the exemption status is on the property owner and the taxpayer.
The reasons include for disqualification include:
Motor vehicle registration(s) reflect a change of primary residence,

Registered voter information reflects a change of primary residence, and

Driver's license reflects a change of primary residence.
The letter indicates that the McBath's have until November 9 – three days after the General Election – to refute the findings from the tax office. Additionally, Georgia law permits a county to collect up to three years in arrears for taxes not properly collected, so should the findings stand, the McBath's could owe 2015 through 2017 in property taxes without the exemption plus the current year of 2018.
The inconsistencies
Blount County, Tennessee does not offer homestead exemptions, however, three properties in TN are listed in Curtis McBath's name.

Blount County, Tennessee records list Curtis McBath as residing in the Marietta home, but Lucy McBath's public claims – on more than one occasion – do not support the Tennessee records.





The McBath's have claimed a homestead exemption in Cobb County for the last 16 years, but in every one of those 16 years, Curtis

McBath has been registered to vote in Tennessee

.

Lucy McBath has publicly acknowledged that she has not been a resident of Georgia for a period of time and instead one of Tennessee, but even during those years, the homestead exemption in Cobb County was still claimed.

Homestead exemption laws require that vehicles owned by property owners must also be registered in the county in which the homestead exemption is claimed,

but the McBath vehicles are registered in Tennessee.

The McBath campaign says Lucy has lived in Georgia's 6th district since 2008, but in both 2009 and in 2010, Lucy claimed a homestead exemption in Douglas County while her husband claimed a tax exemption in Cobb County.

The McBath's have been unable to satisfy the requirements for the homestead exemption in Cobb County for the four most recent tax years, but have capitalized on the benefits anyway.



A request for comment on the matter was sent to the Lucy McBath for Congress campaign by email and through social media accounts, but as of publishing, no response has been received.
Handel has publicly criticized McBath for the confusion and inconsistency in her statements,
while the McBath campaign has simply said the comments by Handel are 'baseless' and "a new low."  The Atlanta Journal Constitution has seemingly taken the side of McBath, criticizing Handel for 'recycling attacks' she used on Jon Ossoff, who was not a resident of GA-6, during the special election in 2017. The Handel campaign, in recent days, has called for McBath to release her income tax returns to verify where she and her husband file. If filed in Tennessee, the McBath's would reap the benefits of the state not having an income tax.
Election Day is Tuesday, November 6th. Early voting is already underway and will continue through November 2nd.
You can read the letter in its entirety below.
MCBATH, CURTIS audit letter

**This article has been corrected to reflect that Lucy McBath was registered to vote in 2016, not 2018.