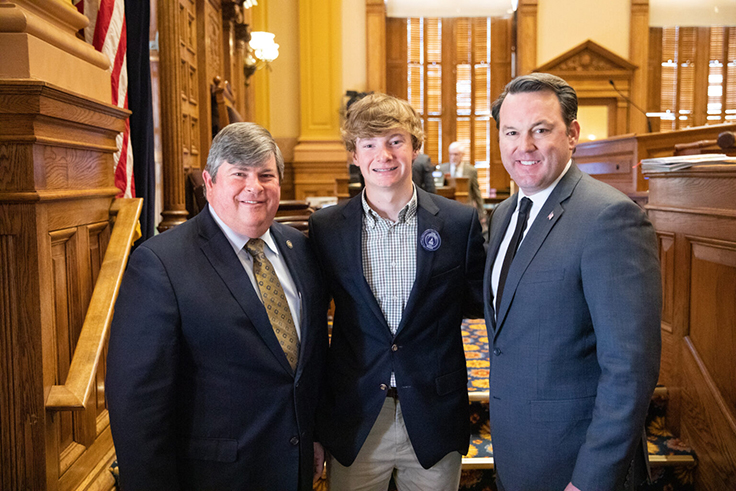 By: Sen. Larry Walker (R – Perry)
The 2023 Legislative Session has officially come to an end. Wednesday, March 29, 2023, marked Legislative Day 40, Sine Die, and both the Senate and the House worked a little past midnight debating and voting on a number of bills with a large majority of those measures receiving final passage. I am eager to provide you with a brief update on bills of importance that received final passage during the final days of the session.
Throughout the 2023 Legislative Session, the Senate dedicated much of its time to enhancing public safety and security for Georgians. House Bill 188 was one of many efforts to continue that fight. Carried in the Senate by the Senate Committee on Public Safety Chairman, Senator John Albers (R – Roswell), HB 188 seeks to provide harsher punishment for certain persons convicted of kidnapping a minor or trafficking a minor. Known as the "Georgia Dangerous Sexual Predator Prevention Act," HB 188 would require convicted sexual predators that subsequently kidnap or traffic a minor to potentially serve a sentence of life imprisonment. What is important to note about this legislation is those who are convicted and serving probation would be required to wear a device capable of tracking location by electronic means. Combatting human trafficking has been a longtime priority of First Lady Marty Kemp and this legislation aims strengthen punishment of and the ability to monitor sexual predators, especially those who seek out minors. I was proud to support this legislation and look forward to hopefully seeing it enacting into law in the near future as the legislation now awaits approval and signature by Gov. Kemp.
The Senate also dedicated a large portion of its efforts to improving literacy this legislative session. As Chairman of the Senate Committee on Higher Education, Senator Billy Hickman (R – Statesboro) worked tirelessly to further this effort with the passage of House Bill 538, also known as the "Georgia Early Literacy Act", which was authored by Houston County's very own Rep. Bethany Ballard. I've often noted that an educated and skilled workforce is key to Georgia's future economic prosperity. It is imperative that every Georgia elementary school is equipped with the necessary tools to teach its students to read on grade level, and HB 538 works to support that goal. Specifically, HB 538 would require the Department of Early Care and Learning to establish evidence-based literacy instruction training requirements for teachers while also requiring the State Board of Education to establish a uniform standard for measuring literacy, approved high-quality instructional materials for grades K-3, and universal reading screeners for public school students in grades K-3. By implementing training requirements for teachers, Georgia's education system will have the ability to develop a structured learning environment that will in turn, boost literacy rates across Georgia. And by strengthening literacy rates, we can ensure more students are able to achieve the necessary educational goals to secure employment and economic success in the future. This was much needed legislation and I am immensely grateful to see this measure pass with overwhelming bipartisan support. I anticipate the legislation will be enacted into law by Gov. Kemp in the not so distant future.
Perhaps the most significant achievement of the 2023 Legislative Session was accomplished on Sine Die when both the House and the Senate combined efforts to pass House Bill 19, the Budget for the 2024 Fiscal Year. As you well know, the Georgia General Assembly is tasked with the Constitutional obligation to pass a balanced budget each legislative session. The FY 2024 Budget accounts for roughly $32.4 billion, funding all of Georgia's agencies. Specifically, this budget focused heavily on increasing funding for mental health and individuals living with intellectual and developmental disabilities. 500 NOW and COMP Waivers were added to this budget and $117 million was appropriated to the Georgia Department of Behavioral Health and Development (DBHDD). The Georgia General Assembly continues to dedicate much of its efforts to supporting mental health and Georgians with intellectual and developmental disabilities and this budget reflects that commitment. In reference to education, the FY 2024 Budget fully funds the HOPE Scholarship both at the public and private level. This budget also appropriates a substantial amount of funding to combat the ever present concern of hoteling of Georgia's foster children and aides child care institutions to ensure these agencies continue to receive federal funding and state employees, officers, educational specialists, and more who are all subject to state funded salaries will receive a cost of living adjustment. Ensuring the passage of a balanced budget is by far the heaviest lift of every legislative session. Taxpayer dollars are your dollars therefore it is prudent that no dollar is spent unfairly. I am extremely proud of the work of Appropriations Chairman Sen. Tillery and his entire staff with the Senate Budget and Evaluations Office this session. I am eager to see this budget signed into law so that these hard earned dollars can be placed back into the pockets of Georgia's workforce.
This legislative session was historic to say the least. With new leaders in both chambers, I am immensely proud of the work accomplished by all members of the Georgia General Assembly. I want to extend my gratitude to Governor Brian Kemp, Lt. Governor Burt Jones, President Pro Tempore Senator John F. Kennedy, the Senate Republican Caucus and all of my colleagues in both chambers for their exceptional dedication this legislative session, working towards the common goal of ensuring Georgia remains the number one state in the nation to not only do business, but to live, work and raise a family. While the 2023 Legislative Session has come to an end, I am always eager to make myself available to best serve you in any way. Please do not hesitate to reach out to my office with any questions or concerns going forward. As always, it is a pleasure to serve you under the Gold Dome.
---
Sen. Larry Walker serves as Secretary of the Senate Majority Caucus. He also serves as Chairman of the Insurance and Labor Committee.  He represents the 20th Senate District, which includes Bleckley, Dodge, Dooly, Houston, Laurens, Pulaski, Treutlen and Wilcox counties.  He may be reached by phone at 404.656.0095 or by email at larry.walker@senate.ga.gov.