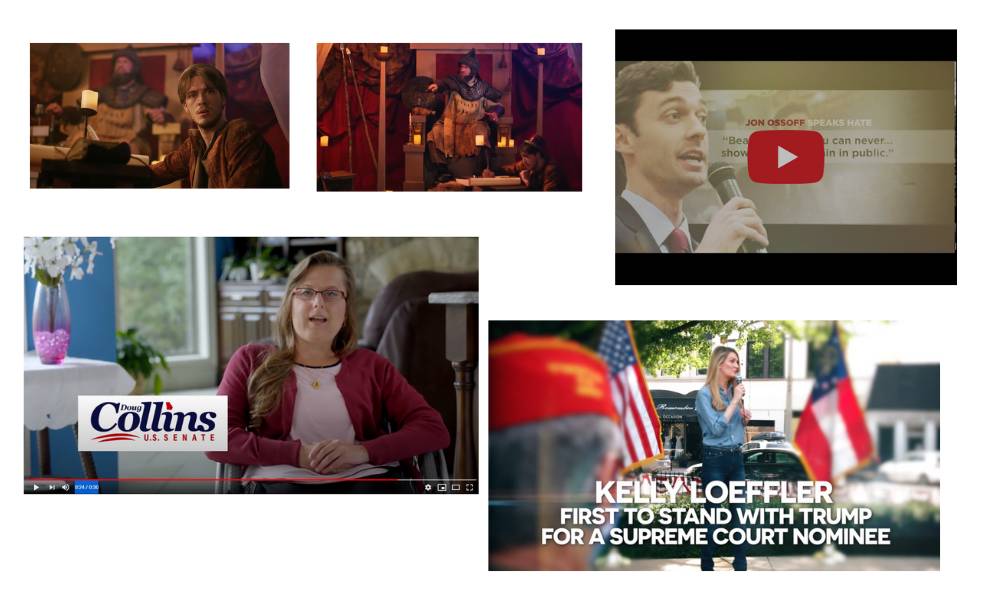 More political advertisements will be on Georgia televisions, whether you have traditional cable or streaming services and regardless of your zip code. The latest round includes a number of passive-aggressive messages about respective opponents.
Doug Collins released a new television ad, which features his daughter's perspective on Collin's pro-life position. From the press release with the ad:
For months, Kelly Loeffler has attacked Doug Collins with false and misleading ads on a variety of issues. The most egregious of these have questioned Doug's staunchly pro-life record. His service as a pastor and military chaplain, his A ratings from all the pro-life groups, nothing deterred her from leveraging phony attacks.
"Kelly Loeffler had never been out front on the issue of life until she was appointed to the Senate," said Collins campaign spokesman Dan McLagan. "She tried to hide her past support of Planned Parenthood and her corporate funding of 1,400 abortions and attacked a pastor and current military chaplain on the thing he holds most dear. Today, Doug's family opens up about a part of their personal journey in choosing life, as his daughter Jordan tells her story."
Senator David Perdue, the Original Outsider, released a new TV ad exposing Jon Ossoff's support for the defund the police movement and his "dangerous, hateful campaign rhetoric."
"Jon Ossoff's support for the defund the police movement and his alarming rhetoric show he's not just radical, he's dangerous," said Perdue for Senate Campaign Manager Ben Fry. "While America is trying to come together and heal in the wake of a global health crisis and riots in our major cities, Ossoff is spreading hate and trying to divide Georgians so he can win an election. We must stop his radical agenda."
Kelly Loeffler released a new ad, entitled "
Saving America
," highlighting her support for a strong conservative Supreme Court nominee. Senator Loeffler was the first United States Senator to
call
 for President Trump to fill the vacant Supreme Court seat before Election Day.
"As the first U.S. Senator to support President Trump's decision to put forward a Supreme Court nominee before Election Day, I have led the charge to advocate for a conservative on the bench," said Senator Loeffler. "Our nation desperately needs another pro-life justice who will uphold the Constitution and defend conservative values. That's exactly the type of nominee I'll be confirming in a few weeks, and it's exactly why we can't afford to elect liberals like Raphael Warnock – who would instead try to pack our courts with dangerous, pro-choice, anti-law radicals just like him."
Georgians for Kelly Loeffler released the the first and second ad of the series "Attila " highlighting Loeffler's conservative record – including her 100% voting record with President Trump, her ranking as America's Most Conservative Senator, and endorsements from every major pro-life group in the nation.
"The liberal snowflakes of the world melted when they found out that conservative businesswoman Kelly Loeffler was to the right of Attila the Hun," said Communications Director Stephen Lawson. "Now that we're releasing a second ad highlighting Kelly's pro-life, pro-gun, pro-Trump values, we assume they will probably evaporate. Consider this statement your trigger warning."