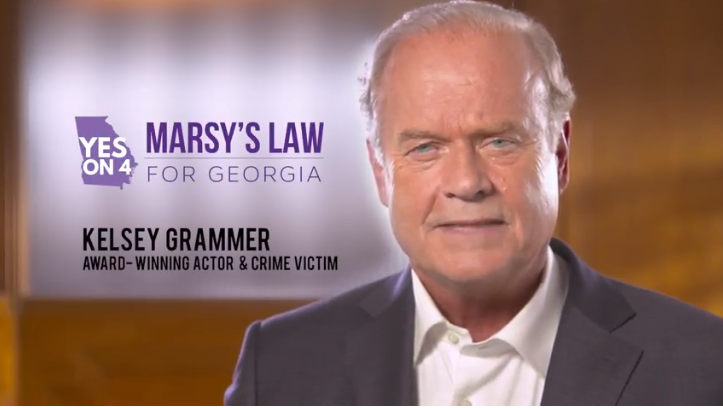 Marsy's Law for Georgia is calling on Hollywood actors to create advertisements in an effort to garner votes on Election Day.
The ad released Saturday is the third ad by the group to be released in the General Election cycle. All are currently running across the state. But this time, Marsy's Law for Georgia is pulling in an actor to help spread the message and urge voters to vote YES on Amendment 4.
Amendment 4, known as Marsy's Law, addresses rights of victims of crime. It is part of a national effort to add additional rights and privileges for victims of crime. It's named after California college student Marsalee "Marsy" Nicholas, who was stalked and killed in 1983 by an ex-boyfriend. It is already codified in state statute.
The amendment allows, upon request, crime victims to have specific rights, including the right to be treated with "fairness, dignity, and respect;" the right to notice of all proceedings involving the alleged criminal; the right to be heard at any proceedings involving that release, plea, or sentencing of the accused; and the right to be informed of their rights. The amendment also explicitly stated that the legislature was able to further define, expand, and provide for the enforcement of the rights.
Actor Kelsey Grammer is featured in the latest ad. In the ad, Grammer says:
"My dad was gunned down in his home at the age of 38. Six years later my sister Karen was brutally raped and murdered. She was 18," Grammer says in the ad. "When my father's killer was released, I found out through the National Enquirer. It seemed like a cruel joke. In my sister's case, I have been allowed a voice in the parole hearings of her killers, but that's not always true in Georgia. Amendment 4 gives crime victims and their families a voice in the process and the equal rights they deserve. Please vote yes on Amendment 4."
Amendment 4 has been largely criticized by defense attorneys, prosecutors, and civil liberties advocates around the state over concerns of costs, circumvention of due process, and the fact that the initiative is already a state statute in which victims can opt-in to the process. The campaign is funded by a billionaire out of California who is the brother to the late-Marsy, whom both the campaign and the law are named after. More than $30 million has been spent around the nation to advocate for Marsy's Law, with the end goal being to make it an amendment to the U.S. Constitution.
You can watch the ad below.
The measure has been approved by voters in California, Ohio, Illinois, Montana, North Dakota and South Dakota, but not without effects. In 2018, voters in Florida, Georgia, Kentucky, Nevada, North Carolina and Oklahoma will consider versions of it.