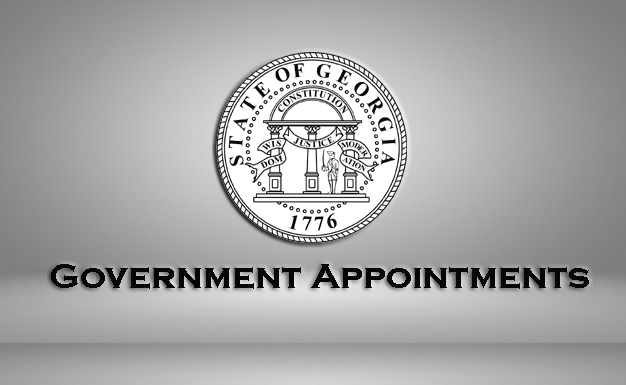 Governor Brian Kemp yesterday announced 62 appointments to various boards and commissions around the state.

Stone Mountain Memorial Association
Christopher Sanders serves as the Executive Director of the East Metro Community Improvement District (CID). Before working for the CID, he was with the Georgia Department of Revenue as an Assistant Director. Prior to the Georgia Department of Revenue, he served in customer relations, marketing, and business development at Georgia Pacific. In his spare time, he participates in various activities at his old Alma Mata Redan High School, serves on The University of West Georgia Alumni Association Board of Directors, MBA recruitment ambassador for the Professional MBA program at the University of Georgia, and serves as a men's group and boys' high school group leader at Buckhead Church. Sanders holds a B.B.A in Business Management from the University of West Georgia and a M.B.A from the University of Georgia.
Public Defender Supervisory Panel- Clayton Circuit
Thomas Florio is the Owner and Managing Partner of Thomas M. Florio, P.C., located in Clayton County. Florio's firm specializes in the practice of Criminal Defense. He graduated cum laude from The University of Georgia and served as Student Body President. Following his time at the University of Georgia, he graduated from Atlanta's John Marshall Law School. Florio is an active member of both the State Bar of Georgia and the Georgia Association of Criminal Defense Lawyers. A native of Clayton County, he now resides in Cobb County with his wife Meredith, who is also a practicing attorney. They have three young sons, Tommy, Will, and Harrison.
Veterans Service Board
Joshua Kopsie is a Major in the United States Army with over eleven years of active service. Kopsie attended the US Military Academy at West Point for his undergraduate education and later attended Georgia Tech, where he earned his MBA. Kopsie is now an account executive at Patterson Pope. He and his wife, Courtney, have three children and reside in Cobb County.
State Board of Certification of Librarians
Linda Most was reappointed.
Board of Commissioners of the Georgia Student Finance Commission
Richard Mant was reappointed.
State Board of Veterinary Medicine
Thomas Culpepper was reappointed.
Jessica Sewell graduated from Gwinnett Technical College with her associate's degree in Veterinary Technology in 2003. In 2011, she earned her bachelor's degree in Veterinary Technology with a focus in clinical practice and hospital management from St. Petersburg College. She is currently the VCA Regional Technician and Assistant Director for the South Atlantic Group. Sewell serves on the executive board of the Georgia Veterinary Technician & Assistant Association as their Vice President; she is the immediate past President as well as a previous Fall Continuing Education Conference Coordinator and Editor. She is on the Georgia Veterinary Medical Association's Wellness Committee, is a member of the National Association of Veterinary Technicians in America and was one of five veterinary technicians selected to serve on the American Animal Hospital Association's Veterinary Technicians Board Input Group.
Georgia Board of Chiropractic Examiners
Norman Eng is a Certified Chiropractic Sports Physician (CCSP), specializing in the treatment of athletic injuries and soft tissue disorders. He was the team chiropractor for the 2018 MLS Champions Atlanta United F.C. and Team USA during the 2016 Olympic Games in Rio. Eng has been a sports medicine team member for the 2015 Outdoor Track and Field World Championships, 2014 Indoor Track and Field World Championships in Sopot, Poland, 2014 World Junior Championships, 2012 USA Track and Field Olympic Trials, 2010, 2011, 2013, and 2014 USA Track and Field National Championships, and the Gold Cup Soccer Tournament. He is the founder and President of the Professional Soccer Chiropractic Society, a non-profit organization that aims to progress the discipline of sports chiropractic in soccer, both nationally and internationally. In addition, he serves on the USA Track and Field Sports Medicine Committee and has also served as Executive Secretary and Treasurer for the American Chiropractic Association Sports Council. He holds numerous certifications including Graston Technique and Active Release Technique, Certified Strength and Conditioning Specialist through the National Strength and Conditioning Association (NSCA), a Corrective Exercise Specialist and Performance Enhancement Specialist by the National Academy of Sports Medicine (NASM), Functional Movement Screen and Selective Functional Movement Assessment (FMS and SFMA) certified, and a Certified Kinesio Taping Practitioner.
Georgia Board of Athletic Trainers
Russell J. Hoff was reappointed.
Georgia Real Estate Appraisers Board
Keith Stone was reappointed.
Georgia Real Estate Commission
Steve Graves is an Associate Broker at Hardy Realty. Graves has received the Humanitarian Award for the Greater Rome Board of Realtors, was the Hardy Realty Agent of the Year ten years in a row and named Reader's Choice Best Realtor by the Rome News Tribune for three consecutive years. He and his wife, Carrie, have two sons and are active members in their community.
Board of Trustees of the Teachers' Retirement System of Georgia
Miriam Shook is a school library media specialist in Oconee County School System. She has taught in a variety of public-school districts and was named District Teacher of the Year in Oglethorpe County for the 2014-2015 school year. Shook has served on committees at the Georgia Department of Education to revise Social Studies standards and create supplemental resource labs. As a media specialist, she works to integrate STEM into children's literature. She and her husband, Kirk, live in Bogart with their two dogs.
Chris Swanson was reappointed.
State Board of Registration of Forester
Wade Hall, Grant Harvey, and Brian Stone were reappointed.
State Board of Podiatry Examiners
Joseph Giovinco and Leonard LaRussa were reappointed.
Georgia Board of Landscape Architects
Chad Baker, Rebecca Kirk, and Tim Lake were reappointed.
Division of Family and Children Services State Advisory Board
Gentry Colson is the Coffee County Chapter Director and Director of Development Advocacy for Called to Care, Inc., where she provides resources for the foster families in her community. Colson and her husband, Christian, have been foster parents themselves and have three adopted children among their family of seven. She has a bachelor's degree in Interpersonal Communication and a master's degree in Biblical Counseling. Colson is an active member of the foster care community and resides in Douglas.
Fran Chastain is the Dean for Student Affairs at North Georgia Technical College in Clarkesville. She has a bachelor's degree in Industrial Engineering Technology from Southern Polytechnic State University, a master's in Business Administration from Brenau University and a doctorate in Educational Leadership from the University of Georgia. In 2002, Chastain and her family began a thirteen-year journey in fostering children through Habersham County Department of Family and Children Services (DFCS). The Chastain family has served well over fifty children and along with their two biological children, they adopted eleven foster children. She currently serves as the Board Chairman of the Habersham County DFCS, she is a board member with the Family Resource Center, serving families involved with DFCS in the Mountain Region and she is an active Rotarian.
J. Virgil Costley is a long-time child advocate and former Juvenile Court Judge. He has continued his career as a legal instructor and mediator. Costley has earned a number of accolades over the year for his work in his community and is the recipient of the Justice Robert Benham, State Bar of Georgia Award for Community Service Commitment and Volunteer Participation in the Community. He and his wife, Linda, have two children and reside in Newton County.
State Workforce Development Board
Logan Leslie is a former Army Green Beret and the Founder and CEO of Northern Rock, Inc, an infrastructure and construction service that buys, operates, and grows middle market companies, providing management opportunities for military veterans. Leslie continues to serve our nation in the Georgia Army National Guard as First Sargent. He has earned a bachelor's, master's, and Juris Doctor from Harvard University. Leslie and his wife, Erica, have two daughters and reside in Fulton County.
Sam McCachern is the President and CEO of Thomas & Hutton, a consulting firm providing civil engineering, landscape architecture and surveying services across Georgia and three neighboring states. McCachern graduated from North Carolina State University in 1985 and began his career as a design engineer. McCachern serves organizations including Isle of Hope Methodist Church, Savannah Technical College Foundation, Savannah Area Chamber of Commerce, Rotary Club of Savannah, NC State Engineering Foundation, and was the 2013 United Way of the Coastal Empire Campaign Chair. Additionally, he has served on advisory boards at NC State University, Georgia Southern University, and the University of Georgia.
Board of Human Services
Monica Walters was reappointed.
Barry Elson is the acting CEO of Bally Total Fitness and has dedicated his career to rebuilding struggling corporations. He is a Cancer Connection Advisor at M.D. Anderson, an Emory Winship Advisory Board member, and Family Patient Advisor. Nearly a decade ago, Elson began mentoring cancer patients all around the country, helping them navigate treatment options and the ins and outs of day to day life battling cancer. He is a distinguished alumnus of both Dartmouth College and Cornell University and a First Lt. US Army Signal Corps Veteran.
Georgia Board of Private Detectives and Security Agencies
Timothy Williams was reappointed.
Joel Peacock began working in the private security sector in 1990 and continued until 2005 when he founded Tactical Security Solutions, Inc. (TSS) which provides private security services to clients all around the Metro Atlanta Area. From an early age, Peacock was introduced to security / law enforcement, as his father was a career Atlanta Police Officer working numerous private security jobs in his off time. He and his wife, Ginger, reside in Marietta.
State Board of the Technical College System of Georgia
Lynn Cornett was reappointed.
Fran Millar is a former member of the Georgia State Senate and has served in both chambers of the State Legislature. During his time in the Senate, he served as the Chairman of the Higher Education Committee. Millar and his wife, Mary, have three children and are active members of Dunwoody United Methodist Church.
Daren Wayne is Principal at Wayne Capital and has spent over two decades working in commercial real estate. Wayne is a licensed real estate agent and general contractor. He attended Furman University in Greenville, South Carolina where he received a bachelor's degree in Business Administration and later went on to earn an MBA from Georgia State University. Wayne and his wife, Merri, have two sons and reside in Hall County.
State Personnel Board
Matthew Almand specializes in labor & employment law, providing legal and strategic advice on international and domestic employment matters impacting Chick-fil-A, Inc. and its related entities. Prior to joining Chick-fil-A in 2013, he worked with the Atlanta-based law firm Troutman Sanders, as in-house counsel with McKesson Corporation, and as a Congressional Intern when Former Gov. Nathan Deal served in the U.S. House of Representatives. Almand and his wife Jamison are passionate about serving their local community, most recently by organizing a Christmas Wish List program to sponsor 100 children through the I-58 Mission. His board experience includes Southside Church Stewardship Team and Atlanta-based non-profit Every Woman Works. Almand is a "Double Dawg," having received both his undergraduate and law degree from the University of Georgia. He and his wife have three daughters and reside in Fayetteville.
State Board of Pharmacy
Young Chang has worked in the pharmacy industry for over 22 years, gaining experience in various pharmacist and leadership roles and currently serves as the Regional Healthcare Director for the Walgreens Company. He is a graduate of St. Johns University School of Pharmacy and received his MBA from Georgia College and State University. Young and his wife, have two daughters, and reside in Cumming.
Augusta University Health System Board of Directors
Tommy Blanchard and Cynthia Mercer were reappointed.
Deep J. Shah is a practicing primary care physician and vice president at Gwinnett Clinic. Shah has expertise in clinical operations, population health, and domestic health policy. A native of metro Atlanta, he graduated summa cum laude from the University of Georgia and was awarded a Truman and Rhodes Scholarships, affording him the opportunity to obtain a master's degree in Public Policy at the University of Oxford. Shah went on to graduate from Harvard Medical School and trained in internal medicine at Emory University School of Medicine. At Emory, Shah was named outstanding physician resident all three years. He is active with the American College of Physicians and was recently awarded a leadership grant by Alpha Omega Alpha. Shah is a physician leader and advocate of primary care as the foundation of good health.
Georgia Composite Board of Professional Counselors, Social Workers, and Marriage and Family Therapists
David Lane is a professor in the Department of Counseling and Human Sciences at Mercer University's Penfield College. Lane is a licensed Professional Counselor and a licensed Marriage and Family Therapist. He is a member of a number of professional organizations, been the recipient of several awards, and grants for his work in the field. Lane's most recent publication is a professional guide to counseling veterans. He and his wife, Donna, reside in Gwinnett County.
Board of Driver Services
Rachel Little was reappointed.
Statewide Interagency Coordinating Council for Early Childhood Intervention Programs
Fozia Eskew is the Director of Child Health for the Georgia Chapter of the American Academy of Pediatrics. Eskew previously worked as an Early Intervention Coordinator, promoting pediatric perspective among public heath staff regarding their programs and services they provide for children. She serves as a board member for Childkind, Inc. and on the March of Dimes Grants Review Subcommittee. Fozia has two daughters and resides in Fayette County.
Heidi Evans is the Director of Georgia Parent Infant Network for Educational Services (PINES), an early intervention program for children who have hearing loss and/or vision loss. Prior to being named Director, she served as the SKI-HI Program Coordinator for Georgia PINES. Evans worked as an educator for two decades in the Cobb County School District: Twelve years as a PreK/Primary teacher for students who are Deaf/Hard of Hearing, two years as a Lead Teacher for the D/HH and Vision Impaired programs of the district, and six years as Special Education Supervisor for the D/HH, VI, and OI (Orthopedically Impaired) programs in the Cobb district. She was also responsible for the district-wide hearing and vision screening program, Assistive Technology department, Audiology, Educational Interpreters, and Adapted PE programs. Prior to her work in Cobb, she served DHH students in Fulton County for two years, and in Hillsborough County, Florida, for six years. She has a bachelor's degree in Elementary Education and Education for D/HH students from Flagler College in St. Augustine, Florida – as well as a master's and doctoral degree in Education from Walden University. Evans holds a certification in Educational Leadership from the University of Georgia. Her doctoral dissertation was titled "Technological Early Intervention Tools for Families of Children with Hearing Loss: Parental Perspectives."
Lori Jackson is a Regional Coordinator at Parent to Parent Georgia, assisting families who have children with special needs in all aspects of life. Jackson has recently focused on helping families transition from youth to adult healthcare. She holds a bachelor's degree in Psychology from Valdosta State University. Jackson has two children and resides in Lowndes County.
Windy Scott is an EFMP Family Support Coordinator at Moody Air Force Base. Scott assists Moody family members with special needs and ensures that families have the resources and medical care they need when they arrive to or depart from, any military installation. Scott and her husband, Craig, are the parents of two children and reside in Lowndes County.
Judy Threlkeld is the district manager for the South Health District's Babies Can't Wait program and has over thirty years of experience in the field of Early Intervention. Judy holds a master's degree in Industrial Organizational Psychology and certification in Applied Behavior Analysis. She sits on several community boards and coalitions that serve young children and families, including the Lowndes Interagency Coordinating Council, Lowndes Family Connections, Georgia Home Visiting, Head Start, Birth to Eight, and VSU Special Education and Communication Disorders. She has been the recipient of several state awards such as the Excellence in Partnership and Right Work-Right Way Award for her contributions to community partnerships and to the organization. Threlkeld is the mother of three adult children and resides in Valdosta with her husband of thirty-five years, Bennett.
Taylor Worland is a parent of a child with multiple special needs. Her daughter is nine years old and diagnosed with Autism. Worland has experienced early intervention services firsthand and works as an Early Intervention Specialist with Georgia PINES, serving families of children with hearing and/or vision impairments. She received her M.Ed. from Utah State University's SKI-HI program in 2011 and has been working in early intervention since that time.
Marcus Wiedower is a member of the Georgia State Legislature, representing State House District 119. Wiedower is a Real Estate Consultant and the father of three children. He and his wife, Kelly, have been married for twenty years and are members of Athens Church.
Board of Commissioners of the Sheriffs' Retirement Fund of Georgia
Joe Chapman was elected Sheriff of Walton County in 2004. His law enforcement career began in 1987 with the City of Monroe Police Department. During his career, he has served as an Investigator with the Walton County Juvenile Court and held the position of Investigator/Sergeant in the Criminal Investigations. Chapman served six years in the United States Marine Corps. He later enlisted in the Georgia Army National Guard where he retired as the 178th Military Police Company's First Sergeant. Chapman completed a tour as Camp Guard Commander, Camp Delta, Guantanamo Bay, Cuba. He and his wife, Tammy, have three sons.
Georgia Board of Examiners of Licensed Dietitians
Cicely Thomas has worked as a public health administrator and educator for twenty years, specializing in community nutrition, education, and outreach. She is currently the Nutrition Service Director for the Northwest Georgia Division of Public Health. Previously, Thomas has worked as a clinical dietician in various healthcare settings. After graduating from Georgia Southern University in 1999, she went on to earn her masters at the University of Georgia and is currently working on her Doctor of Clinical Nutrition at the University of North Carolina. Thomas is the Diversity Liaison for the Georgia Academy of Nutrition and Dietetics and is involved in numerous professional advisory boards. She is a mother of four and resides in Bartow County.
State Board of Long-Term Care Facility Administrators
Barbara Baxter began her career in healthcare in 1977 and is now the interim Administrator at Roswell Nursing and Rehabilitation. Baxter previously served on the State Board of Nursing Home Administrators and had the honor of serving on Congressman Tom Price's Health Committee, where she advised legislators on the needs of long-term care residents. She and her husband are active members of the Cherokee County community.
Public Defender Supervisory Panel- Chattahoochee Circuit
Stacey Jackson is a native of Harris County. Jackson began his legal career with a clerkship working with Superior Court Judges Douglas C. Pullen and William J. Smith. In 2000, he joined the Office of the District Attorney as an Assistant District Attorney and in 2008, he left to join Richard Hagler, Stephen Hyles and Susan Henderson to form the law firm of Hagler, Hyles, Henderson & Jackson (now Hagler, Jackson and Walters). Jackson earned a bachelor's degree in Criminal Justice before continuing his education at the University of Dayton School of Law, where he received his Juris Doctor. He is a member of the Columbus Bar Association, the Fountain City Bar Association, member of the Fountain City Classic Committee, a former board member for the Port of Columbus Naval Museum, a former advisory board member for the Aaron Cohn Regional Youth Detention Center, a former board member at Northern Little League and a member of the Lambda Iota Chapter of Omega Psi Phi Fraternity, Inc. (Foundation Board Member) and a member of the Gamma Psi Boule' of Sigma Pi Phi Fraternity. He is a member of the 2012 class of Leadership Georgia and a member of the 2016 class of Republican Leadership of Georgia. He was also a candidate for Georgia House District 137 in 2014. Jackson and his wife, Mitzi, have two sons and are members of Cascade Hills Baptist Church in Columbus.
Public Defender Supervisory Panel- Atlantic Circuit
Samuel G. Oliver is a native of Coastal Georgia, and has practiced law in Darien, Georgia since 1984. He is a graduate of the University of Virginia and Stetson University College of Law. Oliver is a member of The Florida Bar, State Bar of Georgia, and United States District Court for the Southern District of Georgia. He served as Judge of the Municipal Court of Darien for twenty-two years and continues to serve as a Special Master in Equity for the Superior Courts of McIntosh and Liberty County. Oliver and his wife, Olga, have one daughter and reside in McIntosh County.
State Board of Geologists
Kurtis Hausner has over thirty years of experience in the field of geological and hydrogeological consulting, and decades of experience in underground storage tank (UST) removals, investigation, and remediation. Hausner is Chief Operating Officer / Senior Project Manager / Senior Geologist for Georgia Oilmen's Services, Inc., where he is responsible for technical review of Corrective Action Plan and the UST compliance testing program. Hausner graduated from the University of Oklahoma in 1987 with a bachelor's in Geology. He and his wife, Connie, have two children and reside in Gwinnett County.
Allison Keefer has over thirty years of experience as a program manager, hydrogeologist, and environmental compliance specialist. She currently serves as a Part-time Professor of Geology at Georgia State University and previously served as Senior Geologist in the Land Protection Branch for the State of Georgia Environmental Protection Division, as Georgia's Regional Reservoir and Water Supply Coordinator, and as a Tenured Associate Professor in Environmental Health Technology at Roane State College. She has presented at national seminars and has given presentations to various public and special interest groups and Federal, State, and local agencies. She currently serves as the Chairman of the Fulton County Citizens Commission on the Environment and has previously served as President of the Atlanta Geological Society. Keefer and her husband, David, have three children and reside in Fulton County.
Kristen Ritter Rivera is the Senior Environmental and Regulatory Manager at Newell Brands Inc. For more than twenty years, she has managed environmental issues at industrial and commercial facilities. Rivera has directly managed remediation of soil, groundwater, and surface water impacted by contaminants including metals, petroleum hydrocarbons, chlorinated solvents, and polycyclic aromatic hydrocarbons. She graduated from Georgia Tech in 1998 with a bachelor's in Earth and Atmospheric Sciences and later went on to earn a master's in Geology from Georgia State University. She and her husband, Fernando, have two sons and reside in Dekalb County.
Edward Rooks is a Program Manager with the Georgia Environmental Protection Division. He has thirty years of experience as a contractor, consultant, manufacturer, and regulator. Rooks earned a bachelor's degree in Geology from Emory University and a master's degree in Earth Resources Management from the University of South Carolina. He has been a registered professional geologist in Georgia since 1995. He and his wife, Ila, have two children and live in Tifton.
State Board of Optometry
Paul Ajamian is the Director of Omni Eye Services of Atlanta, one of the first optometrically controlled co-management centers in the United States. Ajamian is an Adjunct Professor at fourteen institutions and is a Residency Director with four Residents in Ocular Disease. He has presented at over 500 local, state, regional, and national conferences and has been a guest lecturer in forty-five off the fifty states in addition to Canada, South Africa, Australia, the United Kingdom and Europe. He is an active member within his community and at Dunwoody Methodist Church. He and his wife, Susan, have been married for thirty-four years and have one daughter.
Bona Fide Coin Operated Amusement Machine Operator Advisory Board
Thomas Mills Fleming, Natalie Jones, Christopher Pope, and Chandra B. Yadav were reappointed.
Georgia Child Support Commission
Connie L. Williford was appointed as Superior Court Judge for the Macon Judicial Circuit in October 2020. Prior to serving on the bench, Williford practiced family law at her own firm which she founded in 2006. She has bachelor's degree from the University of West Georgia and a Juris Doctor from Mercer University. In 2020, she was named Macon Bar Associations's "Lawyer of the Year," and she was awarded the Justice Robert Benham Award for Community Service. Williford and her family reside in Macon.
Board of Public Safety
Samir Patel is the newly appointed District Attorney for the Cherokee Judicial Circuit. He holds a bachelor's degree in Information Sciences and General Management from East Tennessee State University and a law degree from Georgia State University. Since 2010, Patel has served as Associate Attorney of White and Choate, in Cartersville, GA. Since 2017, Patel has also served as Municipal Court Judge of Euharlee, GA. Patel previously served as a Part Time Instructor at ITT Technical Institute in Kennesaw, teaching criminal law, constitutional law, and ethics. Patel was also an Assistant Public Defender in the Cherokee Judicial Circuit for five years. He currently serves on the Board of Directors for Advocates for Children. Patel has previously served as president of the Bartow County Bar Association and the Bartow County Exchange Club. He has served as a High School Mock Trial Instructor and graduated from the Bartow County Chamber of Commerce Leadership program in 2014.