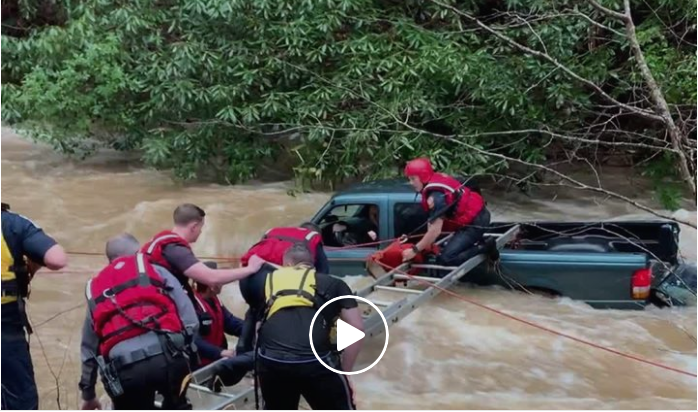 A Georgia mother was arrested for driving under the influence after first responders had to pull her and her baby from a vehicle stuck in a flooding creek.
Authorities say 28-year-old Andrea Marie McMeans was traveling in a truck with her two-month-old baby when she veered off the road, went down an embankment, and ended up in a flooding creek in Lumpkin County on Friday.
It took a number of first responders to pull both the infant and the woman from the vehicle and get them to dry ground. Video posted by the local newspaper, The Dahlonega Nugget, shows water rushing past a ladder and the vehicle as the woman crawled to safety in a lifevest. The vehicle was mostly submerged.
Both the mother and the infant were taken to a local hospital where they were reported in stable condition. Georgia State Patrol later obtained arrest warrants for McMeans for failure to maintain a lane, DUI, and DUI-child endangerment.
Watch the video of the dramatic rescue below:
River rescue on Clay Creek 12-28-18

First responders acted fast to save a woman and baby from the flood-swollen waters of Clay Creek Friday morning. Check out The Nugget's footage of the heroic rescue here and get the full scoop at www.thedahloneganugget.com.

Posted by The Dahlonega Nugget on Friday, December 28, 2018