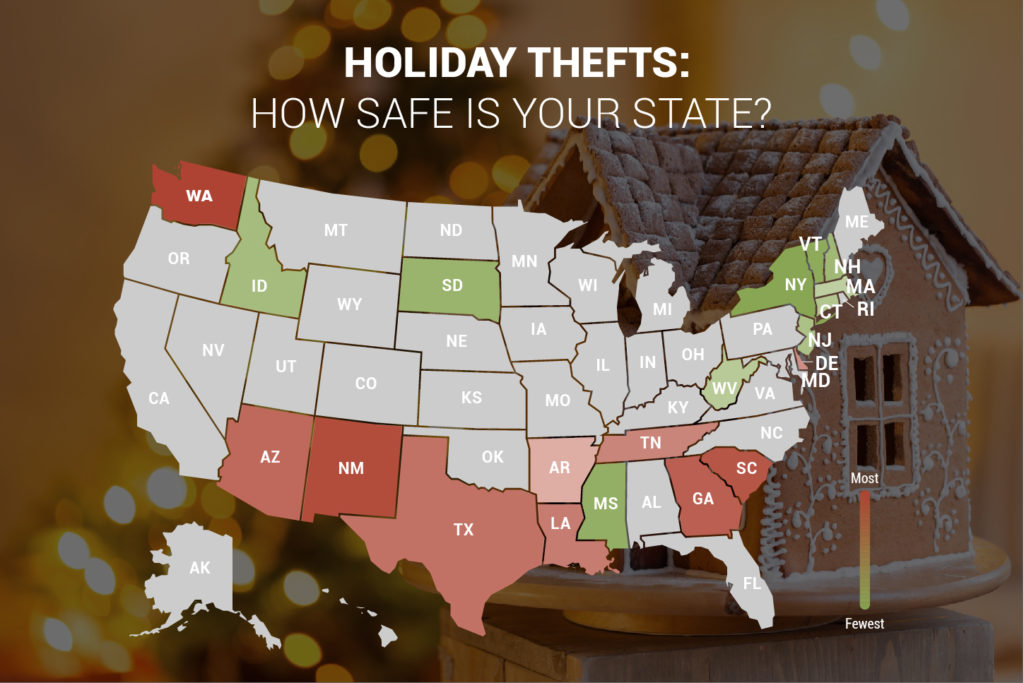 The holiday season draws out thieves and burglars and national statistics indicate that larceny occurs 22% more in December than other months of the year, but is Georgia in line with those statistics?

Yes, and possibly at a higher rate than the national average. Georgia reports 72.3 larceny reports per 10,000 residents. In fact, the Peach State came in at No. 4 for the most thefts in the month of December.
The study, analyzed by home security solutions provider Vivint, for the ranking included:
larceny (stealing or attempting to steal without breaking into a building or threatening a victim, including pickpocketing and breaking into a car)
burglary (unlawfully entering someone else's property, with a key or by force, to steal possessions or commit any other crime);
Auto theft: Stealing or attempting to steal a motor vehicle.
robbery (stealing or attempting to steal property from a victim under threat of violence or violence).
The states with the most December thefts (from most to least) are:
Washington
New Mexico
South Carolina
Georgia
Arizona
Texas
Louisiana
Tennessee
Delaware
Arkansas
According to that analysis, the states with the fewest December thefts are:
New York
Vermont
Mississippi
South Dakota
New Hampshire
Idaho
New Jersey
Connecticut
West Virginia
Massachusetts
Note: Illinois and Florida were excluded due to data reporting issues. Additionally, reported information is voluntarily. 
Data Highlights 
Larceny is the most common type of property crime during the festive winter season, with an average of 7,708 instances per month—as compared to the least common type, robbery, which averages 80 instances per month. Since robbery involves a personal confrontation with the thief, it's a relief that it's the least likely kind to experience during winter months.
New York state has the lowest rate of holiday larceny and burglary and the 5th lowest rate of holiday auto theft in the country. Considering 1 million NYE partiers head to Times Square, on a single night, in a single city—and that pickpocketing is a form of larceny—those numbers are surprising.
While New York ranks higher for robberies than the other three types of theft, it's still relatively low on the scale—32nd of 48 states.
In Washington, the most likely state for holiday theft, larceny is the least likely type of theft to experience, with 5.6 residents out of every 1,000 reporting incidents during the holiday season. That leaves 72.3 reports of auto theft, home break-ins, and robbery.
In California, an average of 41,499 auto thefts are reported during the holiday season. That would be like nearly half of San Bernardino households having a car stolen sometime between Halloween and Valentine's Day every year.