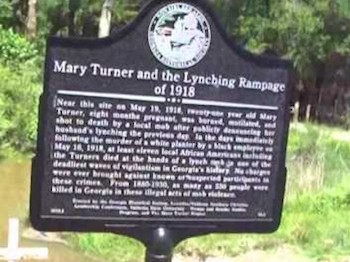 A marker put in place to designate one of the most gruesome lynchings in Georgia history has been vandalized again.

The Mary Turner and the Lynching Rampage, which is dedicated to the 13 people killed in Lowndes and Brooks counties back in 1918, was found full of bullet holes, according to The Associated Press.
It's the second time in five years that the marker has seen destruction, according to The Valdosta Daily Times. Reportedly, the marker has been shot at at least 13 times. Now, the Mary Turner Project is offering a $200 reward for information leading to the arrest of the vandal.
The Associated Press reported that the organization made the following statement in an email: "Although there is little our organization can do to stop these acts of hatred, and given we live in one of the few states that does not have hate crime laws, the Mary Turner Project is contacting members of the press and local elected officials for your assistance."
Lowndes County Sheriff Ashley Paulk said investigators are looking the matter and told the AP that he's not sure if it was a hate crime or not. But Georgia doesn't have hate crime laws on the books at this time.
You can read the back story on the Mary Turner and the Lynching Rampage here.