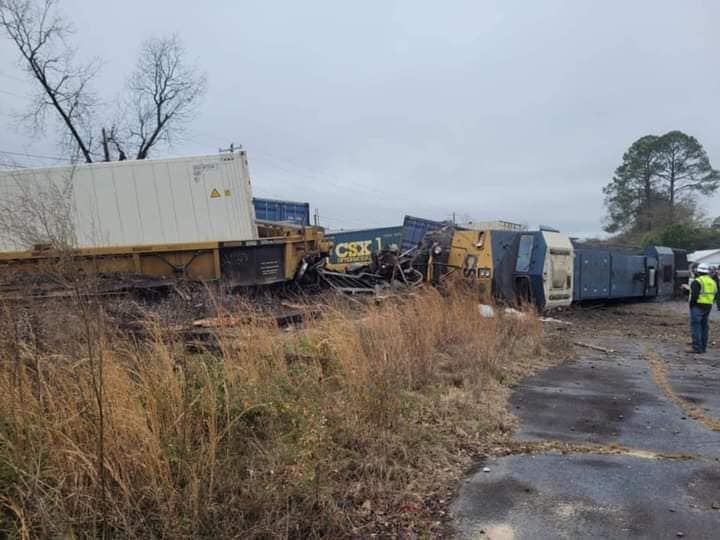 UPDATE from City of Douglas 2/8/2022 8:00 am:
Thanks to hard working CSX crews, the tracks are clear once again for trains to run this morning. Thanks to all of our first responders for their hard work during this incident. Please continue to avoid Railroad Street until all cleanup is complete.
---
DOT UPDATE from City of Douglas 2/7/2022 3:45 PM:
SR 31 in Douglas just reopened. Some local city streets will still be impacted by derailment clean up, check with your local sources on those, but the state route is open. Please start using the bypass to keep traffic out of the area until this can be cleared. Check 511GA for updates on the alert, also available on app.
---
UPDATE from Douglas Police Department:
There were minor injuries reported. There were no HAZMAT issues and no citizens in the area were injured. CSX is working diligently to clear and repair the tracks. Thank you to all of the Fire, EMS, and other law enforcement agencies for your assistance.
---
Original
From City of Douglas: 
A train derailment has occurred in Douglas in the area of McDonald Road and Fales Avenue. All persons with injuries have been transported from the scene. No hazardous material was involved. CSX personnel and multiple emergency personnel are on scene at the derailment area. Please stay out of the area and expect traffic delays for the next few days. PLEASE make travel arrangements to avoid downtown Douglas from from Lupo Lane to Daughtry Avenue for several days. Both Madison Ave and Peterson Ave are blocked at this time.