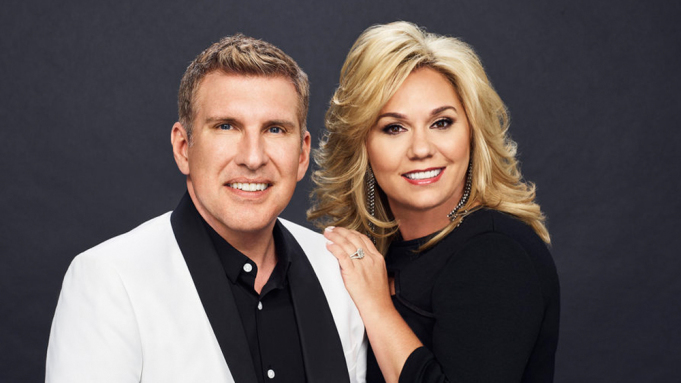 Following an investigation into their tax history with the State of Georgia, Todd and Julie Chrisley are suing a Georgia Department of Revenue employee.
The stars of reality TV show "Chrisley Knows Best" are suing a tax official, according to reports released this week.
The pair claims that Joshua Waites, Director of the Georgia Department of Revenue's Special Investigation Unit, unfairly targeted them in what they say was a "bogus investigation." According to WSBtv, the Chrisleys say that Waites wanted to claim the fame for taking down reality television stars. The suit is not against the state agency itself, but the Department of Revenue did call the claims 'unfounded' and 'disappointing.'
Former Georgia Attorney General Michael Bowers is representing the two.
The lawsuit comes on the heels of the couple dishing out $150,000 to settle tax evasion allegations with the Georgia Department of Revenue, though they have held from the beginning that they did nothing wrong. The state agency had previously claimed the couple evaded roughly $2 million in taxes between 2008 and 2016. In the lawsuit against Waites, the Chrisleys say considerable legal fees have been accrued defending themselves against the investigation, specifically the one in Georgia.
From the WSBtv article:
It says Waites tried to get dirt on the Chrisleys — who remain under federal indictment on tax-related charges — by cultivating a relationship with Todd Chrisley's estranged daughter, Lindsie Chrisley Campbell. In the process, he allegedly broke federal law by sharing confidential tax and grand jury information, the suit claims. Waites sent numerous text messages to Campbell, giving her a blow-by-blow of the investigation and also revealing that his agents had put a photo of her father on a dart board and a punching bag, it claims.
The Chrisley's attorney said that, in the event they are awarded damages in their suit, the money will be donated to the Institute of Justice in Washington, D.C., an organization that assists individuals who believe they have been treated unfairly by the government.
The pair is still facing allegations at the federal level with regard to the IRS. The federal indictment pertain to tax years 2007 to 2012.