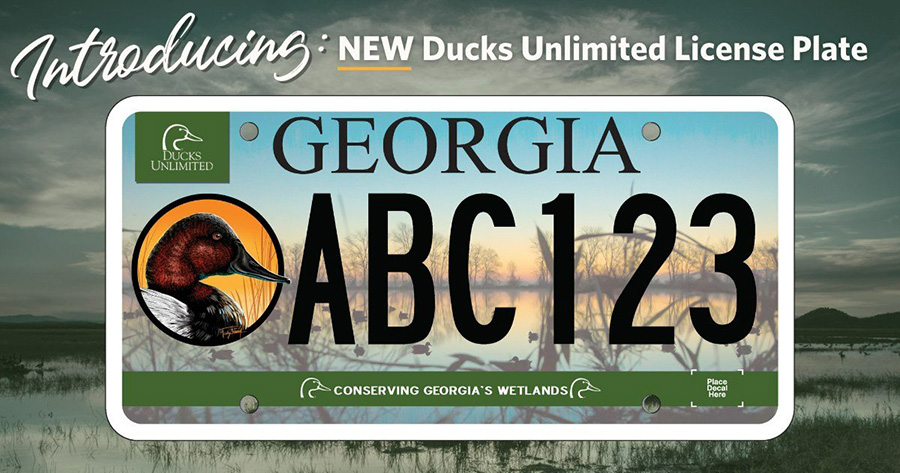 A new Georgia Ducks Unlimited license plate is available upon request at all DMV offices in Georgia.
Funds generated through sales and renewals are required by law to be used for wetlands conservation projects within the state of Georgia.
If you're a duck hunter or a conservation enthusiast, an easy way to help ensure the future of the sport and places you love is to display a Georgia Ducks Unlimited license tag on your vehicle and help fund habitat conservation efforts right here in Georgia.
Ducks Unlimited License Plate:
Annual Registration Fee: 
$20.00
Annual Special Tag Fee: 
$25.00
Where do the funds go? 
Wildlife Resources Division – Dept. of Natural Resources
Cost and Fees Distribution:
Initial cost:
$45 plus ad valorem tax, if applicable.
Cost to renew annually:
$45.00 plus ad valorem tax, if applicable.
Of the Initial $45 fees collected for the issuance of these tags, the fees shall be distributed as follows:
$20 Annual License Reg. Fee
$25 Specialty Tag Fee of which $5 is deposited into the General Fund, $1 to the local county and $19 to Sponsoring Organization
Of the $45 Annual Renewal fees, the fees shall be distributed as follows:
$20 Annual License Reg. Fee
$25 Specialty Tag Fee of which $5 is deposited into the General Fund and $20 to Sponsoring Organization