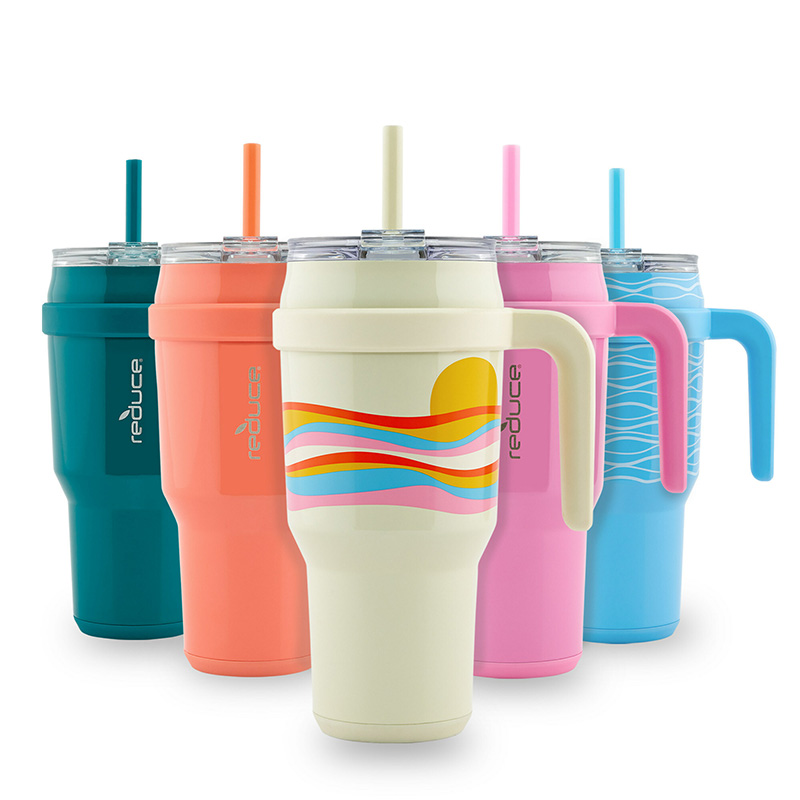 Reduce, an Atlanta-based reusable drinkware company, announces its nationwide Walmart debut with five new colors, two exclusive summer-centric designs and a brand-new product just in time for warmer weather. The rollout, which follows a successful 150-store test of the company's drinkware line since April 2022, will be prominent in all 3,000+ Walmart stores with product endcaps through July 2023.
Reduce's Cold1 40oz, which has become its most sought-after product as a dupe for the popular Stanley cup, will be available at the retailer in two new seasonal Sunrise and Wave patterns. For the Walmart exclusive price of $19.88, the Cold1 40oz is 125% more affordable than the Stanley and it keeps beverages cold just as long. The company's newest product, Aspen, an insulated glass tumbler, is also making its national debut at the retailer. In total, there will be 20 SKUs for shoppers to choose from at Walmart stores across the country.
"Seeing this bright, bold Reduce display on the shelves of the nation's largest retailer is an exciting milestone in our 17-year company history," said Reduce CEO Ken Kreafle. "We're grateful for Walmart's partnership to bring high-quality and affordable drinkware to even more consumers across the country."
The latest version of the Cold1 keeps drinks colder for even longer, features new ounce markings on the cup's interior to track hydration, an easy-to-grab handle, and a patented 3-in-1 Sip It Your Way™ lid that allows you to sip, drink or gulp. The Soft Sit™ base creates a soft and quiet landing for your tumbler; and the updated Cold1 collection is even more cupholder-friendly than before, fitting within most standard-sized cup holders.
The new Aspen glass tumbler features borosilicate thermo-shock glass with a vacuum-insulated stainless steel cover and an extra-large straw perfect for smoothies and boba tea. The Aspen tumbler comes in five colors and keeps drinks cold for up to 12 hours.
Walmart shoppers will also be able to purchase the Reduce Hydrate Pro, a slim 32oz insulated bottle with a leak-proof lid and silicon straw. For shoppers looking for the summer Sunrise and Wave prints, but not ready to commit to a 40oz cup, these prints will also be offered on smaller 34oz tumblers.
Reduce is proud to be an Atlanta-founded and family-owned business with 17 years of success growing its distribution online and in retailers across the country. To learn more about Reduce and where you can find its products, visit reduceeveryday.com.
---
About Reduce
Reduce is a family-owned and operated reusable drinkware company based in Atlanta, Georgia. Founded in 2006, Reduce develops high-quality cups, mugs, barware and food storage products that are engineered to last a lifetime. All Reduce products are BPA free, Phthalate free, lead free and dishwasher safe. They can be found online and in retailers nationwide, including Walmart, Target, Costco, Sam's Club and Kroger. To learn more visit reduceeveryday.com
---
SOURCE Reduce