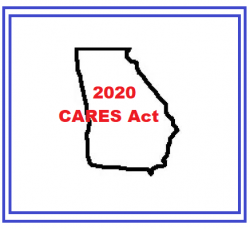 CARES Act Funding To Increase Testing Capacity
The White House announced Wednesday that Georgia will receive over $260 million in federal funding to increase testing capacity in the state.
"Testing is a critical element of our phased approach to get America back to work," Senator David Perdue said in a news release."This CARES Act funding will allow Georgia to expand its testing capacity and test as many people as possible, even asymptomatic individuals. As we continue to gradually reopen the economy, we must ensure our healthcare system has the testing capabilities and resources necessary to identify and contain COVID-19."
The funding, to be awarded by the Department of Health and Human Services, was authorized through the Paycheck Protection Program and Health Care Enhancement Act, commonly known as CARES Act 3.5.
The Federal Government will be sending approximately 12 million swabs to States over the course of May to supplement private sector resources.
By the end of this week, more than 300 retail testing sites will be operational to serve Americans in 47 states and D.C., prioritizing access in underserved communities.
More than 9 million tests have now been completed in the United States – by far the most in the world –

Last week, as many as 314,000 Americans were tested a day.

Already, the Food and Drug Administration (FDA) has granted 92 emergency use authorizations for coronavirus tests – more authorizations than for H1N1, Avian flu, MERS, Ebola, Enterovirus, and Zika combined.
The FDA's authorization of tests created by companies such as Roche, LabCorp, Abbott Labs, and many others have increased America's testing speed and capacity.

These efforts have allowed Americans to receive testing results in as little as five minutes, or collect a sample for a test from their homes.
The Administration announced on Monday that $11 billion will be distributed to help provide states with the resources they need to meet their testing goals.
"We built the most advanced and robust testing anywhere in the world, and we've done more testing than any country anywhere in the world." – President Donald Trump