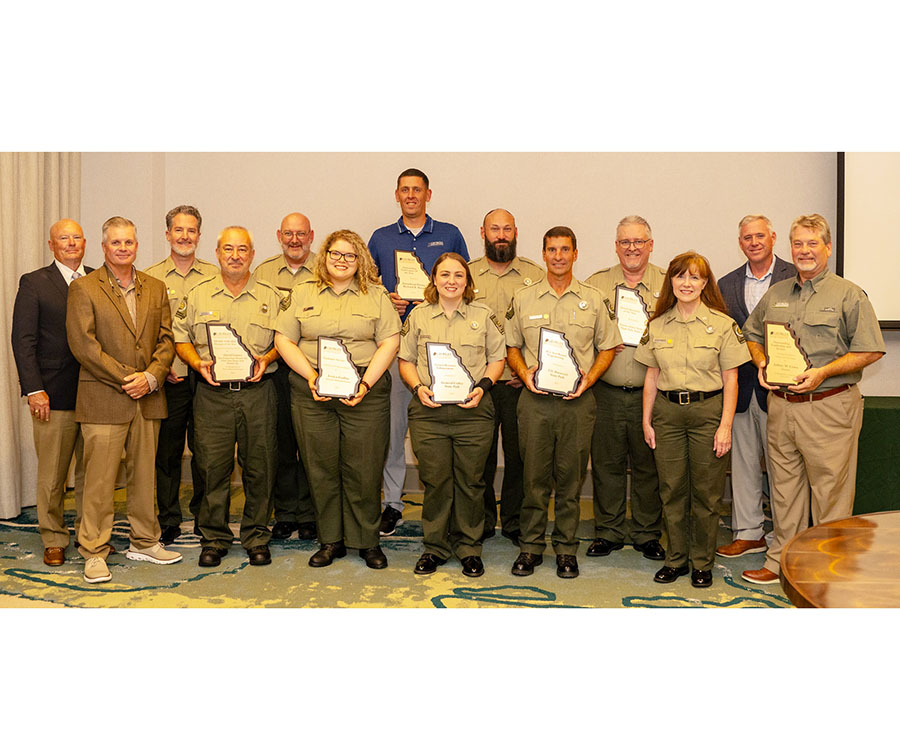 Several Department of Natural Resources employees were honored recently during the annual Georgia State Parks and Historic Sites Managers Conference. An awards ceremony was held October 3 to celebrate those who make more than 60 State Parks and Historic Sites outstanding destinations for Georgia's citizens and visitors. They also attended training sessions and shared ideas on park operations. Below are this year's award winners, and more information on each site can be found on GaStateParks.org.

Henry Struble Manager-of-the-Year Award
Winner: David Gomez, Manager of New Echota Historic Site in Calhoun and Chief Vann House Historic Site in Chatsworth
Henry Struble was one of the most influential directors in the division's history. Nominees exhibit a high degree of professionalism and are recognized as management leaders. David Gomez is one of the more knowledgeable and experienced managers in the division. Under his guidance, New Echota Historic Site's visitation increased by 48 percent and ParkPass sales nearly quadrupled in the past year. During 2023, Gomez participated in community outreach with the Gordon Historical Society and the Gordon Chamber of Commerce, focused on maintenance projects such as replacing wooden routed signs and interpretive signs, and performed boundary line inspection. Gomez is well respected by coworkers and local community leaders and is keenly aware of the unique needs of not one, but two, culturally sensitive historic sites.
---
Above and Beyond Award
Winner: Brad Ballard, Region 6 Manager
When the Reynolds Mansion on Sapelo was experiencing staffing shortages, Region 6 Manager Brad Ballard stepped in to keep the historic inn open and welcoming guests. He worked approximately 65 days, staying over on the island many nights, plus spending many days off picking up supplies from the mainland. He prioritized maintenance, embraced operational changes and was not afraid to ask for help.
---
Most Outstanding Site Operation
Winner: Stephen C. Foster State Park, Fargo
Manager: Bryan Gray
The Most Outstanding Site Operation award is given to the park that represents an excellent record in all aspects of management. This year, Stephen C. Foster State Park in the Okefenokee Swamp hosted an overnight Region 6 manager meeting, the DNR State Parks/Law Enforcement joint meeting and a DNR Board meeting. Staff assisted with a workday at nearby Fort McAllister State Park, filled in staff shortages at Laura S. Walker and Skidaway Island state parks, and correcting long-term maintenance issues at Reynolds Mansion. Stephen C. Foster rangers serve as Park Ranger Academy instructors and Manager-in-Training program trainers.
---
Customer Service Award
Winner: Jessica Godbee, Sylvania Information Center Manager, Sylvania
The Customer Service award highlights someone who embodies the DNR's "We Serve" mentality with a can-do, problem-solving attitude. Jessica Godbee is committed to serving travelers as they stop at the Sylvania Information Center to gain more information about Georgia. Serving a free Coke and sample of peanuts, Godbee points to the map on the countertop to show the best back roads to take across the state, highlighting festivals and hidden gems along the way.
---
Best Year-Round Programming Award
Winner: F.D. Roosevelt State Park, Pine Mountain
Manager Desmond Timmons
The Best Year-Round Programming award considers program quality and diversity, number of events, attendance and consistent positive feedback. F.D. Roosevelt State Park offered more than 300 programs this year, reaching 14,000 visitors. Topics included archery shoots, guided hikes, game nights, home school programs and school field trips. The park's programming efforts are led by Interpretive Ranger Danielle Joerger who serves on the Georgia State Parks and Historic Sites Program Advisory Committee. This year, Joerger created a scout merit badge programs for Girl Scout Archery, Girl Scout Camporee, and Boy Scout Reptiles and Amphibians.
---
Natural Resource Enhancement Award
Winner: General Coffee State Park, Nicholls
Manager Mikayla Spencer
Natural Resource Enhancement includes projects such as pollinator gardens, use of prescribed fire, invasive species elimination, trail creation and maintenance, and similar conservation-minded projects. General Coffee State Park's pitcher plant bog was improved with prescribed burns which allow more sunlight to reach the carnivorous plants, stimulate bog growth and remove undesirable species. Approximately 60 additional pitcher plants were planted, and an additional controlled burn was conducted to improve views from the entrance and enhance the wiregrass community.
---
Cultural Resource Enhancement Award
Winner: Etowah Indian Mounds Historic Site, Cartersville
Manager Bobby James
Projects that enhance cultural resources may include museum renovations, interpretive exhibits or preservation efforts that enhance a site's history. Etowah Indian Mounds Historic Site's museum underwent a major renovation with the removal and repatriation of all Native American artifacts this year. With help from the State Parks Division's Cultural and Interpretive Resources Unit, Department of Natural Resources' Engineering & Construction Unit, region staff, park staff and Muskogee Creek representatives, the museum was transformed into an open-concept indoor education area. The renovated museum will offer hands-on activities and interactive learning experiences, as well as a staff-made dugout canoe.
---
Outstanding Golf Course of the Year
Winner: Arrowhead Pointe Golf Course at Richard B. Russell State Park, Elberton
Manager: Barry Johnston (Golf Course)
Nominees demonstrate excellent pro shop administration, customer service, cleanliness, maintenance, retail and player satisfaction. During the past year, Arrowhead Pointe Golf Course hosted more than 100 golf packages and multiple tournaments, including state high school regionals and the Elberton Granite Association tournament, plus showed impressive growth in pro shop sales.
---
Retail Operation of the Year Award
Winner: High Falls State Park, Jackson
Manager Terry Miller
Funds generated from gift shops help keep Georgia's State Parks and Historic Sites in good condition for guests. Nominees for Retail Operation of the Year stock popular items, try new things and demonstrate sales growth. High Falls State Park and its satellite park Dames Ferry have successful gift shops that provide guests with firewood, ice, candles, soaps, small propane tanks, stickers and tee shirts. The staff keeps close track of any restocking needs, and stores are attractively decorated.