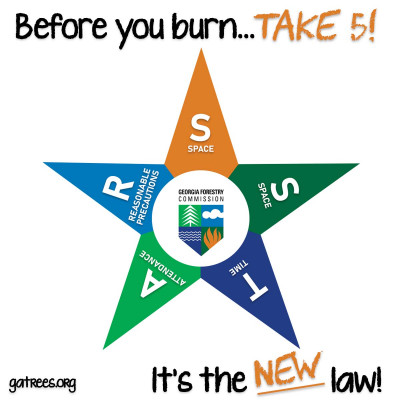 Georgia's annual summer ban on outdoor burning will be lifted on October 1. The Georgia Environmental Protection Division mandates the fire restrictions from May through September in 54 counties, primarily in the northern half of the state, to protect air quality from emissions that may increase ground level ozone.

Of special note this year, in July, significant changes were made to the Georgia law requiring burners to notify the Georgia Forestry Commission of their intent to burn outdoor yard debris. Landowners planning to burn hand-piled vegetative matter no longer have to call the GFC or log into the GFC website to report their burns. Instead, burners must ensure safety measures are in place to reduce the chance of escaped fire, which is the leading cause of wildfire in our state. It is important to also note that local county or city ordinances supersede these changes.
"The changes to the law really strengthen the prevention of wildfires caused by escaped yard debris burning," said Georgia Forestry Commission Director Tim Lowrimore. "Part of the new law directs the person responsible for the burn to take reasonable and necessary precautions each time they decide to burn."
The new law applies to every county in Georgia. The 54 counties whose burn bans will be lifted on October 1 are: Banks, Barrow, Bartow, Bibb, Butts, Carroll, Catoosa, Chattooga, Cherokee, Clarke, Clayton, Cobb, Columbia, Coweta, Crawford, Dawson, DeKalb, Douglas, Fayette, Floyd, Forsyth, Fulton, Gordon, Gwinnett, Hall, Haralson, Heard, Henry, Houston, Jackson, Jasper, Jones, Lamar, Lumpkin, Madison, Meriwether, Monroe, Morgan, Newton, Oconee, Paulding, Peach, Pickens, Pike, Polk, Putnam, Richmond, Rockdale, Spalding, Troup, Twiggs, Upson, Walker and Walton.
Complete details about the new law and tools to help citizens understand their burning responsibilities can be found here: https://gatrees.org/burn-permits-and-notifications/.
"It's critical that citizens planning to conduct burning be acutely aware of local weather conditions prior to igniting their burn," said Georgia Forestry Commission Chief of Protection Frank Sorrells. "Local wind speed and direction, relative humidity, and the number of days since significant rainfall are critical factors that can make the difference between success and an unintended tragedy."
In addition to a number of media sources for weather information, including local TV and radio stations, websites, weather apps for smart phones, and the National Weather Service, the Georgia Forestry Commission provides detailed weather information on its website. Daily forecasts, fire danger maps and comprehensive fire weather information are available at: http://weather.gfc.state.ga.us/Maps.aspx. Prospective burners may also call their GFC county office for information and assistance.
For more information about safe burning and services of the Georgia Forestry Commission, visit GaTrees.org.
---
Georgia Forestry Commission