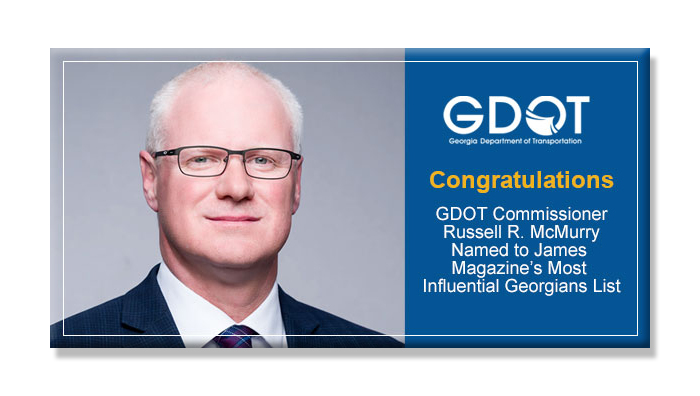 Georgia Department of Transportation Commissioner Russell R. McMurry, P.E. was named among the most influential Georgians by James Magazine in the publication's 2022 "Most Influential Issue."  The list is a compilation of 100 major business, political and media players from across the state.
"I'm honored to be named to this list and humbled to be in the company of so many outstanding individuals," McMurry said. "Maintaining, improving and expanding our transportation network is not a one-man job, and I share this honor with the State Transportation Board for its guidance, as well as everyone at GDOT for their hard work and dedication to improving safety and mobility in Georgia."
"Our intent is to provide readers with an insider's view of prominent, accomplished movers-and-shakers in various parts of Georgia who influence public policy and impact our quality of life," James Magazine CEO and Publisher Phil Kent wrote in his introduction to the magazine.
McMurry's listing in the magazine reads, "Now in his seventh year heading the nation's 10th largest state transportation agency — a $3.6 billion, 4,000 employee operation – the Hart County native and Georgia Southern grad is nationally recognized for his leadership and lends his expertise to an array of boards and commissions, ranging from MARTA to the Homeland Security board."
McMurry has led the Georgia Department of Transportation as commissioner since his appointment by the State Transportation Board in 2015.  Under his leadership, the department is advancing an innovative transportation infrastructure that is safe, sustainable and reliable. Over his 31-year career with Georgia DOT, McMurry has accomplished many things. He led the department through one of the most challenging transportation crises Georgia has seen – the collapse and subsequent rebuild of an I-85 bridge in 2017 – and now he is implementing one of the most transformative expansions in the history of the state's transportation network through the massive Major Mobility Investment Program.
Under the leadership of Commissioner McMurry, Georgia Department of Transportation plans, designs, constructs, maintains and improves the state's roads and bridges, and interstate highways; and provides planning and financial support for other modes of transportation including rail, transit, general aviation, and bicycle and pedestrian programs. The department is also involved in waterways, including the Savannah and Brunswick ports and intracoastal waterway.
---
GDOT