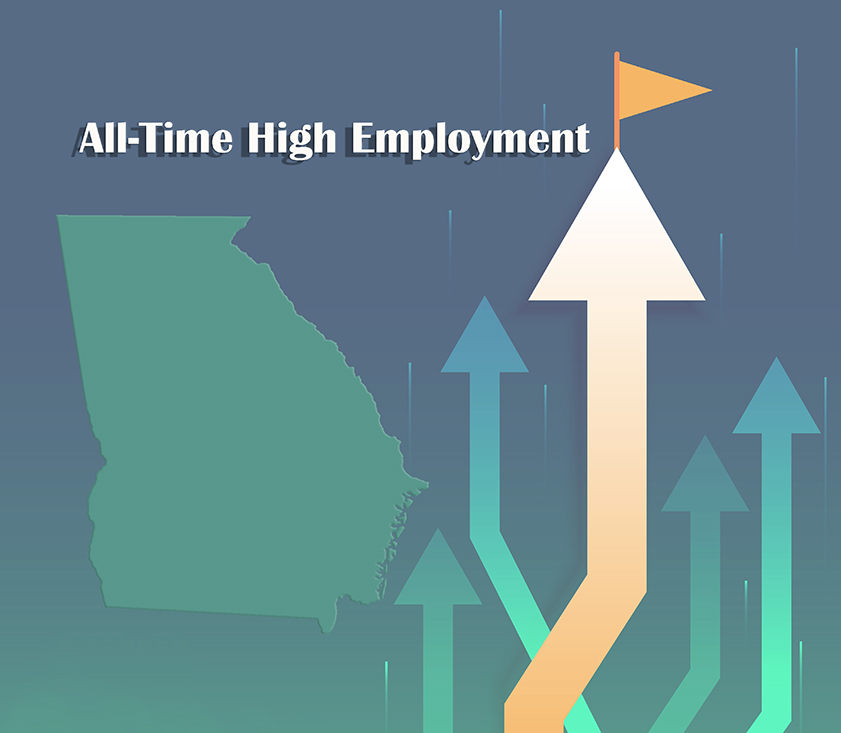 Georgia Labor Commissioner Mark Butler announced recently that Georgia registered a new all-time high number of employed Georgians of 5,068,389, up 21,102 in February.
The labor force also recorded an all-time high of 5,234,620, up 18,994 over the month, while job numbers continued to rise 24,700 from January to February, to 4,724,400, another all-time high for the state.
"This state has continued to be successful in creating jobs and getting Georgians employed in these positions," said Labor Commissioner Mark Butler. "All of this has led to our number of unemployed being the lowest since June of 2001."
Commissioner Butler also announced that Georgia's unemployment rate remained the same in February at 3.2 percent, matching January's all-time low. In January, Georgia had the lowest unemployment rate among the top ten most populated states (Florida was second lowest at 3.5%). The Peach State ranked 6th in the nation for seasonally adjusted job gain and 7th in the nation for increase in employment from December to January. Georgia's February unemployment rate was six-tenths of a percent lower than the national February 2022 unemployment rate of 3.8 percent.
"In reviewing the past year, Georgia was 8th in the nation in job gain adding 216,000 jobs from January 2021 to January 2022 and consistently led the top ten most populated states with the lowest unemployment rate," said Commissioner Butler. "As we are continuing to see record breaking numbers in employment, labor force, and job growth, it is still critical that we continue to develop and train our workforce to take full advantage of the employment opportunities that are available."
Georgia's number of jobs was an all-time high of 4,724,400, up 232,000 over the year. The sectors with the most over-the-month job gains included Administrative and Support Services, 7,400, Retail Trade, 4,800, Accommodation and Food Services, 3,700, Management of Companies/Enterprises, 2,400, and Durable Goods Manufacturing, 2,100.
Job numbers were at an all-time high in Trade and Transportation, 997,200, including the Retail Trade sector, 514,900, the Transportation and Warehousing sector, 266,200, in Financial Activities, 266,500, in Professional and Business Services, 771,400, including the Professional, Scientific, and Technical sector, 311,800, and the Administrative and Support Services sector, 367,600, and in Education and Health Services, 623,000, including the Health Care and Social Assistance sector, 528,700.
In comparing February 2022 figures to pre-pandemic figures, the labor force is up 50,000, the number of employed is up 75,000, and the number of unemployed is down 25,000. When considering sectors hit hardest by the pandemic, Transportation and Warehousing, Administrative and Support Services, Professional, Scientific, and Technical Services, and Retail Trade all have job growth of 10,000 or more from two-years ago, just prior to the pandemic. At the same time, Accommodation and Food Services, State Government, and Local Government all have job loss of 10,000 or more from pre-pandemic levels.
There are over 230,000 jobs listed online at EmployGeorgia.com, resulting in a minimum of over 320,000 unfilled positions. Employers with over 1,000 job postings included Wellstar Health System, 2,100, United Health Group, 1,900, Marriott International, 1,500, Amazon 1,400, Dollar General 1,300, Anthem Blue Cross 1,300, and Walmart, 1,000.
Industries with over 10,000 job postings included Health Care, 38,000, Manufacturing, 22,000, Retail Trade, 21,000, Accommodation and Food Services, 19,000, Finance and Insurance, 16,000, Professional, Scientific & Technical Services, 14,000, and Transportation and Warehousing, 12,000.
Market salaries for the jobs listed on Employ Georgia range from $23,000 to $102,000, showing a median salary of $42,000.
Initial claims were down 6,180 (22%) from January to 22,077 in February. Over the year initial claims were down 89,231 (80%).
---
For personalized assistance, employers can reach Georgia Department of Labor (GDOL) staff at https://dol.georgia.gov/employer-email-us-form. Additionally, by visiting Employ Georgia, employers can manage job openings and access the state's talent pool. GDOL's Career Centers are providing in-person employment services by appointment. Job seekers can reach out to their local career centers at https://dol.georgia.gov/locations/career-center for assistance.