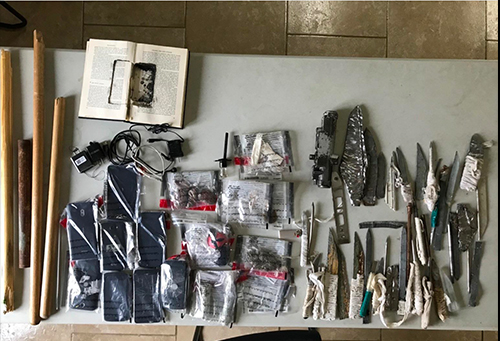 The Georgia Department of Corrections produces a public report on a quarterly basis to update statistics on the interdiction efforts inside state prisons.
The state agency reports that 9,657 contraband items were seized by Georgia Department of Corrections officers in the first quarter of 2019, beginning January 1 and ending March 31. The agency reports that there are efforts to "continuously makes improvements" to the process in addition to utilizing full-facility shakedowns to combat contraband entering facilities around the state.
"Contraband entering our facilities is an ongoing battle the department faces on a daily basis, said Timothy C. Ward, the commissioner of the GDC, in a press release. "We are continually reviewing our practices and procedures to ensure we remain attentive to our mission of creating safe and secure facilities."
Wardens and Superintendents are in charge of leading a team of officers in the supervision of nearly 52,000 state offenders within 34 state prisons, 21 county prisons and four private prisons
GDC uses the Office of Professional Standards, GDC Tactical Squads and K9 Units to collect contraband. They report the following numbers for the first quarter:
1,677 cell phones
655 cell phone chargers
3,470 handmade weapons
11,546.31 grams of marijuana (363 bags/balloons)
71,244.14 grams of tobacco (1,313 bags/balloons)
2,568.71 grams of methamphetamine (136 bags/balloons)
2,564.52 ounces of alcohol (191 bottles)
175 pills
24 syringes
14 SIM/SD cards
The GDC also utilized shakedown operations to detect 1,639 items in the first quarter of 2019. A total of 22 shakedowns were completed at 12 of the 32 state prisons.
First quarter shakedown seizures included:
168 cell phones
1,192 handmade weapons
1361.9 grams of marijuana (18 occurences)
1216 grams of tobacco (14 occurences)
1060.9 grams of methamphetamine (12 occurences)
88.8 gallons of homemade alcohol (7 occurences)
228 unidentified pills