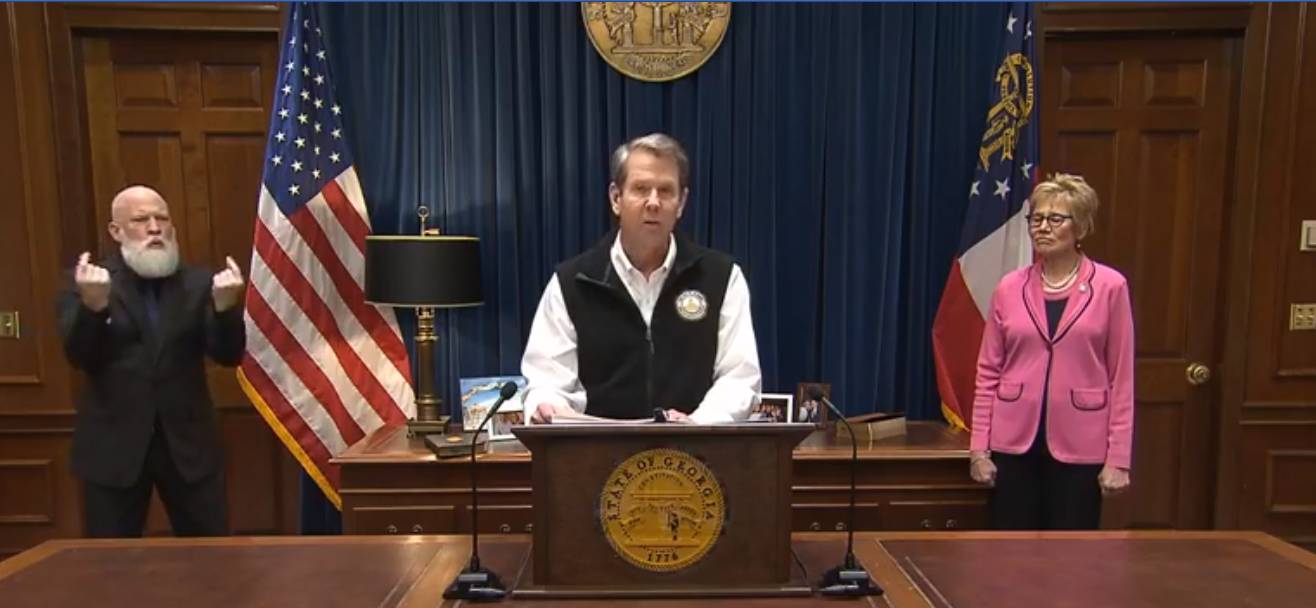 Governor Kemp's office issued a shelter in place order for all Georgians beginning at 6:00 PM on Friday, April 3, 2020 and extending through April 13, 2020.

The order supersedes local and county ordinances enacted as a result of the COVID-19 outbreak, including every ordinance enacted since March 1, 2020 if the ordinance is in any way contradictory of this order. The Governor's order trumps each and every local act. (see page 8 below)
Under the order:
businesses are prohibited from allowing a gathering in a single location if the gathering requires 10 or more people to be within 6 feet of any other person
individuals are required to shelter in place at their residence to limit the spread of COVID-19.

Exceptions are made for:

conducting or participating in essential services
performing necessary travel
traveling to or performing minimum basic operations for a business, establishment, nonprofit, or other entity not defined as 'critical infrastructure'
those part of the workforce of critical infrastructure

the sale of firearms and ammunition is not limited under the order.
No visitors for shelter in place persons are permitted except for:

medical, behavioral and emergency services, medical supplies and medication, and home hospice
visitors providing  for persons to conduct daily living
visitors providing food, supplies, and other equipment for home health & safety
visitors received during end of life circumstances.

This will be strictly enforced for nursing homes, assisted living facilities, long-term care facilities, hospice homes, and other community integration facilities.

Limited activity is permitted for:

obtaining necessary supplies and services for family and household members – food, medical supplies, medicine, educational information, sanitation supplies, etc
engaging in activities essential for the health and safety of the individual or household members
engaging in outdoor exercise so long as 6 feet distance between each individual is maintained.

Georgians are required to limit travel as required by minimum basic operations and critical infrastructure only
Restaurants are prohibited from offering dine-in services (take-out, curbside pick-up, and delivery only)
Minimum basic operations for businesses are defined as:

payroll, employee benefits, activity necessary to facilitate teleworking, instances where employees are working outdoors without regular contact with other persons (delivery, contractors, landscape businesses, agriculture industry)
A business may remain open if it is not in conflict with any other aspect of the order requiring a shutter.

If a business is not a critical infrastructure business, the business must:

screen and evaluate workers who show signs of illness – like fever, cough, and shortness of breath
require workers who show signs of illness to seek medical attention and not require them to attend work
require hand washing
provide personal protective equipment as available
prohibit gatherings
permit workers to take breaks and eat meals outdoors to adhere to social distancing
prohibit handshaking,
deliver intangible services wherever possible
implement staggered shifts as available
implement teleworking as possible
suspend the use of pinpads, PIN entry devices, and electronic signature devices.
increase physical space between workers and worksites
increase space between customers and employees
provide disinfectant and sanitation products for workers to clean workspace
The order, which was released at 6:20 P.M. on April 2nd, 2020, is below in its entirety.
04.02.20.01 (1)