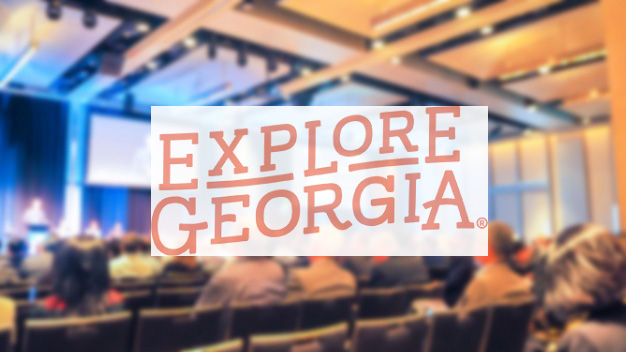 On Global Meetings Industry Day, Explore Georgia, the tourism division within the Georgia Department of Economic Development (GDEcD), is proud to showcase the state's leading-edge conference centers and destinations. Global Meetings Industry Day (GMID) is led by the industry advocacy coalition Meetings Mean Business, and this year's theme, "Meet Safe," recognizes the industry's top priority of operating meetings and events with health and safety top-of-mind.
"Professional meetings and events are essential parts of Georgia's tourism industry, and we are thrilled to unite with destinations across the globe during Global Meetings Industry Day to stand in support," said Mark Jaronski, deputy commissioner of Explore Georgia. "It is exciting to see the hope and optimism of having safe in-person and hybrid events, and as event planners are looking toward the future, we want to be sure that Georgia is first on their minds. Leaders across our state tourism industry are committed to providing safe and compelling experiences both during and after business hours."
While in Georgia, meeting and convention attendees can enjoy diverse experiences outside of scheduled conference events. With the state's big cities and small towns, diverse population, thriving arts and culture, and a geographical range from the mountains to the beach, there's a lot to see and do. Destinations across the state — like Atlanta and the Georgia World Congress Center, Athens and The Classic Center, as well as Savannah and the Savannah Convention Center — are already welcoming groups back safely.
Georgia World Congress Center, Atlanta
Located in the heart of downtown Atlanta, the Georgia World Congress Center (GWCC) features 1.5 million square feet of prime exhibit space and is the world's largest LEED-certified convention center. Along with the convention center, the Georgia World Congress Center Authority's (GWCCA) ever-evolving campus spans 220-plus acres and includes Centennial Olympic Park and Mercedes-Benz Stadium — both offering space for meetings and conventions. New expansion plans will add a pedestrian mall, a transportation depot, and a convention hotel – Signia by Hilton Atlanta. GWCC has a comprehensive safety and operational plan designed to meet the health and safety challenges presented by COVID-19 and was the first convention center in the U.S. to achieve GBAC STAR™ accreditation, recognizing the convention center's commitment to cleaning and disinfection. The plan can be found here.
The Classic Center, Athens
The Classic Center is located in the middle of downtown Athens' vibrant shopping, dining, and entertainment district. Meeting rooms at The Classic Center are just steps away from more than 1,700 hotel rooms and a wide array of entertainment options. The Classic Center hosts events of up to 6,000, with 373,000 square feet of event space, including pre-function and an outdoor pavilion. New expansion plans will add a 5,000-seat arena that will open in 2023. You can view their health and safety protocols here.
Savannah Convention Center, Savannah
The Savannah Convention Center is a 330,000-square-foot waterfront complex on the Savannah River featuring 100,000 square feet of divisible exhibit space, 50,000 square feet of prime meeting space, including 13 meeting rooms, four executive board rooms, a 25,000-square-foot Grand Ballroom, a state-of-art 367-seat auditorium, and an expansion plan that will add significant space. The center has developed a comprehensive plan featuring enhanced safety measures and operational changes designed to meet the health and safety challenges presented by COVID-19. The plan can be found here.
Many facilities across the state have earned certification from the Global Biorisk Advisory Council, the gold standard in safety protocols. In addition, these facilities and businesses have committed to the Georgia Safety Promise, a statewide campaign from the Governor's Office and the Georgia Department of Public Health that encourages businesses and the public to agree to simple, but critical, measures that will help keep Georgians safe from COVID-19, minimize the spread of the virus, and keep Georgia open for business.
For more information about planning your next meeting or event safely in Georgia, click here.