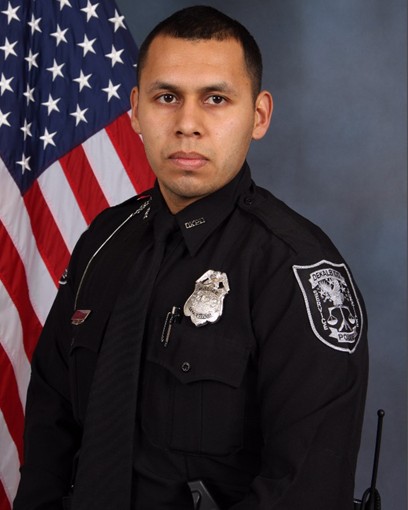 The DeKalb County police officer killed in the line of duty Thursday night has been identified as Edgar Isidro Flores. He was just 24-years-old and engaged to be married.
DeKalb County Police Chief James Conroy told media outlets that Flores had been with the department for less than two years. He was to celebrate his 25th birthday the week before Christmas.
Flores was on a traffic stop when Brandon Taylor, the now-deceased suspect, tried to run from police. Taylor opened fire on Flores 'multiple times' in a parking lot, according to witnesses, before running. SWAT team members and K-9 officers eventually located Taylor hiding down the street. When Taylor opened fire on a K-9, three officers returned fire, killing Taylor.
A K-9 officer, now identified as Indi, was also shot during the search for the suspect. After being stabilized from a gunshot wound to the head, Indi was seen walking outside the vet's office on Saturday afternoon. He has served for five years.
DeKalb County elected officials say they are working to provide as many resources as possible to the officer's family.
Flores is the fifth Georgia officer killed in the line of duty this year.