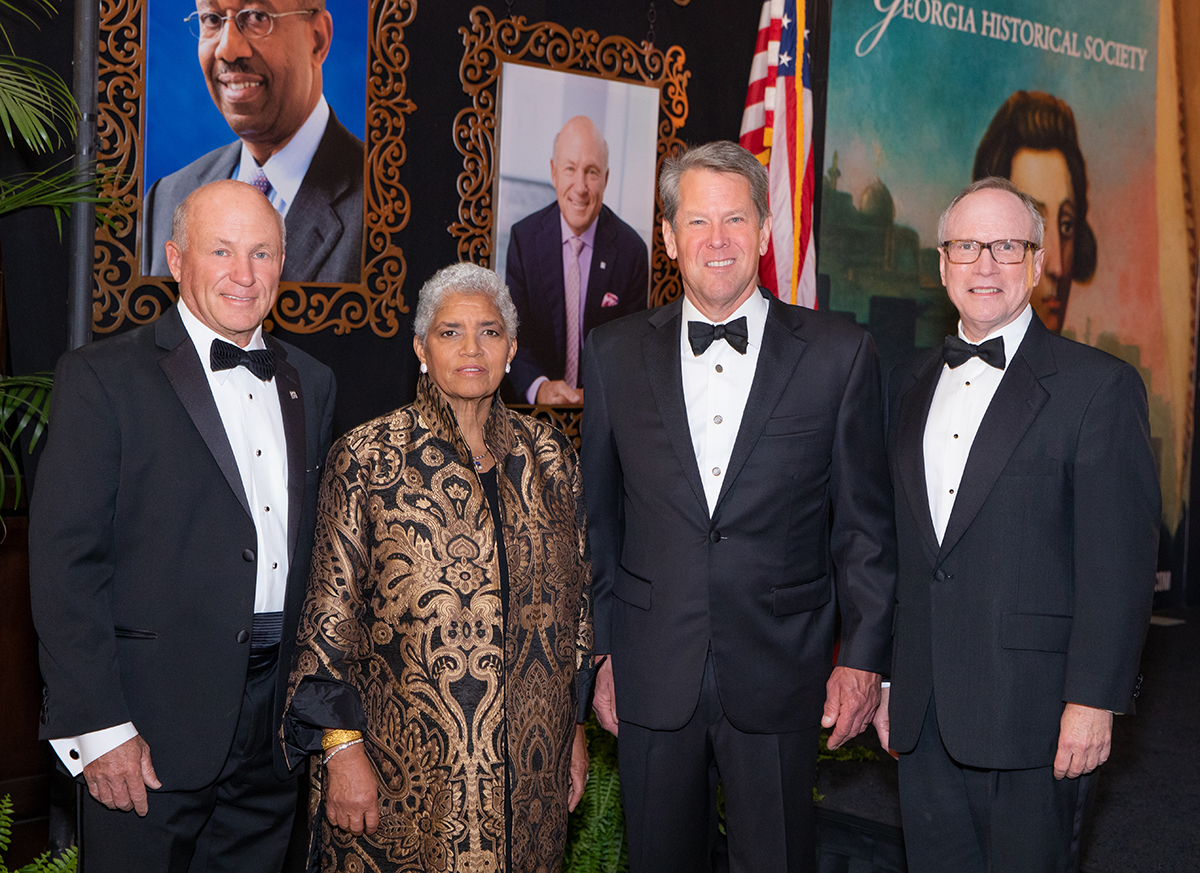 To commemorate the 289th anniversary of the founding of Georgia, Governor Brian Kemp and the Georgia Historical Society inducted Dan Cathy, Chairman of Chick-fil-A, Inc., and Shirley Franklin, former mayor of Atlanta, as modern-day Georgia Trustees on Saturday, April 30, at the Georgia Historical Society's Trustees Gala in Savannah. It is the highest honor the State of Georgia can confer.
"This evening we honor two outstanding Georgians, Shirley Franklin and Dan Cathy," said Dr. W. Todd Groce, president and CEO of the Georgia Historical Society. "Through their service, leadership, and accomplishments, they represent the founding principle of the original Trustees: Non Sibi, Sed Aliis, which means 'Not for self, but for others.'"
"Tonight's two honorees have inspired us all to do more, to be present in our communities, and to help others," said Governor Kemp. "They are well deserving of our state's highest honor."
The son of Chick-fil-A founder S. Truett Cathy, Dan Cathy's career at Chick-fil-A began when he was a boy, singing for customers and performing in radio ads for the chain's original "Dwarf House" restaurant in Hapeville, GA. Before becoming Chairman and CEO in 2013, Cathy was President and Chief Operating Officer for 12 years. His previous roles include Senior Director of Operations, Vice President of Operations, and Executive Vice President. Under Cathy's leadership, Chick-fil-A was named the top fast-food restaurant for customer service by Newsweek in 2019.
Shirley Franklin was elected and served two terms as Mayor of Atlanta from 2002 to 2010. She was the first African-American woman to serve as Mayor of a major southern city, and under her leadership Atlanta experienced unprecedented growth. During her eight years as mayor, Franklin championed strict ethics legislation and implemented sweeping government operational reforms. She led the effort for the Atlanta BeltLine project and invested over $6 billion in improvements to Hartsfield-Jackson Atlanta International Airport, Atlanta city parks, affordable housing, and water infrastructure projects.
In conjunction with the Office of the Governor, the Georgia Historical Society reestablished the Georgia Trustees in 2008 as a way of recognizing Georgians whose accomplishments and community service reflect the highest ideals of the original Trustees, a governing body chartered and appointed by His Majesty King George II of England in 1732 to establish a new colony in North America. The modern-day Trustees are appointed annually by the Governor.
The annual Trustees Gala is the Georgia Historical Society's premier annual event and the culmination of the Georgia History Festival. Each year, this elegant and much-anticipated evening draws top local, state, and national leaders to honor and pay tribute to the best the State of Georgia has produced.
Previous inductees include Bernie Marcus, Ted Turner, Hank Aaron, The Honorable Sam Nunn, Vince Dooley, The Honorable Andrew Young, Tom Cousins, Herman Russell, Truett Cathy, Billy Payne, Arthur Blank, Paula Wallace, Alana Smith Shepherd, Muhtar Kent, James Blanchard, F. Duane Ackerman, Pete Correll, Paul Bowers, Ed Bastian, John Schuerholz, Frank Blake, Robert Brown, Robert Jepson, David Abney, Juanita Baranco, and Marguerite Neel Williams, who was honored posthumously.
---
Georgia Historical Society