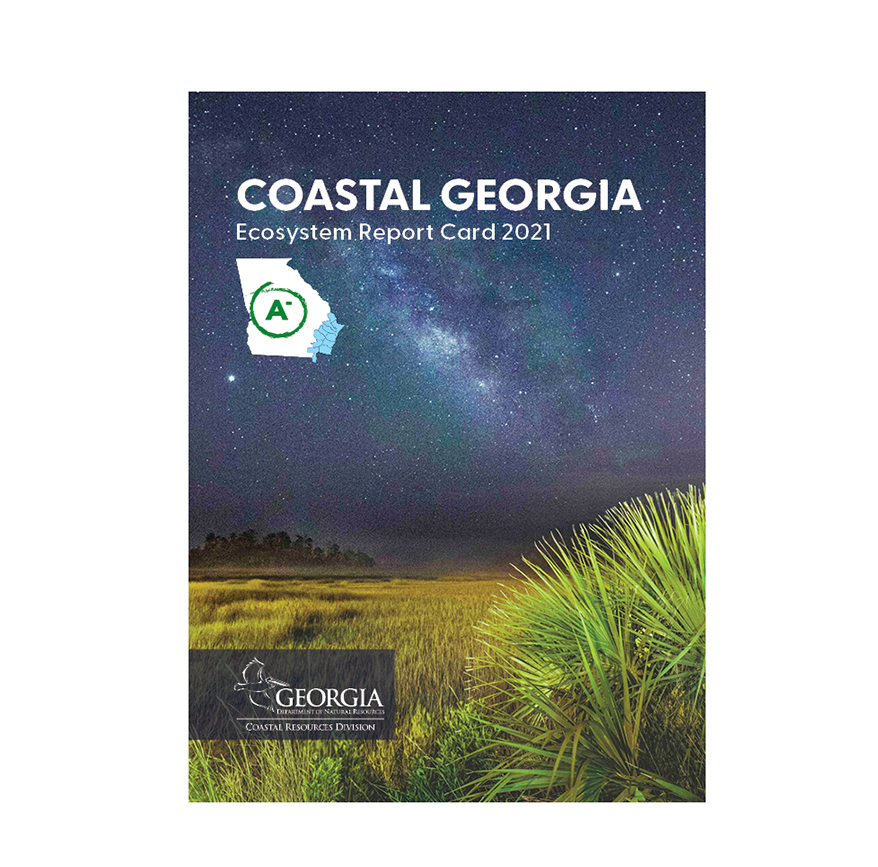 An annual report measuring the health of Coastal Georgia's ecosystem released today shows an increase from last year in overall scores, particularly in fisheries and bird indices.
The Coastal Georgia Ecosystem Report Card scored the state's coastal environment at a "A-", or 81 percent, a four-point increase from last year, according to the Coastal Resources Division (CRD) of the Georgia Department of Natural Resources (DNR), which commissions the report.
"This year's annual report card—released on Earth Day—shows Coastal Georgia's ecosystems continue to thrive, in large part because of thoughtful stewardship, science-based decision making, and striking that careful balance between conservation and development," said Jan Mackinnon, a CRD biologist who oversaw the report. "Positive increases in red drum abundance, wood storks, and bald eagles all contributed to higher scores over last year, and everyone who cares about our natural resources can be proud of that."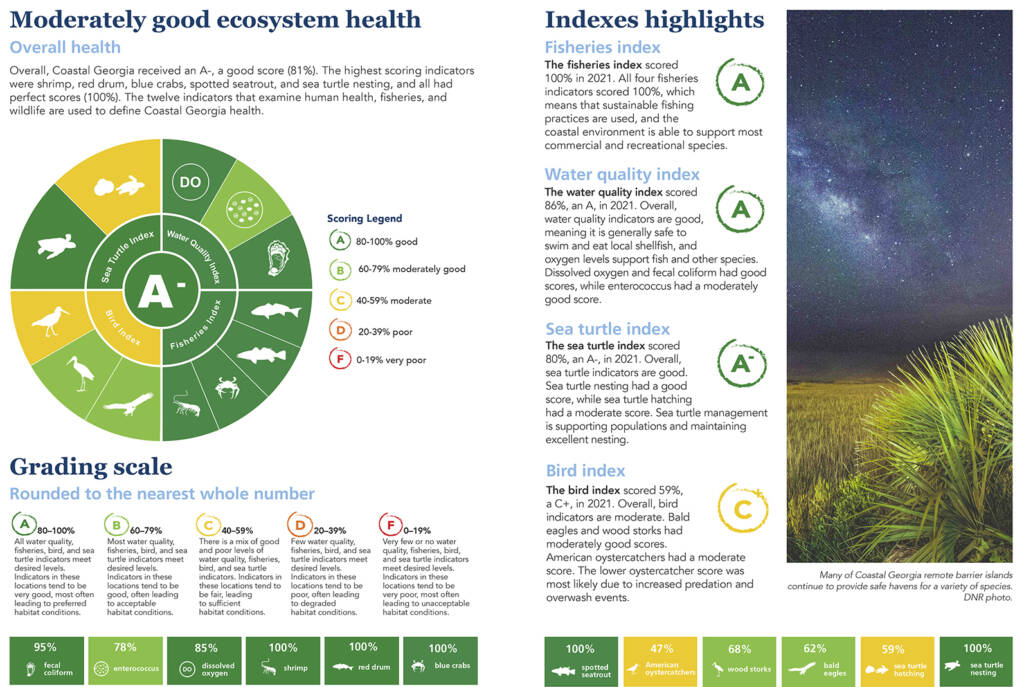 CRD biologists attribute the increase in red drum abundance to environmental factors that may have decreased juvenile mortality.
"Factors ranging from wind direction, to salinity, to water temperature can all play significant roles in the survival rates of red drum," said Jared Flowers, CRD's research and surveys unit leader. "Red drum scores in this year's report card are actually more in line with what we generally see. Last year's score was a relative abnormality, but we do see cyclical patterns in this fishery with highs and lows. CRD's Marine Sportfish Population Health Survey monitors this gamefish and will continue to gather data to help inform any future management decisions."
Likewise, bald eagle health increased five points from last year, showing estuaries and the coastal environment are supporting a food web necessary for this important predator.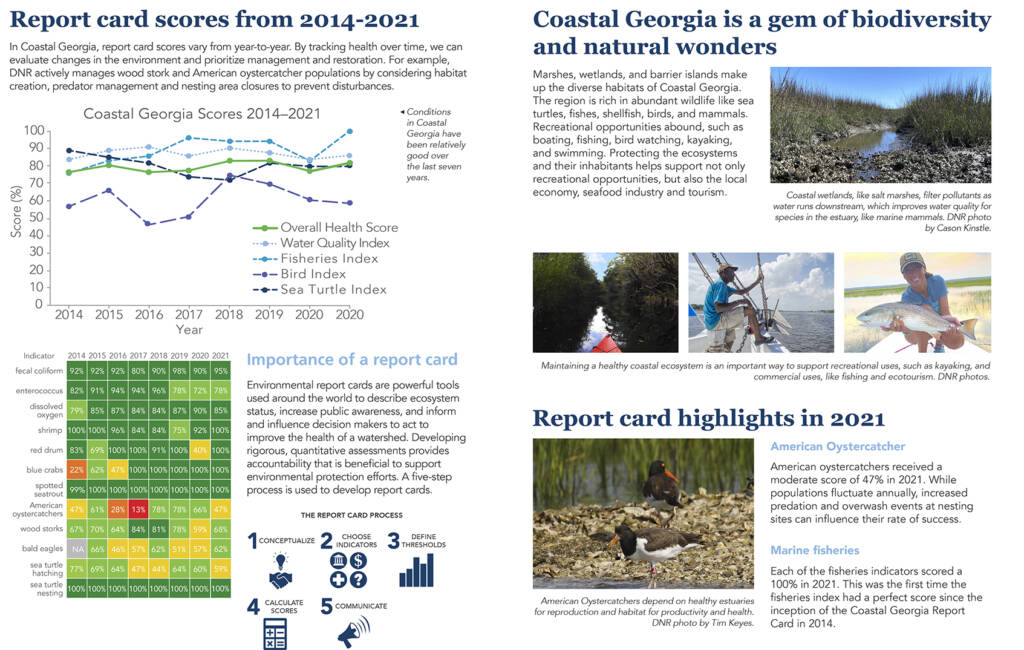 Bald eagle nesting results for 2021, including the number of occupied territories, the percentage of successful nests, and the number of eaglets fledged, were almost identical to the 2020 figures, which was an above average year on the coast for the species.
The death of nesting trees, primarily from saltwater exposure, and eagle mortalities from car collisions while the birds feed on roadkill continue to be worrisome, said Bob Sargent, a bird biologist with the Wildlife Conservation Section of DNR's Wildlife Resources Division.
"Interestingly, surveys detected an increased number of eagles nesting or exhibiting behaviors associated with the establishment of nesting territories on relatively small lakes in the midst of extensive development, especially along the margins of Savannah," Sargent said. "As a rule of thumb, most eagle pairs in Georgia avoid nesting near man-made structures and human-associated disturbances."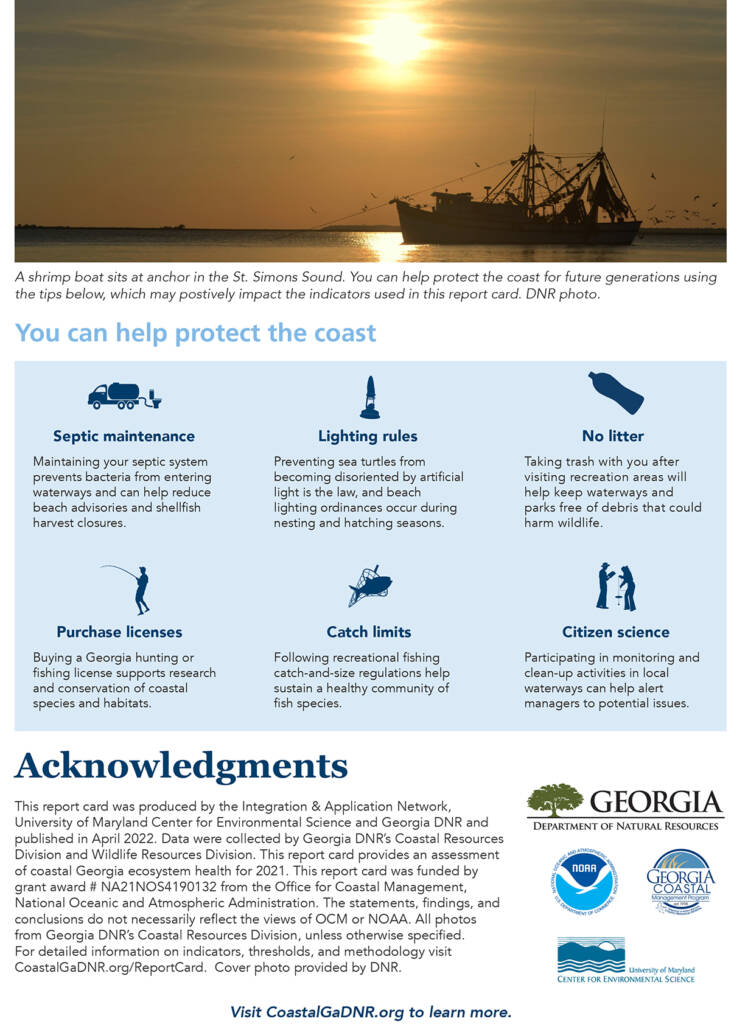 The U.S. Fish and Wildlife Service estimates there are 316,000 bald eagles in the lower 48 states, a fourfold increase since 2009. Georgia nest totals grew from about 100 in 2007 to 200-plus in 2015 and appear to have remained above 200 every year since.
The report card scores 12 different indicators on a zero to 100 percent scale, with an "A" being between 80 and 100 percent, a "B" being 60 to 80 percent, and so on.  This scale is accepted for ecosystem health report cards worldwide and provides a clearer picture of overall health. The scoring criteria were developed in 2014 by the Integration & Application Network, the University of Maryland Center for Environmental Science, which also compiled the report card for CRD.
The report card project is funded by the Office for Coastal Management of the National Oceanic and Atmospheric Administration (NOAA). Data for the report card is provided by DNR's Wildlife Resources, Coastal Resources, and the Environmental Protection divisions. The statements, conclusions and findings do not necessarily represent the views of NOAA.
Report Card 2021 coastal dnr

The 2020 and previous report cards are available at www.CoastalGaDNR.org/ReportCard.