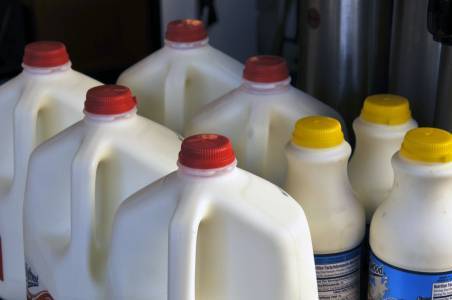 Georgia's dairy farmers, along with Kroger Atlanta Division, have come together to deliver milk from the farm to the frontlines.
The new Great Georgia Give campaign will deliver 24,000 half-gallons of local Georgia milk to first responders and healthcare workers.
This four-week campaign kicked-off on Friday, April 24 at Centennial Farms in Atlanta, Ga. Commissioner of Agriculture Gary Black delivered the opening remarks and helped load half-gallons of local Georgia milk supplied by Dairy Farmers of America (DFA) and Kroger's® Centennial Farms into a refrigerated truck. Donations on Friday were be made to Wellstar Health System's six locations, the two Atlanta-based Ronald McDonald Houses and Northside Hospital's five locations.
"This incredible show of support to feed and nourish our first responders and families in need with local Georgia milk is the type of action our communities need right now," said Commissioner Black. "I am proud of our state's dairy farmers for giving back and for the continued work they do to provide safe and wholesome milk and dairy foods to our families, even during this crisis."
The Great Georgia Give is led by Milk on My Mind,®a dairy awareness program initiated and funded by Georgia dairy farmers through the Department of Agriculture's Commodity Commission for Milk and developed and managed by Atlanta-based marketing and PR agency, The Partnership.
Kroger has committed to match the milk donations made by Great Georgia Give to increase the support in local communities. The milk donation of 24,000 half gallons represents $60,000 contributed by Kroger Atlanta Division, DFA and Kroger's Centennial Farms.
"Now more than ever, preventing waste in the food chain is crucial," said Kroger Atlanta Division President Tim Brown. "The Great Georgia Give aligns with Kroger's Zero Hunger | Zero Waste social impact plan to end hunger and eliminate waste in our communities by connecting a great product with great heroes. We're excited to support this innovative initiative by matching the contributions of the dairy farmers to provide 24,000 half-gallons of milk to our healthcare workers and first responders. Milk is one of Georgia's most important agricultural commodities and the Great Georgia Give is ensuring that it is nourishing those who need it."
Amid the Coronavirus (COVID-19) crisis, dairy farmers in Georgia have suffered major disruptions in their supply chain, causing milk to have to be discarded. The Great Georgia Give will help to ensure Georgia dairy farmers can continue to nourish families and community with safe, wholesome milk.
"Our Georgia dairy farmers are on the front lines producing milk and dairy foods. In parallel they appreciate the work being done by our healthcare and first responders and want to give back," said Paul Johnson, Georgia dairy farmer and board chairman of Georgia Agriculture Commodity Commission for Milk. "We appreciate our partners DFA and Kroger for making this contribution possible and extend a thank you to Nicole Duvall with the Georgia Mobile Classroom for delivering the donations on dairy farmers' behalf."
In the coming weeks, the remaining 24,000 half-gallons of local Georgia milk will be donated to healthcare workers and first responders in Augusta, Macon and Savannah. "Knowing that so many people are struggling right now due to the coronavirus, it's been hard to watch milk go to waste," said Adam Graft, a DFA member and local dairy farmer from Americus, Ga. "I'm proud that we could all come together and figure out a way to get this done. As farmers, we work hard day in and day out to help make food for our local communities, so being able to make this donation to first responders and healthcare workers on the frontlines here in Georgia feels really good."
"The Partnership team is proud to lead this important initiative that not only helps our community in a time of need, but also helps support our Georgia dairy farmers," said Amanda Lucey, CEO of The Partnership. "Giving back has always been a priority for our agency. To be at the forefront of the Great Georgia Give is a testament to our passion and commitment to those that do so much for our state."
"Wellstar caregivers are the heroes of our health system and the community has been incredibly supportive of our team members across all of our service areas," said Lisa Mello, Wellstar Foundation Director of Strategic Giving. "The outpouring of support has touched our team members – from donations to the Wellstar Foundation's COVID-19 Relief Fund, to donated meals, masks and messages of support – every action has been heartfelt."