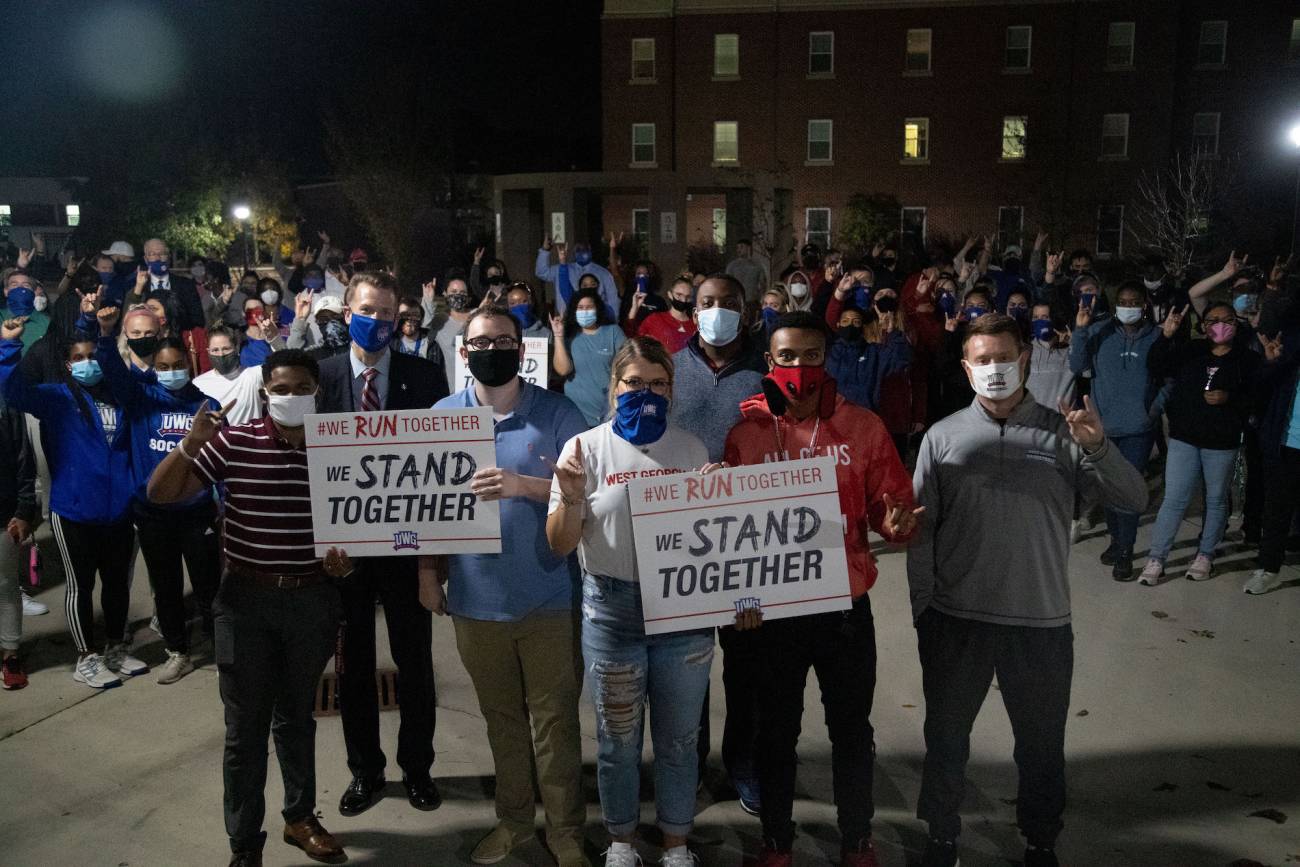 Provided Courtesy of UWG – by Julie Lineback
Before civil rights leader John Lewis died earlier this year, he left the world with a poignant charge: "Democracy is not a state. It is an act, and each generation must do its part to help build what we called the Beloved Community, a nation and world society at peace with itself."
University of West Georgia students rose to meet that challenge of action when they were joined by community members on Thursday, Nov. 12, in the name of unity for the NCAA Diversity and Inclusion March for Social Justice.
UWG President Dr. Brendan B. Kelly, who opened the event, said one of the first things he and his wife, First Lady Dr. Tressa Kelly, noticed about the university when they moved here in March was the UWG Wolves slogan: We run together.
"That was an invitation to something," he said. "I know we say that because wolves run together in packs, but in my perspective, it's bigger than that. There's a 'why.' Why do they run together? They hunt better. They create community better. They protect each other. They run together because they are better as a team than they are as individuals."
Kelly acknowledged that 2020, with its COVID-19 pandemic and moment of reckoning on race, is a unique year. However, he said he sees it as an opportunity.
"Sometimes when adversity hits us, that's our invitation to be better," he continued. "Tonight, we get to unveil the next chapter in UWG Athletics' rallying cry. We can't just run together; we have to stand together."
Born out of a desire of UWG student-athletes to share their voices and engage in activism that unites the campus and community, the event was an extension of the NCAA's Diversity and Inclusion Social Media Campaign. Students, faculty, staff, and community members gathered at The Coliseum and walked together to the Oaks Amphitheatre on the other side of campus.
"The campaign was intended to highlight the diversity of our student-athletes and to engage in a larger conversation about diversity and inclusion across our campus and community," said Dr. Morris Council III, assistant professor of literacy and special education and NCAA diversity and inclusion representative. "When we presented this to our Student-Athlete Advisory Committee leaders, they shared with us they wanted to engage on a deeper level. They have a commitment to making this campus – a place they chose and love – a better place than when they got here."
During his remarks following the march, UWG Student Government Association President Khareem Leslie implored the audience to act.
"We must start fighting for what is right," he urged. "We cannot be complacent. We must start becoming more engaged with our government officials and communities to create change. Once you decide to begin, you must commit and stay consistent."
Justin Johnson, a junior baseball player, said the march was intended to be peace in the storm that is the climate of the United States right now.
"The only thing I feel will help us progress in this world is love," he concluded. "Love is something everyone can feel. Love is universal. When we try to have unity amongst everybody in this world, love is the one thing that will keep us together."