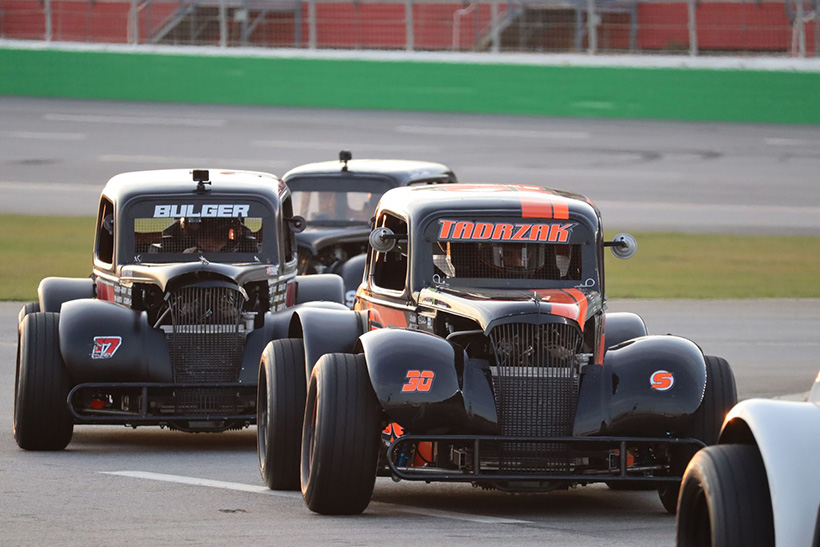 The 26th season of the Thursday Thunder Legends Series is now underway!

Over 80 entrants made for an impressive field of drivers for opening night, scattered throughout the eight divisions: Chargers, Fr8Auctions Rookie Bandoleros, Bandits, Adrenalin Powersports Outlaws, The Associates Group Young Lions, Masters, Semi-Pro Legends, and WJP Investments Pro.
The Semi-Pro Legends featured 22 cars – the largest field of the night. The packed ¼-mile Atlanta Motor Speedway track saw Sean McElearney take a strong lead early with significant pushes from Mason Lastra and John Treschi. McElearney would make the final blocks needed off the restart on lap 15 and lead the remaining laps to score the victory.
The Bandits division brought some of the closest battles of the night, particularly between Lane Christensen and Wyatt Coffey. The duo traded the lead several times throughout the race, at times within the same lap as each would deploy crossover moves to regain a lost position. Christensen ultimately took the lead for good on lap 17 and secured the win.
Another competitive battle for victory came in the WJP Investments Pro Legends feature. Chris Dilbeck and Donovan Strauss each made early pushes for the lead, with Dilbeck taking over the top spot in the opening laps before surrendering the position to Strauss on lap 8. From there Strauss never looked back, taking the first round of Pro racing for the 2023 Thursday Thunder season.
The Associates Group Young Lions feature race saw the resiliency of Garrett Erwin (Covington, GA) on numerous restarts to maintain his lead. After losing his spot on the pole off of green, he quickly retook the top spot and remained resilient to lead the rest of the race to the win.
In other action Clair Reynolds took the checkered flag in the Fr8Auctions Rookie Bandoleros. Emily Arenas took home the trophy from the Chargers feature and Josh Mullins topped the Masters field. Mitchell Flater stood tall in the Outlaws feature.
Thursday Thunder continues on Thursday, June 8, with its second round of action this summer.
Full Round 1 Results:
The Associates Group Young Lions
Erwin, Garrett (Covington, GA)
Gaul, Cooper (Seminole, FL)
Sanders, Bryce (Ola, GA)
Robie, Cole (Windham, ME)
McKnight, Evan (Orlando, FL)
Bloodworth, Austin (McIntyre, GA)
Denton, Cole (Pascagoula, MS)
Walker, Aidan (Knoxville, TN)
King, Aiden (Floral City, FL)
Bacon, Kyle (Buchanan, GA)
Wise, Hayden (Huntersville, NC)
Bongiovanni, Dylan
Haire, Will (Savannah, GA)
Lamarre, Jack (Hoschton, GA)
Semi-Pro
McElearney, Sean (Babylon, NY)
Lastra, Mason (Tampa, FL)
Treschl, Jason (Hogansville, GA)
Ryan, Noah (Griffin, GA)
Yarbrough, Luke (Milton, GA)
Gannon, Michael (Canton, GA)
Wester, Trevor (Canton, NC)
Reynolds, Jackson (Marietta, GA)
Mazzo, Sam (Fairview, TN)
Dibble, Oliver (Owens Cross Roads, AL)
Tadrzak, Trey (Stockbridge, GA)
Hampton, Ian (Stockbridge, GA)
North, Bailey (Hampton, GA)
Moody, Coleman (Griffin, GA)
White, Cameron (Lakeland, FL)
Woodall, Amanda (Canton, GA)
Martinez, Jesse (West Palm Beach, FL)
Walker, Adam (Knoxville, TN)
Taylor, Jonathan (Roswell, GA)
Bulger, Hudson (Perry, GA)
Crafton, Michael (Franklin, TN)
Almond, CJ (Atlanta, GA)
WJP Investments Pro
Strauss, Donovan (Marietta, GA)
Dilbeck, Chris (Concord, NC)
Esposito, Gianni (Dacula, GA)
Jorgensen, Jensen (Stockbridge, GA)
Woodall, Nick (Canton, GA)
Gumm, Garrett (Brooks, GA)
Clanton, Christopher (Brooks, GA)
Campbell, Graham (Braselton, GA)
Pierce, Currie (Griffin, GA)
Masters
Mullins, Josh (Columbia, TN)
Clanton, Joey (Brooks, GA)
Plemons, Bill Jr (Locust Grove, GA)
Young, Phillip (Dallas, GA)
Wehunt, Ronnie (Canton, GA)
Turner, Jason (Griffin, GA)
Swan, Mark (Athens, GA)
Young, Lisa (Dallas, GA)
Stevens, Doug (Griffin, GA)
Bandits
Christensen, Lane
Coffey, Wyatt (Waynesboro, VA)
Lee, Billy (Ruskin, FL)
Laprade, Matthew (New Smyrna Beach, FL)
Sherman, Carson (Loganville, GA)
Fr8Auctions Rookie Bandoleros
Reynolds, Clair (Helena, AL)
Rudolph, Briella (Griffin, GA)
King, Addyson (Floral City, FL)
White, Gerald III (Lakeland, FL)
Behnke, James (Canton, GA)
Glass, Colton (Juliette, GA)
Almon, Topher (Moreland, GA)
Tatum, Kinsley (Cordele, GA)
Young, Luke (Dallas, GA)
Turner, Oliver (Griffin, GA)
Adrenalin Powersports Outlaws
Flater, Mitchell (Conyers, GA)
McMann, Killian (Manning, SC)
O'Connor, JT (McDonough, GA)
Britt, Emma (Hampton, GA)
Miller, Blaine (Dallas, GA)
Soto, Javier (Marietta, GA)
Youngblood, Wyatt (Concord, GA)
Chargers
Arenas, Emily (Social Circle, GA)
Hicks, Katelyn (Senoia, GA)
Butler, Conner (Forsyth, GA)
Cosier, Brian (Marietta, GA)
Kade, Kayli (Hampton, GA)
Teal, Emma (Monticello, GA)
---
Atlanta Motor Speedway