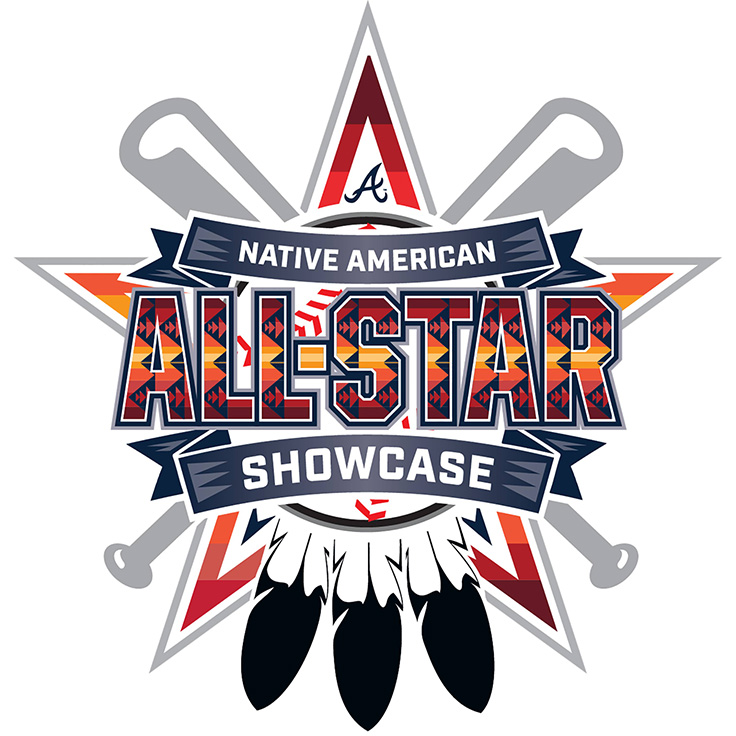 The Atlanta Braves will host the second annual Native American All-Star Baseball Showcase at Truist Park, June 24 – 25. A pro-style workout will be held on Saturday, June 24, and a showcase game will be on Sunday, June 25.

The Native American All-Star Baseball Showcase will highlight Native American high school baseball players who aspire to play the game at the next level. College and Major League scouts will be in attendance.
"We look forward to recognizing the unique talents that Native youth bring to our sport during the second annual Native American All-Star Baseball Showcase," said Derek Schiller, Atlanta Braves President and CEO. "We received tremendous feedback from the student-athletes who participated in last year's event and are proud to make this an annual tradition alongside our Native American partners and friends. The weekend will not only provide an unforgettable experience for the players, but also help as they look to take their baseball careers to the next level."
The top 45 high school baseball players of Native American descent will participate, representing over 30 tribal affiliations from 13 states around North America, including North Carolina, Mississippi, California, Oklahoma, and Canada.
The full roster of participating student-athletes includes:
Name School Tribal Affiliation State
Kethan Anderson Choctaw Central High School Mississippi Band of Choctaw Indians Mississippi
Nakni Anna Calera High School Choctaw Nation of Oklahoma Oklahoma
Hayden Barnett Sequoyah High School Cherokee Oklahoma
Aiden Barnoski Muskogee High Scholl Muscogee Creek Oklahoma
Christian Benally Farmington High School Navajo New Mexico
Donnie'Trey' Bennett Woodland High School Osage Nation Oklahoma
Derek Billy Point Arena High School Hopland Band of Pomo Indians California
Marcus Bird Horse Mandan High School Standing Rock Sioux Tribe North Dakota
Albert Broussard Marana High School Pascua Yaqui Tribe Arizona
Padraig Callan Manzano High School Navajo New Mexico
Cole Canty Rock Hill High School Catawba Indian Nation South Carolina
Nathaniel Carpenter Home Schooled Catawba Indian Nation South Carolina
Treydon Crossley Newcastle High School Chickasaw/Choctaw Oklahoma
Jordan Davis Neshoba Central High School Mississippi Band Of Choctaw Indians Mississippi
Braylen DeCoteau Turtle Mountain Community High School Turtle Mountain Band of Chippewa North Dakota
Isaac Dike Stevens High School Aleut/Native Village of Perryville South Carolina
Tyrese Eagletail Many Horses High School Tsuutina Nation Alberta, Canada
Edwin Fillspipe Oelrichs High School Oglala Sioux Tribe South Carolina
Silas Foster Moore High School Cherokee Oklahoma
Miles Frost Montezuma Cortez High School Southern Ute/Navajo Colorado
Emiliano Garcia Cherokee High School Eastern Band of Cherokee Indians North Carolina
Osai Garcia Kirtland Central High School Navajo New Mexico
Elijah Gardner Salina High School Cherokee Oklahoma
Maverick Gardner Moore High School Choctaw Oklahoma
Terrence Gillis Turtle Mountain High School Turtle Mountain Tribe North Dakota
Nathan Harris Jr Annapolis High School Ojibwe/Oneida/Haliwa-Saponi Michigan
Tristen Henry Choctaw Central High School Mississippi Band of Choctaw Indians Mississippi
Corben House Dunseith High School Oneida Nation of Wisconsin North Dakota
Carson Keplin Turtle Mountain Community High School Turtle Mountain Band of Chippewa North Dakota
Manuel La Chappa III Ramona High School Mesa Grande Band of Mission Indians California
Ian Lewis Choctaw Central High School Choctaw Mississippi
Gage Lewis Choctaw Central High School Mississippi Band of Choctaw Indians Mississippi
Julian Love MacArthur High School Comanche Nation Oklahoma
Jeremiah McLemore Freedom Christian Academy Lumbee North Carolina
Aaron Mitchell East Columbus High Waccamaw Siouan North Carolina
Quinton Naranjo Orofino High School Nez Perce Idaho
Silas Naranjo Orofino High School Nez Perce Idaho
Peyton Rivers Franklin Academy Mowa Choctaw North Carolina
Alexander Romero Volcano Vista High School Nambe Pueblo New Mexico
Davonte Ross Lakota Tech High School Oglala Lakota South Carolina
Ethan Smith Eaton Bloomfield High School Navajo New Mexico
Shaydin Tsosie Chinle High School Navajo Arizona
Jeremiah Walters Tuba City High School Navajo Arizona
Benjamin Welch Chittenango High School Oneida Indian Nation of New York New York
Jody Womack, Jr Person High School Sappony North Carolina