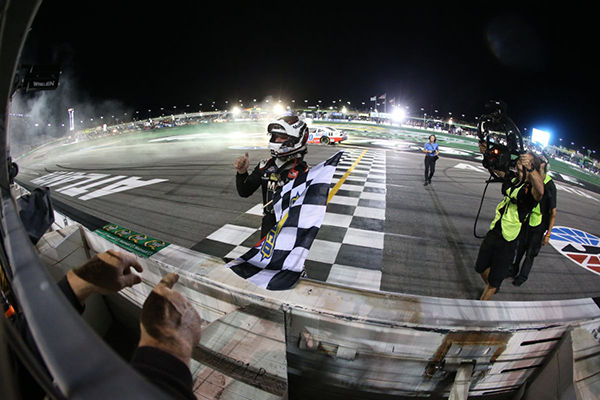 John Hunter Nemechek took advantage of an overtime restart and pulled away from a trio of Kaulig Racing challengers to score a thrilling victory Saturday night in the Alsco Uniforms 250 NASCAR Xfinity Series race at Atlanta Motor Speedway.

As the laps counted down, Kaulig Racing's Justin Haley, Chandler Smith, and Daniel Hemric appeared to be in position for a 1-2-3 finish, but hard-charging Austin Hill spun on lap 162 while attempting to break up the Kaulig party, bringing out the caution flag and setting the stage for the overtime finish.
Hill's No. 21 Richard Childress Racing Chevy had picked up a ton of momentum and was making a move on the leaders when he went into a single car slide after nearly making contact with Parker Kligerman in the No. 48 Chevy.
In the overtime restart, Nemechek started on the front row and was able to pull away from the pack in his No. 20 Toyota. Kaulig's Hemric finished second in his No. 11 Chevy and Haley, who led 80 laps and appeared to have the car to beat before the overtime session, finished fourth after running out of fuel. Cole Custer moved into third in his No. 00 Ford. JR Motorsports driver Sam Mayer rounded out the top five in his No. 1 Chevy.
The win was the third victory of the season for Nemecheck, the fifth of his Xfinity Series career, and first at the Hampton, Ga., track. Nemecheck increases his series points lead to 16 over Hill with the win.
Nemecheck says he doesn't know how things would've played out without the extra laps, but he was glad he didn't have to find out.
"I got a huge push from the 11 there so thanks to Daniel (Hemric) for giving me that push," Nemechek said. "Thanks to the fans who came out tonight, I appreciate you guys."
Nemecheck started the race in second and the only laps he led in the race were the three overtime laps.
"I don't know if the track changed a ton but we had to keep making our car better all night," Nemecheck said. "The guys made the right adjustments and got us to where we needed to be. It came down to an overtime finish and we were able to execute on the restart and got the win."
Full-time Cup Series star Haley, who was making an Xfinity start in the No. 10 Kaulig Racing machine, was obviously frustrated with how the race ended.
"You think you have it won till the caution came out and then things don't pan out," Haley said. "We were just a little short on fuel there."
Hemric rallied to finish second in his No. 11 Chevy after Haley's car fell sharply off the pace in the overtime laps.
"I thought we put ourselves in position there to put our No. 11 Chevrolet in Victory Lane after pushing the 20 there," Hemric said. "Everybody was kind of short on fuel or iffy on fuel and me running third the majority of last run, I thought that maybe allowed me to save enough.
"I thought we were in good shape," Hemric continued. "I drove back and was expecting a big shot in the back and tandem up to the 20, and thought we would have a big run, but whatever happened, I guess maybe (Haley) lost fuel pressure, and when that happened he pulled out of line or got out of line. It put him in my left rear and just killed all the momentum at that point that just put us in a scramble to stay second. It's disappointing for us to be coming down to take the trophy and then fall short like that."
A massive crash on the backstretch on lap 89 collected 10 cars and shifted the outcome of the race, ultimately ending the night for early-race frontrunners Sheldon Creed, Ryan Sieg and Riley Herbst. Anthony Alfredo and Brandon Jones also were involved in the spark-flying melee. Creed won Stage 2 in his No. 2 Chevy and Sieg led 15 laps of the race in his No. 39 Ford.
Racing action continues Sunday night with the Quaker State 400 Available at Walmart NASCAR Cup Series race, which is scheduled to take the green flag at 7 p.m. ET (USA Network, PRN Radio and Sirius/XM NASCAR Radio). Tickets for Sunday night's Quaker State 400 Available at Walmart are available online at www.AtlantaMotorSpeedway.com or by calling 877-9-AMS-TIX.
---
Atlanta Motor Speedway