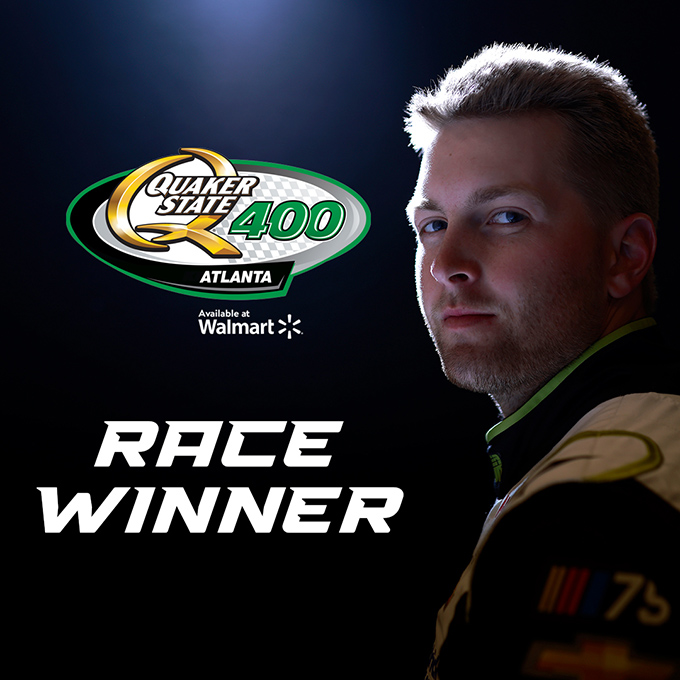 William Byron was declared the winner of the Quaker State 400 Available at Walmart at Atlanta Motor Speedway Sunday night after NASCAR officials called the race with 75 laps remaining when severe weather moved into the Atlanta region.

Realizing rain was approaching the speedway in the final stage, all teams were racing with a sense of urgency to make sure they would be in front in case of a weather-shortened event. It's the first time since 2002 that a Cup Series race at Atlanta Motor Speedway has been shortened due to weather.
Byron was the one who managed to hold that coveted position in his No. 24 Axalta Chevy when the race was called at lap 185 of the scheduled 260. Byron made what was ultimately the winning pass on AJ Allmendinger on lap 167.
It was Byron's second win at Atlanta, his fourth victory of the season, and the eighth win of his career. The young driver had an up and down night, spinning his car through the frontstretch grass early in the race and ultimately going one lap down before he rallied in the final stage.
"Yeah, just teamwork," Byron said about holding the trophy after such a topsy-turvy night. "Honestly I don't completely understand this one. It's a really good feeling. I've never had a rain victory like this. Thank you to Hendrick Motorsports, Axalta, Chevrolet. It's cool – we went through so much throughout the night; spinning through the infield. Destroyed the bottom of the car dragging it around the apron trying to stay on the lead lap. At that point, you just don't have the grip, so I was real edgy back in traffic."
The frenetic pace of the race with thrilling passing and 18 lead changes among 12 different leaders led the NBC Sports crew to bring high praise on the race and call it, "the hottest ticket on the NASCAR circuit." Those comments echoed the pulse from other news outlets and enthusiasts on social media since the 1.54-mile track was christened an "intermediate superspeedway" after its reconfiguration and repave last year.
"Yeah, (the racing) was awesome," Byron said. "I think that's all you can ask for on a superspeedway. We want handling to matter. We want to be able to drive the thing. I feel like the first stage was really fun. I was able to make some moves on the bottom. You'd lift in every corner, so it's different than a 550 old-style race – it's more packed up, but handling still matters and guys can make aggressive moves. I was certainly edgy back in traffic, but like I said, Rudy made a good call and we got up towards the front. Sometimes that's what it takes. Just thankful for the whole team and just staying in it. We were a lap down and it could have been over."
In a race where the Fords dominated qualifying, they also dominated the first two stages of the race as Ryan Blaney took stage one in his No. 12 Penske Ford and Brad Keselowski claimed stage two in his No. 6 RFK Ford.
Daniel Suarez finished second in his No. 99 Quaker State Trackhouse Racing Chevy, while Allmendinger finished third in his No. 16 Kaulig Racing Chevy. Michael McDowell finished fourth in his No. 34 Front Row Racing Ford and RCR's Kyle Busch rounded out the top five in his No. 8 Chevy.
Pole winner Aric Almirola fell back to an 18th place finish in his No. 10 Stewart-Haas Racing Ford. March Atlanta winner Joey Logano, the defending Cup Series champ, led early in the race and finished 17th in his No. 22 Team Penske Ford.
Kevin Harvick, who made an emotional final start at the track where his career started in March 2001, was honored by track executive vice president and general manager Brandon Hutchison during pre-race, but finished in a disappointing 30th after making contact with Denny Hamlin on track at lap 88 and falling off the pace in his No. 4 Stewart Haas Racing Ford.
---
Atlanta Motor Speedway