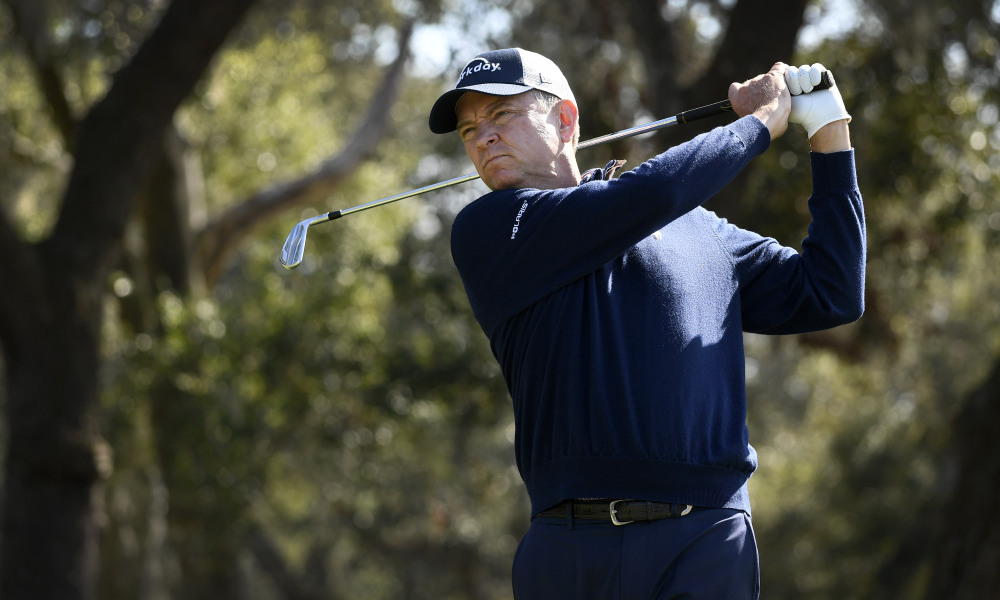 Davis Love III has his sights set on one main goal when he tees off in a golf tournament these days.
The Sea Island touring professional wants to become the oldest winner of a PGA Tour event.
Another victory this week at Hilton Head where Love has won five times over his illustrious career would earn him that distinction.
Love will celebrate his 54th birthday on Friday, same day as the second round in the RBC Heritage Classic at Harbour Town Golf Links.
Sam Snead holds the badge as the oldest winner on Tour. He won in Greensboro at 52 in 1965. Love won that same tournament in 2015 at 51. That was also Love's last victory on Tour.
He ranks as a long-shot to finish on top of the 132-player field assembled this week at Harbour Town as the tournament includes 33 players who competed last week at the Masters, three who finished among the top 10 and another six who were in the top 25 at Augusta National.
Love, who was inducted into the World Golf Hall of Fame last fall, is just a little over four months removed from hip replacement surgery and admits he's still trying to knock the rust off his game after being out of action for so long.
"I'm feeling much better about my game every week," he said this week when answering questions through e-mail. "Putting has not been great. The wedge game and putter always could use more work, but I'm getting there. My ball speed gets faster every week and the full swing is feeling good."
Love played three times in the fall before having his left hip replaced. He tied for 28th at the CIMB Classic and missed the cut at the Sanderson Farms Championship in late October before also missing the cut in November at the RSM Classic at Sea Island Golf Club where he serves as the tournament host. He had his surgery the following week.
Love returned to competitive golf in early March and played in three straight tournaments, missing the cut at the Valspar Championship, tying for 58th at the Arnold Palmer Invitational and finishing tied for 79th at the Corales Puntacana Resort and Club Championship.
"The new hip is great, and I can play and practice as much as the rest of my 54-year-old body will allow," Love said. "I feel like I'm turning faster and more free, so after a few more months of working on my game, it should be in good shape."
Love's game has been in solid form numerous times at Hilton Head, where he has produced five of his 21 career wins. He won at Harbour Town for the first time in 1987, which also was his first victory on the PGA Tour. He went on to win four more times with victories in 1991, 1992, 1998 and 2003 when he won four times that season.
"My first one there is the most special because it was my first win on Tour, and it's the only one my father got to see," Love said.
But, why has he played so well at the Heritage? That's easy to explain, Love says.
"I think it's very simple," he said. "I was always preparing for the Masters and I've always been in good shape this time of year with my game and my body and I just hadn't hit the right week.
"But I've been lucky enough to win at Heritage five times, and the greens are very similar to what I grew up on at Sea Island."
The tournament is celebrating its 50th year this go-round, and for Love this year's event will be different that all of his previous appearances. This week, he will be competing against his son Dru for the first time in a PGA Tour event. The younger Love, who is now 24, is playing on a sponsor exemption as he tries to earn a PGA Tour Card.
Perhaps this week, maybe even at Love's birthday party on Friday, father and son will share a pie at Guiseppi's Pizza, which the elder Love said his his favorite restaurant to visit during the week at Harbour Town.
"It's between the course and the house where we stay," Love said.
Davis and Dru won't be alone at Harbour Town this week. They will be surrounded by several family members who will be there throughout the week and the Love clan will stay in their usual spot for the week.
"A friend let's us take over his beach house for the week," Love noted. "It's a big week for the kids and the grand kids."
Davis Love will tee off at 12:40 p.m. in the first round of the Heritage alongside Ian Poulter and Paul Casey.
Dru Love is scheduled to tee off a 1:30 p.m. with Kevin Tway and Tyrone Aswegen.