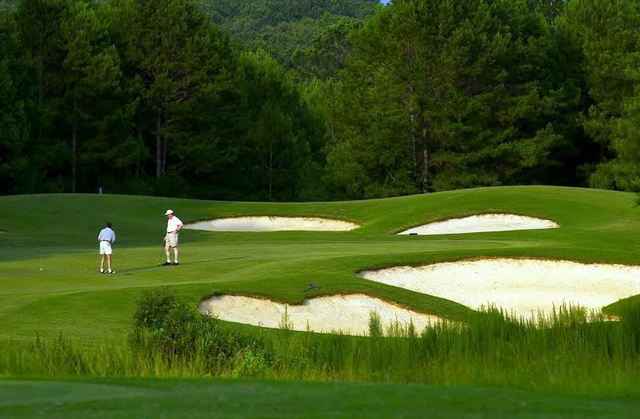 If you're the parent of an aspiring young golfer looking for a place to compete, that place might just be the Georgia State Parks Junior Tour.
Now in its 12th year, the tour is designed to be a starting spot for junior golfers to gain valuable competitive experience prior to possibly stepping up to play on some of the bigger tours in the junior ranks where the competition is stiffer and more serious.
"When we started there were only three golf tours for kids in the state to play," said Karl Gross, co-founder of the state parks tour and current head professional at The Creek at Hard Labor in Social Circle. "Now, there are more than 10 for them to play on.
"When we started, there was a lot of interest and it grew rapidly. Now, our numbers aren't what they used to be, but it's all about the kids, anyway. It's really a developmental tour. Its purpose is to develop the kids, get them used to playing competitive golf so they can go play somewhere like the Hurricane Tour or the Southeastern Junior Golf Tour."
The state parks tour opened its 2018 season with a tournament on March 31 at Brazell's Creek in Reidsville. The next tournament is slated for April 28 at The Lakes at Laura Walker in Waycross.
After that, there will be four more tournaments over the next four months. Those include the May 12 stop at Little Ocmulgee State Park in McRae, a June 23 event at Highland Walk at Victoria Bryant in Royston, a July 15 tournament at Arrowhead Pointe at Lake Russell in Elberton and an August 15 stop at The Creek at Hard Labor.
"We try to have one event a month from spring to fall," Gross noted. "The summer months are when we have our greatest participation because the kids are out of school and they have more time.
"Most of the tournaments will range anywhere from 30 to 100-plus kids. We do have a few families that will go all over the state with us, but mostly I find our participation is regional. Probably 75 to 80 percent of those playing are within an hour's drive of the location."
The tournaments are open to boys and girls ages 7 to 18.
Entry fees are $45 for those who are 7 to 10 years old. They play nine-hole tournaments.
Fees are $55 for players who are 11 to 18 years old. The older kids play 18-hole events.
Players are awarded points based on their finishes at each tournament. The top players in each age division after the tournament schedule is complete will be honored as the players of the year.
Gross sets up the courses with different tees for each age division. The youngest players usually play their nine-hole events from 3,000 to 3,500 yards. The oldest kids will play a course that usually measures anywhere from 5,700 to 6,500 yards.
"I want the kids to progress to those other tours, but they have to have a place to start," Gross said. "Our tour provides a good platform for the kids to get their legs under them and gain some experience and when they're ready for more of a challenge they can move on."
He said the state take pride in its golf courses and tries to keep them in as good a shape as most any public course in the state and private ones as well.
"That's one other good thing. We try to have good facilities, but they're also affordable, too. That's part of being in the state park system," Gross said.
In general, golf is a good avenue to attract people to the parks around the Peach State and the junior tour itself accomplishes that goal as well.
Families can come and have a place to stay during the tournaments as the various state parks have campsites, cabins and lodges in addition to other activities including fishing, boating, swimming, hiking and biking.
"Sometimes, the families have never been to one of the state parks and this is their first experience with us," Gross said. "So the golf tour is something that we can use to promote the parks and there are other amenities for the families to enjoy."
There are other perks for all junior golfers at the state park courses. Juniors can play any of the courses for $7 which covers just greens fees. This special rate is not valid on holidays or weekend mornings.
Many of the state park courses also offer summer camps and junior clinics throughout the year. Private golf lessons are also available by appointment.
"I usually try to offer parent-child rates for practice rounds before the tournaments as well," Gross said.
He added that junior players who have played on the state park tour in the past have gone on to play collegiate and even professional golf.
The schools past participants have played at are both big and small and include the University of Georgia, Georgia Tech, Georgia Southern, College of Coastal Georgia, Florida State, Memphis and Michigan.
To sign up for an event or request more information about the state park tour, you can email Gross at gspjt2018@gmail.com.