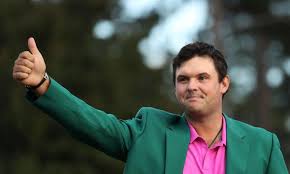 The views of the author are not necessarily the views of AllOnGeorgia
---
A Masters tournament that began with a lot of excitement ended with a lot of hatred.
Well, at least in the state that hosts the tournament. Of course, that's Georgia, where the city of Augusta is annually the golf capital of the world for the first full week in April.
That's because a lot of people, golf fans in particular, don't care for the 2018 champion, one Patrick Reed.
And a good many of them are also fans of the athletics teams at the state's flagship institution, the University of Georgia in Athens, which has won SEC and NCAA championships in golf and was the college of choice of several current PGA Tour stars including two-time Masters champion Bubba Watson.
Reed's victory could have given the Bulldogs yet another Green Jacket winner, but the Dogs aren't trying to claim this one. They'll leave that for the folks at Augusta State, where Reed finished his collegiate career after briefly playing for Georgia.
The Dawgs won a recruiting battle for the one-time hot-shot junior golfer from Texas, but Reed didn't last long in the Classic City. It's well-documented that he was kicked off the Georgia team because of two alcohol-related arrests during his freshman year, when he was under the legal drinking age of 21.
But other disturbing accusations – cheating during a team qualifying round, stealing cash and other items from teammates and ditching a tournament – give the UGA faithful even more reasons for hating on this year's Masters champion. Those allegations were confirmed to be true as recently as Monday by former UGA assistant coach Jason Payne, now the head coach at Charleston Southern.
It sounds as if Reed wasn't cared for by some of his Augusta State teammates, either.
Of course, Reed helped the Jaguars to a pair of national titles after transferring to the Augusta school including one over Georgia with him winning his individual match against Harris English in the finals. And, that obviously didn't sit well with those who root on Georgia in everything, be it football, golf or tiddlywinks.
Perhaps the final straw for anyone inside the Bulldog Nation who might have thought about forgiving Reed for his past transgressions while wearing Red and Black sometime down the road was him wearing Notre Dame gear to the football game this past fall between the Bulldogs and Fighting Irish in South Bend and posting a photo on social media – perhaps his way of taking a cheap shot at the Dogs. For the record, he did grow up liking Notre Dame.
There was nothing cheap about his victory at the Masters, though. He conquered Augusta's rolling fairways and devilish greens and the challengers who unsuccessfully tried to knock him from his spot atop the leaderboard going into Sunday's final round including Ricky Fowler and Jordan Spieth, either of whom would have been a more popular winner among the patrons at Augusta National than the player who won.
Reed finished a mere stroke ahead of Fowler when he sank a 4-footer for par on the 18th hole to seal his triumph. His winning score was 15-under-par, tying the fourth-best winning score of all-time at the Masters.
People did stand and cheer as Reed reached to get his ball from the hole, but the cheers weren't as loud as they might have been for anyone else. It was the same on the first tee as Reed and McElroy were announced in the final grouping before striking their first shots of the day.
That motivated Reed, by the way, as did all those picking McElroy on the morning television coverage on the Golf Channel that Reed was watching back at his rental home before he headed to the course.
He got off to a shaky start on Sunday, but in the end, he looked more like the seasoned player going for the career Grand Slam while McElrory looked like the guy going for his first major championship who couldn't handle the pressure of the moment.
And when that Green Jacket was placed upon Reed's shoulders inside Butler Cabin, many of those in Bulldog Nation growled rather than bark, as if they were leaving Jacksonville following another loss to the hated Florida Gators on the gridiron.
On Monday morning, I saw a Tweet by John Feinstein, author of some of the greatest sport-related books out there, in which he said he liked Reed.
Curious as to why that may be, I reached out to Feinstein via email Monday afternoon, and though he was busy catching up on things back at home after being away for several days, he politely responded to my questions regarding the newest Masters champion.
He started by saying, "yes, I do like Patrick."
Feinstein said Reed has never been anything but nice to him.
"I'm a big believer that you judge people first by how they treat you, and he's always been good for me to deal with," he noted. "He was willing to sit and talk at length for 'The First Major.' He's honest, no BS in him that I can see. He's reliable – when he says he'll meet you at 10 o'clock, he's there at 10 o'clock."
The 'First Major' by the way is Feinstein's newest book that is getting strong early reviews which is not the least bit surprising. I have a few of his best-sellers in my collection of sports-related books and plan to add this one soon.
Ironically, this book is about the Ryder Cup, specifically the 2016 matches between the United States and Europe at Hazeltine in Minnesota.
Fittingly, Reed and McElroy are on the cover, as they put on an epic match two years ago that of course got more play going into Sunday when they were to collide again in the final pairing.
If you watched the Masters closely, you saw Reed standing under a Hazeltine umbrella during the Saturday rain showers at Augusta and you saw his American flag yardage book that received several close-up shots from the TV cameras as well.
Golf fans know that Reed has been nicknamed Captain America for his heroics at the Ryder Cup, where perhaps his brash spirit and perceived cockiness that so many apparently don't like were best displayed.
As for his overall character, Feinstein chose not to go there.
"I can't speak to what happened either at Georgia or Augusta State or the split with his family," he said, referencing the fact that Reed has been on the outs with his parents and sister for several years now. "A lot of it sounds sad to me. Clearly, he's an outstanding player. Separate issue – as with Tiger Woods – from what kind of person he is. Woods is the best player ever, but in my opinion not a very good person."
Feinstein did add that he thinks Reed is unfairly getting a bad rap for his past mistakes that people who don't really even know him won't let go which is obvious by the stir created on social media as Reed marched to the Masters win.
"I think a lot of people are judging him now on his past and the fact that he doesn't have a sunny slap-on-the-back personality a la Fowler, Spieth, or (Justin) Thomas," Feinstein said. "He's not as outgoing, but he's completely honest. I LIKED it when he said he thought he was one of the top five players in the world. He'd won three times in eight months, so why not? We need more guys in golf who aren't just trying to drop sponsor mentions, give Glory to God or thanking the volunteers. So, yes, I like him."
Well, I don't mind people thanking The Man Upstairs as long as they are sincere and not dropping those lines because it seems to be the right thing to do. And without volunteers, golf tournaments would suffer, at least the good ones with good help. Right, RSM Classic?
But yes, sponsor mentions are annoying, though thy aren't as bad in golf as they are in NASCAR, and I understand giving a shout-out to those who write checks on your behalf.
I get Feinstein's real point, however. There is nothing wrong with a golfer having an attitude. Yes, I like the fact that golf is still very much a gentleman's game, but everyone isn't Ben Crenshaw and Arnold Palmer.
Everyone doesn't have to be Mr. Nice Guy and all the PGA Tour guys don't have to get along. It's OK if Sergio Garcia and Tiger Woods don't like each other. They can sit at opposite ends of the table at the Champions Dinner at Augusta.
It's OK if players like Reed are considered a villain in the game.
NASCAR had Dale Earnhardt, Jeff Gordon and Tony Stewart, who were both loved and hated.
Baseball had Pete Rose, who was considered nasty by some and a gamer by others.
Basketball once had Dennis Rodman and all of his tattoos, piercings and technical fouls.
Football currently has Tom Brady and Cam Newton.
It's OK if golf has Patrick Reed and Ian Poulter. Really, it is.
You can root for or against them. It doesn't matter.
And Dog fans can go to their graves loving Herschel, Chubb and Sony, but disliking Reed as much as they do Steve Spurrier.
It's your choice. It's America.
Reed is a proud American if nothing else and he can probably handle you not liking him as long as you don't step on Old Glory in protest.
You don't like him?
Fine. He probably wouldn't like you either.