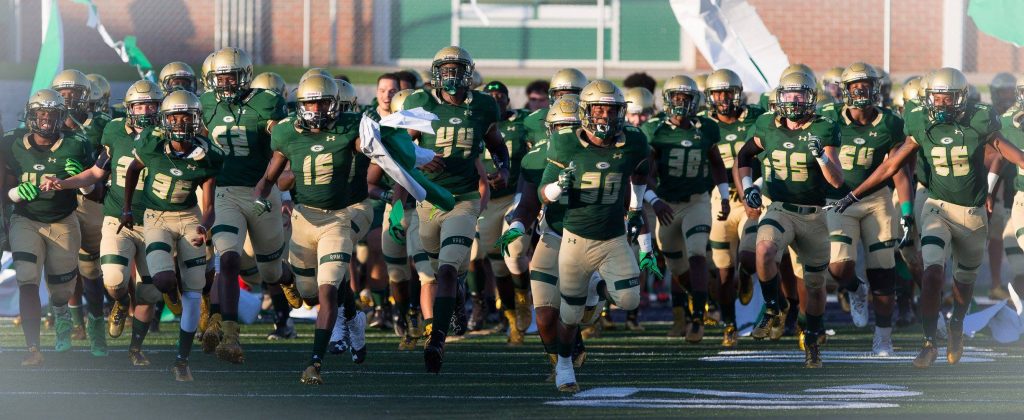 With high school football teams across the country finishing up their spring practices this month, a well-known media publication that provides national rankings during the prep football season has released its "way-too-early" preseason rankings.

The USA Today, which for years has published the popular Super 25 rankings, recently put out its first poll in relation to the upcoming 2018 season, and the national newspaper currently has three Georgia teams in its rankings.
Gwinnett County power Grayson leads the Peach State teams in the poll as it is ranked third in the nation coming out of spring practice.
Also, Archer, another Gwinnett team, is ranked 16th and Marietta is rated 19th.
The newspaper says Grayson has more talent than it did in 2016 when the Rams won the state crown in Georgia's largest classification in their first and only season under former Camden County, Oconee County and Prince Avenue coach Jeff Herron.
The team features several major-college prospects including senior linebacker Owen Pappoe (Auburn committ), senior defensive lineman Tru Thompson (Florida State committ) and senior offensive lineman Wayna Morris (Tennessee committ).
The Rams actually have as many as nine Division 1 prospects on their roster.
Grayson finished 10-2 last year, losing to Archer in the regular season and then eventual state champion North Gwinnett in the second round of the state playoffs.
"Grayson is loaded with high-level talent," said Will Hammock, sports editor for the Gwinnett Daily Post.
"The college recruiters are all over their top college prospects. That talent should translate to a lot of victories and state championship expectations."
The USA Today is also high on Archer and Marietta, coming out of spring.
Archer is coming off a 12-1 season in 2017 when the Tigers lost 12-7 to eventual state runner-up Colquitt County in the state quarterfinals.
Archer returns junior quarterback Carter Peevy who threw for 2,030 yards and 20 touchdowns a year ago.
The Tigers defense also returns lineman Colby Wooden and secondary members Jayln Phillips and Andrew Booth. All three are targets for the Georgia Bulldogs.
"Archer has been one of Gwinnett's most successful programs, too," Hammock said. "The Tigers lost some key players on defense, but they still have some exceptional players and college prospects on that side of the ball."
Marietta might rate as a darkhorse for the state championship in Georgia's Class 7A, but the USA Today says to keep an eye on the Blue Devils largely because the team returns junior quarterback Harrison Bailey, an elite prospect who threw for 1,885 yards in six games last year before suffering a season-ending injury.
Bailey will be protected by an offensive line that features junior transfer Jake Wray, an Ohio State committ.
The Marietta defense includes a strong returning nucleus. One of its top players is senior defensive back Jordan Ford, who is also a starting running back.
Even after losing their star quarterback, the Blue Devils finished 8-5 a year ago, making a run to the state quarterfinals before losing to eventual state champion North Gwinnett.
This season will mark the 37th year of the Super 25 poll. The rankings first appeared in 1982 shorty after the USA Today was formed.
The newspaper crowned Valdosta as its national champion in both 1984 and 1986. The Wildcats were 15-0 both seasons.
LaGrange was crowned the national champion by the publication in 1991 when it also finished 15-0.
Mater Dei (Calif.) was picked as the Super 25 national champion last year after going 15-0.
The USA Today currently ranks the IMG Academy (Fla.) No. 1 in its early preseason rankings. The school, which can recruit nationwide, was 8-0 last season and has won 37 straight games. This coming season, it will have 11 of the top 50 prospects in the 2019 class on its roster.
IMG finished last season ranked second in the Super 25.
Also worth noting, the USA Today tabbed Grayson as having one of the nation's toughest schedules this coming season.
The Rams will open the 2018 season on Aug. 25 against perennial power Tucker before facing nationally-ranked and defending New Jersey champion Bergen Catholic.
Their third game is at Marietta. The Rams also face last year's state runner-up Colquitt County on Sept. 21 and Archer on Oct. 12.