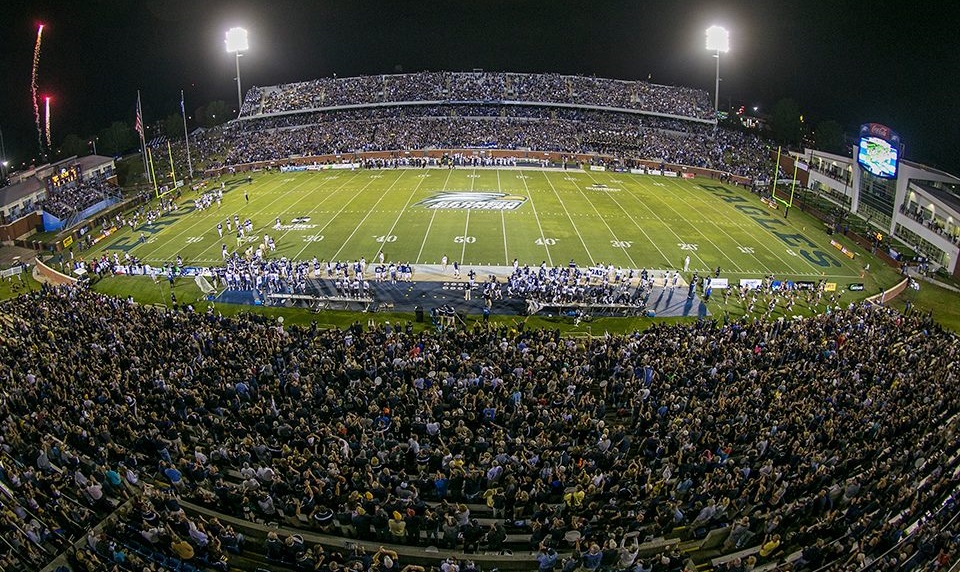 Robbie Ross was announced today as the new public address announcer for Georgia Southern University Eagles Football at Allen E. Paulson Stadium. Ross was selected through an audition process that included an application process that included the submission of demonstration recordings, followed by auditions in front of a judging panel by the top 8. The final 4 candidates, were then invited to call portions of the April 14th Blue and White spring football game.
Ross has over 20 years of experience, including serving as a sideline reporter, pre and post game show post with the Furman University Radio Network. Ross is also a contributor to SouthernPigskin.com serving as the lead Southern Conference Writer and does play by play for ESPN Coastal in southeast Georgia.
In a release Gleen Hart, Senior Associate Athletics Director for Fan experience and Community relations said "We had numerous quality candidates apply and it was hard to narrow the pool down to four. In the end, we thought Robbie did the best job and look forward to working with him starting this fall. I want to thank all of the candidates who applied, as well as the fans who cast their votes, for making this a successful process."
Ross's first official event will be at the annual fan-fest in August, an exact date is yet to be announced.
you can read the full release from Georgia Southern Athletics here.