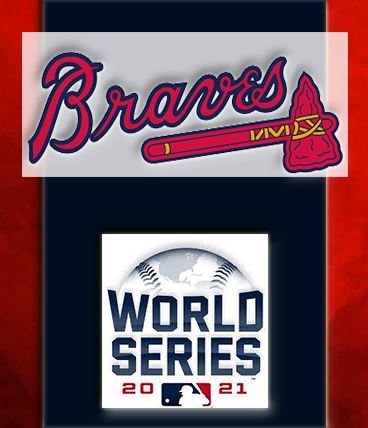 The Atlanta Braves won Game 1 of the World Series last night 6 -2 against the Houston Astros.
Braves pitcher Charlie Morton managed to throw 16 pitches after being hit by a ball and suffering a fractured fibula. According to MLB last night, Braves announce RHP Charlie Morton has a right fibula fracture, and he will miss the remainder of the World Series. He is expected to be ready for Spring Training in 2022.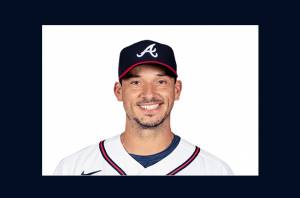 Jorge Soler made history in Game 1 by being the first player to ever hit a home run in the first plate appearance of the World Series. According to Statcast, his home run had an exit velocity of 105 mph and traveled an estimated 382 feet.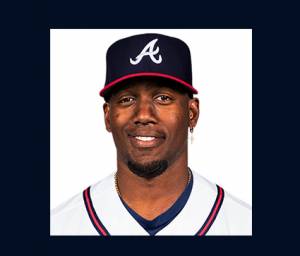 ---
The 26-Man Roster from last night:
PITCHERS (12): RH Ian Anderson, RH Jesse Chavez, LH Max Fried, RH Luke Jackson, LH Dylan Lee, RH Chris Martin, LH Tyler Matzek, LH A.J. Minter, RH Charlie Morton, LH Will Smith, LH Drew Smyly, RH Kyle Wright
CATCHERS (2): William Contreras, Travis d'Arnaud
INFIELDERS (6): Ehire Adrianza, Ozzie Albies, Orlando Arcia, Freddie Freeman, Austin Riley, Dansby Swanson
OUTFIELDERS (6): Adam Duvall, Terrance Gore, Guillermo Heredia, Joc Pederson, Eddie Rosario, Jorge Soler
---
The Braves and Astros will play Game 2 tonight at 8:09 pm ET.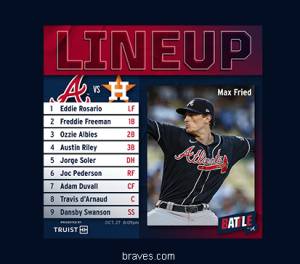 Last night's highlights from the Atlanta Braves:
---
The Braves' World Series roster substitution was approved today:
Major League Baseball announced today that it has approved a World Series roster substitution for the Atlanta Braves due to the injury sustained by pitcher Charlie Morton. As a result, Morton will be replaced by left-handed pitcher Tucker Davidson on Atlanta's roster vs. the Houston Astros. Dr. Gary Green, MLB's Medical Director, confirmed the injury after communicating with the evaluating physician.
MLB Postseason rules provide that a Club may request permission from the Commissioner's Office to replace a player who is unable to play because of an injury. The Commissioner's Office may approve or disapprove the request based on the specific facts and circumstances.
The 2021 World Series schedule, subject to change, can be viewed in its entirety at MLB.com/postseason. All games on FOX will be available to MLB.TV subscribers who are authenticated subscribers to the applicable network through a participating pay TV provider. ESPN Radio will provide live national coverage of all games of the 2021 World Series.