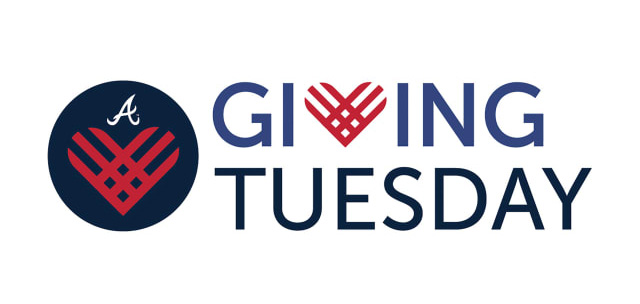 The Atlanta Braves will celebrate the holidays with their annual Season of Giving campaign to show appreciation and give back to members of the metro Atlanta community. The Braves will be volunteering and supporting those in need throughout December. Fans can help support the Season of Giving initiatives and the Atlanta Braves Foundation through tomorrow's Giving Tuesday campaign, the _Braves Holiday Blood Drive presented by Delta Air Lines_, and BLOOPER holiday photos.

"Over the years, our annual Season of Giving campaign has evolved to meet the ever-changing needs of our community," said Atlanta Braves Community Affairs Senior Director and Atlanta Braves Foundation Executive Director Danielle Bedasse. "This year's initiatives provide opportunities for the Braves front office, corporate partners, and fans to help build on our ongoing efforts to address food insecurity, support local schools, bring joy to children in foster care, and further our work to serve and meet the needs of those in need."
Atlanta Braves in the Community
On Friday, December 2, Atlanta Braves catcher Travis D'Arnaud and his wife Britney will join Braves volunteers for the Pitch in for the Planet Volunteer Project, presented by Coors Light. Volunteers will plant 100 fruit trees at Hyde Farm as the first of 20 community orchards in partnership with Food Well Alliance, One Tree Planted, and Players for the Planet.
The Atlanta Braves are partnering again with Georgia Division of Family & Children Services (DFCS) and Clark Howard to support Clark's Christmas Kids, also known as DFCS Secret Santa. This year marks the program's 32nd year in serving one of Georgia's most vulnerable populations, foster children. In addition to financial support, Braves staff will sort, label, and pack donated gifts.
The Atlanta Braves will also host a day of service at the Atlanta Braves Foundation's 2022 Cobb County Hank Aaron All-Star School, Green Acres Academy. The Atlanta Braves Foundation and Academy Sports + Outdoors will surprise the students with 100 bikes and helmets, and volunteers will read to classrooms, support teachers, organize and paint the relaxation room, and pack and distribute backpacks.
Additionally, the Atlanta Braves Foundation donated $20,000 to Sweetwater Mission to help supply turkey dinners to 5,000 families in the Atlanta area. The Braves provided a Thanksgiving meal to the staff and teachers at the 2022 Hank Aaron All-Star Atlanta Public School, South Atlanta High School.
Fan Opportunities
Tomorrow's Atlanta Braves Foundation Giving Tuesday campaign offers a way for Braves Country to give back and bring home some exclusive Atlanta Braves holiday merchandise. Fans who donate a minimum of $22 to the Atlanta Braves Foundation today at www.Braves.com/givingtuesday will receive an exclusive 2022 NL East pennant replica ornament.
The Braves and Delta Air Lines will host a Holiday Blood Drive for the Red Cross on Tuesday, December 6. Part of the monthly blood drive series at Truist Park, the Holiday Blood Drive will help meet the increased demand for blood during the holiday season. Fans can register to give blood at www.Braves.com/blooddrive.
Families can visit Truist Park December 1-3 or December 9-11 for a unique holiday experience with "BLOOPER Claus" to benefit the Atlanta Braves Foundation. Each reservation will include a walk through the Braves dugout and batting cages and a special holiday photo with BLOOPER inside the Braves Clubhouse. Guests will receive one copy of their photo with BLOOPER, a digital download of the photo, and 15% off at the Braves Clubhouse Store during their visit. Fans can reserve their time slot for up to 8 guests at https://www.mlb.com/braves/fans/entertainment-teams/blooper/photos.
Proceeds from the Braves Giving Tuesday campaign and BLOOPER holiday photos will fund Atlanta Braves Foundation programs across Braves Country, including food security initiatives, meeting the needs of teachers and classrooms, supporting health and wellbeing of children and families, addressing access and equity in baseball, and recognizing those who serve.
---
Source MLB / Atlanta Braves