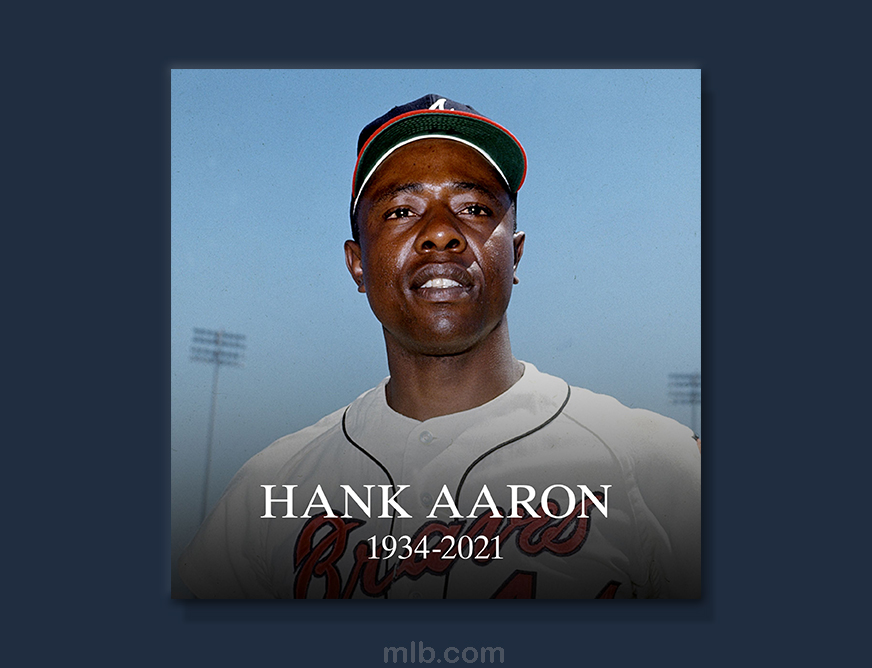 Community events and in-game presentations will highlight Aaron's efforts to further equity and positive social change as a player, philanthropist, front office executive, and businessman
The Atlanta Braves will honor Henry "Hank" Aaron's life and legacy and further his work to promote access and opportunity with the 2022 Hank Aaron Week, May 3-7. The week will include a focus on volunteerism and community building initiatives and culminate with celebrations at Truist Park when the team comes home to face the Milwaukee Brewers on Friday and Saturday.
"Hank Aaron's legacy is alive and well within the Braves organization, and his impact resonates throughout our efforts year-round," said Atlanta Braves President & CEO Derek Schiller. "It is our honor to celebrate him and continue to champion his lifelong mission to further diversity in baseball on and off the field."
The Braves will welcome the next Hank Aaron All Star APS School—South Atlanta High School—with an appreciation lunch for the teachers and administrative staff. The partnership with South Atlanta High School will continue throughout the year as the Braves help meet some of their most crucial needs, such as support for teachers and classrooms, capital projects improving the school facilities or grounds, and experiences and support for students. The Atlanta Braves have "adopted" a new Atlanta Public School each year since 2019.
In the spirit of advancing pathways for African Americans in baseball, the Atlanta Braves and The Players Alliance will host the HBCU Solutions Summit at Truist Park on Wednesday, May 4. This private event will focus on the needs and opportunities found within HBCU baseball programs and begin to formulate solutions to support the growth and success of HBCU baseball across the country. Participants will include HBCU coaches, athletic directors, and administrators, as well as executives from MLB, MLBPA, baseball industry representatives and Players Alliance Board Members Curtis Granderson, CC Sabathia and Edwin Jackson.
The Braves Front Office staff will volunteer at Browns Mill Urban Food Forest to build on Aaron's legacy of support for small businesses and entrepreneurs in Atlanta's diverse communities. Browns Mill Park is located in a food desert, with 1 in 3 Browns Mill Park residents living below the poverty line and the closest grocery store as far as 5 miles from some residents. Since 2020, the Browns Mill Urban Food Forest has addressed this challenge head on by providing access to affordable, good-quality fresh food and enabling non-profits and social entrepreneurs to better support their community. Volunteer tasks will include repairing the greenhouse, planting an herb garden, installing trellises, building Little Free Libraries, and more.
Friday, May 6 – Atlanta Braves vs. Milwaukee Brewers 7:20pm
The Atlanta Braves will Celebrate the Legacy and highlight Henry Louis "Hank" Aaron's impact as an executive and entrepreneur with a pre-game ceremony and commemorative in-game content, including Braves players sharing what Hank Aaron means to them.
The first 15,000 fans through the gates will receive a Hank Aaron 'Barrier Breakers' figure presented by Delta Air Lines. This is the second figurine in the 'Breaking Barriers' series, following the Jackie Robinson figure giveaway on April 22.
Saturday, May 7 – Atlanta Braves vs. Milwaukee Brewers 7:20pm
The Braves will spotlight the impact of the Henry Louis Aaron Fund, which helps further Aaron's lifelong mission to create access and opportunities in sports, business, education, and social and racial equality.  The initial Henry Louis Aaron Fund grant recipients will be recognized, including Focused Community Strategies Entrepreneurship Center, a projected 17-space affordable small business incubator in South Atlanta, and the baseball program at Piney Woods School in Rankin County, Mississippi.
On Friday and Saturday, the Braves will wear the iconic '74 throwback jerseys that Aaron wore when breaking Babe Ruth's home run record. Proceeds from the Atlanta Braves Foundation's 50/50 Raffle during Friday and Saturday's games will benefit the Henry Louis Aaron Fund to continue to support the growth of diversity in baseball, on and off the field. The sold-out Hank Aaron Ticket Package includes a replica Hank Aaron jersey shirt and a $7.55 donation to the Henry Louis Aaron Fund.
44 hand-painted Hank Aaron inspired bats created by local Atlanta Black artists will be auctioned off in the Delta Club May 6-7 and at www.braves.com/buynow beginning on Monday, May 2. Select artists will be in attendance on Friday, May 6 in the Delta Club to discuss their inspiration and designs. Fans will also be able to bid on the game-worn 1974 throwback jerseys from Hank Aaron Week. The Jerseys Off Our Backs Online Auction will be available for bidding at www.braves.com/charityauctions, May 6-31. Proceeds from both auctions will benefit the Henry Louis Aaron Fund.
---
Sources Atlanta Braves / MLB