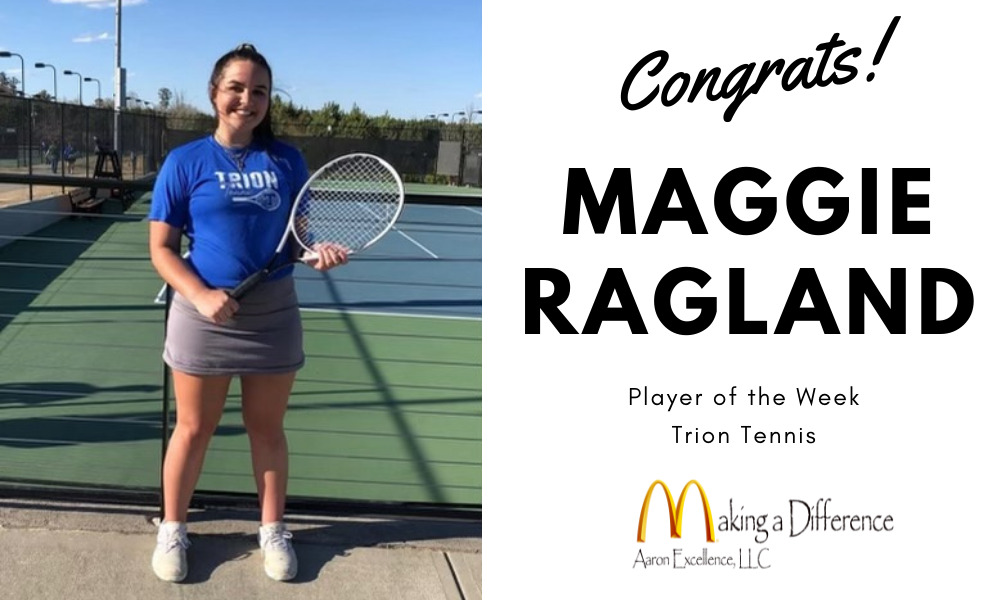 This week's AllOnGeorgia Player of the Week honors brought to you by Jim Aaron's Summerville McDonalds goes to Maggie Ragland of Trion Tennis.
Ragland's performance in the Final Four match against Seminole County punched the ticket for the Lady Bulldogs to advance to the GHSA State Final Match. Trion Tennis Coach Tim Gillespie said her performance was 'gutsy'.
"She came back from losing her first set to take the second set and force a third. Her match was back and forth the whole way. She was tied 3-3 in the third set and had just finished a long a grueling game," Coach Gillespie said. "She looked totally exhausted, but she managed to find another gear and finished strong by taking the last three games and winning 6-3 in the third to clinch the trip to the Finals for the Lady Dogs. I cannot say enough good things about the way she played. She was tenacious on the court and absolutely refused to lose. She is very deserving of Player of the week!"
About Maggie:
Maggie Ragland is 17 years old in the 11th grade and plays first singles.
How many years have you been playing tennis?
Ragland: I've played tennis since I was around nine.
Do you play any other sports?
Ragland: I also play volleyball and do sideline cheer.
Who is your favorite tennis player?
Ragland: My favorite tennis player has always been Serena Williams.
Finish this sentence "In ten years I will be….."
Ragland: In ten years I hope to have graduated medical school with my MD from Vanderbilt.
Do you have any special talents or hobbies? What is something most people do not know about you?
Ragland: As for hobbies I like to travel a lot, and I like going kayaking in the summer. Something most people probably don't know about me is that I volunteer at Floyd Hospital over the summer.
What is the most important thing you've learned from your coach?
Ragland: The most important thing I've learned from my coach is to "be a goldfish" and remember that you can always come back when you're down.
What's your most memorable moment in high school tennis?
Ragland: My most memorable moment from tennis was definitely this past match when I was coming off the court and hearing how excited everyone was for us to make it to the finals. It was such an amazing feeling to be able to pull through for my teammates.
How do you mentally prepare for the match and what do you tell yourself just before you head onto the court?
Ragland: To mentally prepare for matches, I always remind myself to take it point by point and take a breath before every one.
What's the best thing about your teammates?
Ragland: I love my teammates because we all have so much support for each other no matter who wins or loses and we're each other's biggest cheerleaders.
Favorite class/favorite teacher?
Ragland: My favorite class this year is anatomy, and my favorite teachers are Mrs. Patterson and Mrs. Gillespie.
GPA?
Ragland: I have a 4.0 GPA
Parents?
My parents are Rachel and Randy Ragland.
Trion will play Telfair County at 9 am Saturday at the Rome Tennis Center in the 2022 GHSA State Championship match. "We hope to see as many people there as possible cheering for these ladies to bring home a championship," Coach Gillespie said.
THS Tennis State Championship Match
Saturday, May 14, 2022 @ 9AM
Rome Tennis Courts
Click link to purchase tickets: