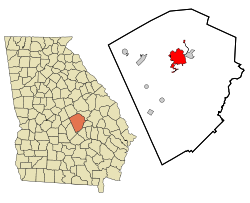 Southern District of Georgia U.S. Attorney Bobby L. Christine on Wednesday credited local, state and federal cooperation with significantly improved safety in the city of Dublin.
During a morning news conference at the Dublin Police Department headquarters, U.S. Attorney Christine said according to the FBI's recently released Uniform Crime Reports data, violent crime has decreased by more than 24 percent in Dublin during the past three years, compared to a national reduction during that period of just 3.5 percent.
"From the federal perspective, we know our role in fighting crime in Dublin is only a small part of the battle," said Christine, who oversees federal prosecutions in the 43 counties of Georgia's Southern District. "The boots on the ground are local law enforcement and prosecutorial partners who live, work, play and worship in this community and have a very direct stake in removing criminals and their influence from their neighborhoods."
In making the announcement Christine credited the decrease in crime to cooperation of all law enforcement and prosecutorial agencies' efforts through the Department of Justice's Project Safe Neighborhoods program that focuses on gun violence, and the Southern District's Prosecutor to Prosecutor (P3) program that coordinates local and federal prosecutions to find the most effective venue for handling criminal cases.
Both programs represent key elements of the newly announced Project Guardian from the Department of Justice, which seeks to combat gun crime through improved coordination of law enforcement and prosecutors at all levels.
Christine's comments were echoed by Brian Ozden, Supervisory Special Agent with the FBI, who also attended the news conference. "In the past year, our joint effort has resulted in the indictment of 13 people on federal charges," Ozden said. "So far, nine of those indicted resulted in guilty pleas, and one was convicted at trial. It has also resulted in the seizure of 11 firearms."
Both Christine and Ozden praised the efforts of Dublin Police Chief Tim Chatman and Dublin Judicial Circuit District Attorney Craig Fraser in their continued work to reduce crime and make the Dublin community safer.