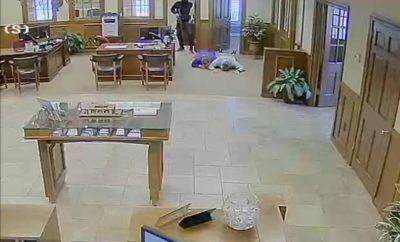 The three gunmen who terrorized employees of the United Bank in Woodbury, Georgia in June of 2018 have each been sentenced to at least a decade in federal prison.

"These defendants chose to rob a bank and in the process terrorized its employees," said U.S. Attorney Byung J. "BJay" Pak.  "Thanks to a quick law enforcement response they lost their getaway car and subsequently their freedom."
"The sentencing of these three men illustrates the FBI's commitment to working with its law enforcement partners to protect our citizens against such violent offenders," said Special Agent in Charge of FBI Atlanta, Chris Hacker. "Hopefully this sentencing sends a message to those contemplating bank robbery that they will be aggressively investigated and prosecuted to the full extent of the law."
"This case is a great example of teamwork. I'm thankful for the assistance of everyone involved, especially our law enforcement partners. We at the Woodbury Police Department are committed to providing a safe community for all who live in or visit. Knowing we have law enforcement partners willing to respond and support us during times like this is comforting. As we work together, we provide a safer community for everyone," said Woodbury Police Chief Smart Web.
According to U.S. Attorney Pak, the charges and other information presented in court:  Shortly after noon on June 28, 2018, a vehicle allegedly driven by Dontavious Prather (whose charges remain pending), pulled up to the United Bank in Woodbury, Georgia and dropped off three masked gunmen: Antavious Bray, Derrick Scott, and D'Asis Sheffield.  Bray, armed with a semi-automatic rifle, ordered two bank employees to lie face down on the floor while he stood over them with the rifle pointed at them.  Meanwhile, Scott and Sheffield, armed with handguns, threatened the teller, forced their way into the bank vault, and filled their backpacks with cash.  The three gunmen then fled from the bank through a back door.
As they left the bank, Bray, Scott, and Sheffield discovered that their getaway driver had quickly left the scene without them because of the quick response of the Woodbury Police Department.  At that point, the three gunmen fled on foot into a nearby wooded area. Within hours, FBI agents had captured Bray and Scott, who had broken into a nearby home to use as a hiding place.
Sheffield remained unidentified and at large until local news stations played a video clip of him walking through the backyard of a residence near the bank shortly after the robbery.  Several tipsters identified Sheffield, and the FBI arrested him shortly thereafter.  DNA evidence also confirmed that Sheffield was the third gunman.
Bray, Scott, and Sheffield each pleaded guilty to conspiracy to commit Hobbs Act robbery and brandishing a firearm during a crime of violence.
Antavious Bray, 31, of Greenville, Georgia, was sentenced to 12 years, 10 months in prison, and five years of supervised release.
Derrick Scott, 27, of Manchester, Georgia, was sentenced to 12 years, 10 months in prison, and five years of supervised release.
D'Asis Sheffield, 21, of Greenville, Georgia, was sentenced to 10 years in prison, and five years of supervised release.  All three men were also ordered to pay full restitution to the victims.
Dontavious Prather, 23, of Greenville, Georgia, pleaded not guilty to a Second Superseding Indictment on December 21, 2018, and his case remains pending in federal court.  Members of the public are reminded that the indictment against Prather only contains charges.  The defendant is presumed innocent of the charges, and it will be the government's burden to prove the defendant's guilt beyond a reasonable doubt at trial.
The Federal Bureau of Investigation investigated this case.
Assistant U.S. Attorneys Bret R. Hobson and Miguel R. Acosta prosecuted the case.
This case was bought as a part of the Project Safe Neighborhoods (PSN).  In keeping with the Attorney Generals mission to reduce violent crime, the Northern District of Georgia's PSN program focuses on prosecuting those individuals who most significantly drive violence in our communities, and supports and fosters partnerships between law enforcement and schools, the faith community, and local community leaders to prevent and deter future criminal conduct.