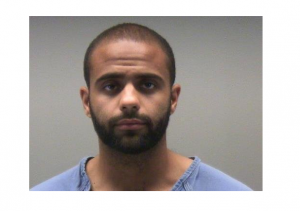 A man who was friends with the Dayton, OH shooter who killed nine people and injured 17 others has pleaded guilty to an accompanying crime.
Ethan Kollie, 24, of Kettering, a friend of shooter Connor Betts, pleaded guilty in U.S. District Court on Wednesday to illegally possessing firearms and lying on federal firearms form 4473.
As part of his guilty plea, Kollie acknowledged lying on a United States Bureau of Alcohol, Tabacco, Firearms and Explosives (ATF) Form 4473 when purchasing a micro Draco pistol, specifically while answering question 11e that asks, "Are you an unlawful user of, or addicted to, marijuana or any depressant, stimulant, narcotic drug, or any other controlled substance?"
Authorities had previously stated that Kollie assisted Betts in obtaining body armor, a 100-round drum, and an upper receiver for the weapon. They also said Kollie helped Betts assemble it and stored the weapon at his apartment so Betts' parents would not find the items. Kollie, however, was not believed to be aware of Betts' plan.
According to the press release from the US Department of Justice:
Kollie checked the "no" box, when in fact he knew he was an unlawful user of marijuana and psychedelic mushrooms. Kollie answered falsely because he knew he would not be able to obtain the micro Draco pistol if he answered truthfully. 
During searches of Kollie and his residence following the Aug. 4 shooting, law enforcement officers recovered the micro Draco pistol, which was loaded with 30 rounds of ammunition, marijuana, psychedelic mushrooms, additional weapons, ammunition, drug paraphernalia and psychedelic mushroom grow equipment.
Kollie illegally possessed at various times four firearms in total, namely, the micro Draco pistol, a 9mm handgun, a 38 Special revolver, and an AR-15 rifle. The micro Draco pistol and the AR-15 are both semi-automatic weapons and could accept more than 15 rounds of ammunition.
Possessing a firearm as an unlawful user of a controlled substance is a federal crime punishable by up to 10 years in prison. Making a false statement regarding firearms carries a potential maximum sentence of up to five years' imprisonment. Congress sets the maximum statutory sentence. Sentencing of the defendant will be determined by the Court based on the advisory sentencing guidelines and other statutory factors.
Sentencing is scheduled for February 20, 2020.
Connor Betts, then 24, opened fire at a bar in Dayton with an AR-15 in August of this year. He was killed by police, reportedly within 32 seconds of the first shots.
David M. DeVillers, United States Attorney for the Southern District of Ohio; Joseph M. Deters, Acting Special Agent in Charge, Federal Bureau of Investigation (FBI), Cincinnati Division; Jonathan McPherson, Special Agent in Charge, U.S. Bureau of Alcohol, Tobacco, Firearms and Explosives (ATF); and Dayton Police Chief Richard S. Biehl, announced the plea entered into today before Senior U.S. District Judge Thomas M. Rose. First Assistant United States Attorney Vipal J. Patel and Deputy Criminal Chief Dominick S. Gerace are representing the United States in this case.