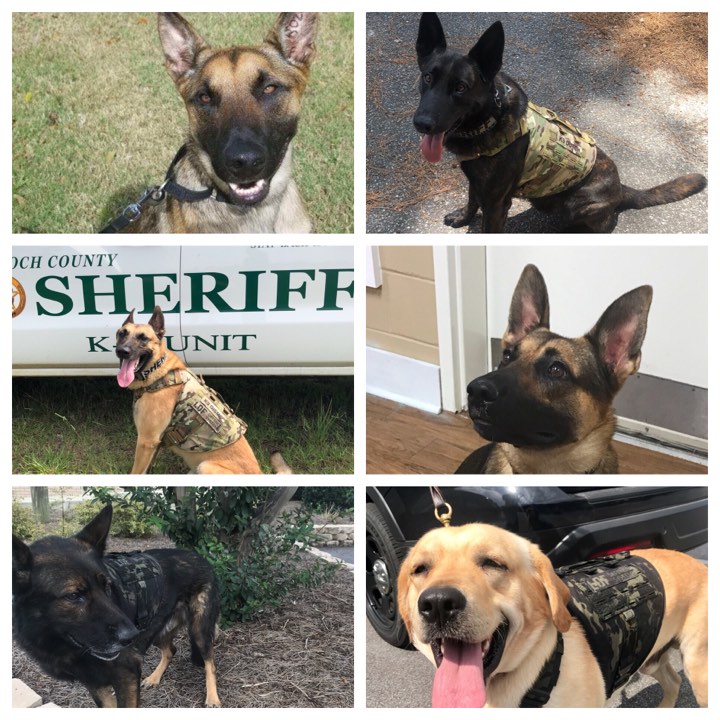 The Georgia Police K9 Foundation has big news about the county it calls home.

The nonprofit launched in Bulloch County recently announced that four local K9 officers have received new protective vests and two more are on the way.
K9 Mono and K9 Rio, both of the Statesboro Police Department, and K9 Gismo and K9 Dutch, both of the Bulloch County Sheriff's Office have each received their own LOF K9 StreetFighter vest. All four K9s are trained in detecting the odors of narcotics. K9 Gismo and K9 Dutch are trained additionally in tracking and apprehension.
The group says K9 Pike of the Bulloch County Sheriff's Office will be receiving his LOF vest in a few weeks and K9 Rocky of the Georgia Southern University will be equipped with a vest as well. The total value of the vests is over $5,000.
"The Georgia Police K9 Foundation could not be more excited knowing we have assisted in the protection of our K9 officers against work related injuries, or worse yet, death. K9 Mono, K9 Gismo and K9 Dutch's vests were sponsored by Susan Mack and the Prissy and Andy Armstrong Foundation. K9 Rios vest was sponsored by LOF due to the work the Georgia Police K9 Foundations founder and handler of K9 Rio does throughout the State of Georgia."
These bulletproof vests shield the vital organs, but are especially lightweight and protect law enforcement K9s while limiting potential for overheating. The fabric helps regulate the K9's body temperature and can be worn for an entire shift, if necessary.
The organization said in a news release that the lightweight vests keep K9s from becoming exhausted, especially when heat indexes in South Georgia can top 100 degrees.  "Keeping a K9s body temperature down is crucial while they are working to avoid heat exhaustion or even a heat stroke."
The Georgia Police K9 Foundation was founded back in 2016 by Statesboro Police Department Corporal Kyle Briley, who is an active law enforcement K9 handler. Since the creation, the foundation has assisted over 300 K9s across Georgia in various ways. Locally, more than $50,000 worth of protective and training equipment has been invested in law enforcement K9s, including heat alarms, narcan, medical kits, and vests. Two retired K9s from the area have also received financial assistance to offset medical costs.
The Georgia Police K9 Foundation (GPK9F) is an all Volunteer 501(c)3 non-profit and all donations are tax deductible. The main focus is to raise awareness across Georgia regarding the contributions made by the police K9s, how they make communities safer, and even save lives.
"We ask these four-legged heroes to face situations most people would not.  Not only do law enforcement K9s assist by enforcing the laws, but also assist with locating a missing child or elderly person," the organization said in a press release. "As a foundation, we want to thank each sponsor, donor and supporter of our mission."
If you are interested in helping the foundation, you can visit the Georgia Police K9 Foundation website or mail a check to:
Georgia Police K9 Foundation
28 East Main Street
Statesboro, Georgia 30458.