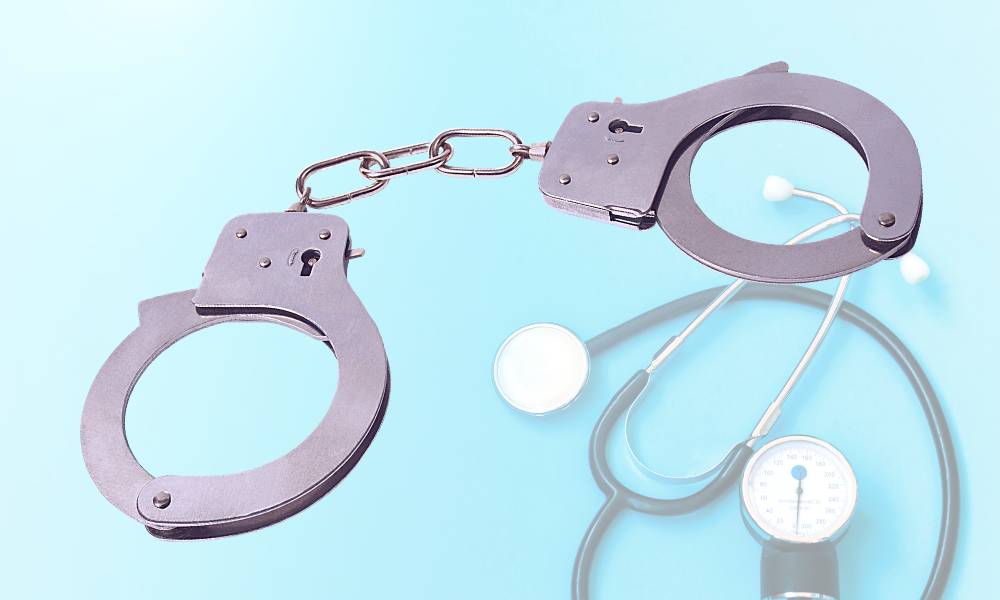 Acting Assistant Attorney General Brian C. Rabbitt of the Justice Department's Criminal Division, Assistant Director Calvin Shivers of the FBI's Criminal Investigative Division, Deputy Inspector General Gary Cantrell of the Department of Health and Human Services Office of Inspector General (HHS-OIG) and Assistant Administrator Tim McDermott of the Drug Enforcement Administration (DEA) today announced a historic nationwide enforcement action involving 345 charged defendants across 51 federal districts, including more than 100 doctors, nurses, and other licensed medical professionals.

These defendants have been charged with submitting more than $6 billion in false and fraudulent claims to federal health care programs and private insurers, including more than $4.5 billion connected to telemedicine, more than $845 million connected to substance abuse treatment facilities, or "sober homes," and more than $806 million connected to other health care fraud and illegal opioid distribution schemes across the country.
The largest amount of alleged fraud loss charged in connection with the cases announced today – $4.5 billion in allegedly false and fraudulent claims submitted by more than 86 criminal defendants in 19 judicial districts – relates to schemes involving telemedicine:  the use of telecommunications to provide health care services remotely.
According to court documents, certain defendant telemedicine executives allegedly paid doctors and nurse practitioners to order unnecessary durable medical equipment, genetic and other diagnostic testing, and pain medications, either without any patient interaction or with only a brief telephonic conversation with patients they had never met or seen.  Durable medical equipment companies, genetic testing laboratories, and pharmacies then purchased those orders in exchange for illegal kickbacks and bribes and submitted false and fraudulent claims to Medicare and other government insurers.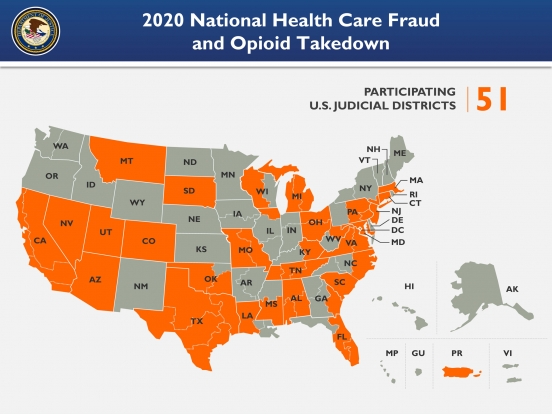 The continued focus on prosecuting health care fraud schemes involving telemedicine builds on the efforts and impact of the 2019 "Operation Brace Yourself" Telemedicine and Durable Medical Equipment Takedown, which resulted in an estimated cost avoidance of more than $1.5 billion in the amount paid by Medicare for orthotic braces in the 17 months following that takedown.
The  enforcement actions were led and coordinated by the Criminal Division, Fraud Section's Health Care Fraud Unit, in conjunction with its Health Care Fraud and Appalachian Regional Prescription Opioid (ARPO) Strike Force program, and its core partners, the U.S. Attorneys' Offices, HHS-OIG, FBI, and DEA, as part of the department's ongoing efforts to combat the devastating effects of health care fraud and the opioid epidemic. The cases announced today are being prosecuted by Health Care Fraud and ARPO Strike Force teams from the Criminal Division's Fraud Section, along with 43 U.S. Attorneys' Offices nationwide, and agents from HHS-OIG, FBI, DEA, and other various federal and state law enforcement agencies.
Prior to the charges announced as part of today's nationwide enforcement action and since its inception in March 2007, the Health Care Fraud Strike Force program had charged more than 4,200 defendants who have collectively billed the Medicare program for approximately $19 billion.
"The FBI and its law enforcement partners are determined to expose those who commit healthcare fraud." said Special Agent in Charge of FBI Tampa Division Michael F. McPherson. "We are all victims of this crime when federal healthcare programs that taxpayers fund are cheated."
"We will continue to hold medical professionals accountable for the great responsibility with which they have been entrusted, said Omar Pérez Aybar, Special Agent in Charge of the Department of Health and Human Services, Office of Inspector General. "There are no shortcuts when it comes to patient care."
David Spilker, Special Agent in Charge at the VA Office of Inspector General stated, "The continued oversight of medical professionals who provide community care to veterans—our nation's heroes—safeguards the integrity of VA's healthcare programs. The VA OIG will continue to work with our law enforcement partners to hold providers who fraudulently bill CHAMPVA responsible for their unlawful conduct."