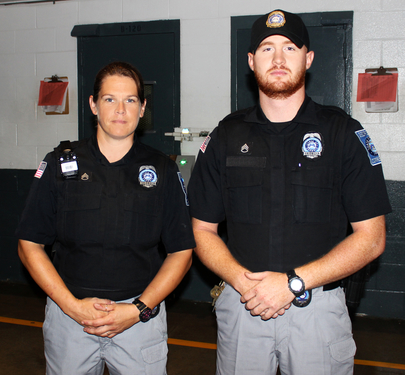 State agency says "New Look, Same Committment"
The Georgia Department of Corrections is showing off their new uniforms for agency Correctional Officers.
The new uniforms were unveiled Wednesday via social media and the 5,500 officers around the state debuted the new looks the same day.
The Department of Corrections says the new uniforms are part of a commitment to staff, but also part of efforts to enhance security.  The uniforms were designed to be cooler and to provide a more streamlined process for Officers as they enter the facility.
"The new uniform has been a priority of the agency and I am proud to see it come to fruition," Timothy C. Ward, Commissioner of the Georgia Department of Corrections, said in a press release. "Our dedicated Correctional Staff work hard and they deserve to have a new look that matches their excellence, and we are excited to be able to announce the new uniforms while we are celebrating National Correctional Officers Week."
A team of correctional officers conducted research on several designs, taking many factors into consideration such as durability, comfort and breathability.  Staff were able to field test the designs prior to recommending the final uniform, which includes a polo-style shirt with the GDC logo and rank patches, and tactical cargo pants.