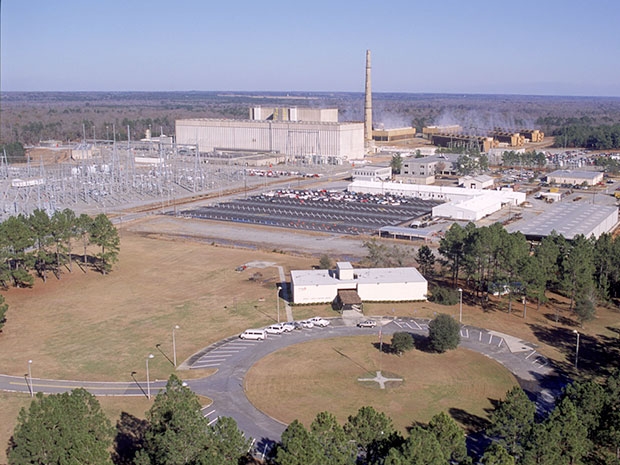 Georgia is home to two nuclear power facilities and 75 counties are within 50 miles of a nuclear facility. To ensure the state is ready to respond if a radiological emergency occurred, the Georgia Emergency Management and Homeland Security Agency's Radiological Emergency Preparedness Program (REP) held a multi-agency tabletop exercise at the State Operations Center today.
While the potential release of radiation is an unlikely scenario, the members of the REP team prepare year-round, working closely with the utility companies, state and federal agencies to ensure they can provide any necessary resources while keeping the public informed. The immediate concern in a radiological incident is the possibility of exposure of residents to excessive levels of radiation,  and that concern is at the forefront of every REP exercise.
"When you say the word radiation, it tends to frighten people," said Jeff Morrison, REP Program Manager for GEMA/HS. "People don't really understand exactly how it can impact them, so it's important that we're prepared to take steps to protect and inform the public to reduce any potential impacts they would experience if there was a radiological event. Exercises like this help ensure we're ready to do exactly that."
As part of the exercise, participants were informed of the responsibilities of every emergency support function in the State Operations Center and had the opportunity to ask questions about how each function responds to a radiological incident. Incidents can range from minor irregularities to catastrophic events, and the severity of the event drives the level of response by the state.
Having the chance to hear from each group about exactly what they do to respond to a radiological emergency was an eye-opener for some participants like Larry Barnes, the Assistant State Maintenance Engineer for Emergency Operations with the Georgia Department of Transportation, who had never participated in a REP exercise before.
"It was good to hear what other agencies are doing and how we overlap and impact each other on our response plans," said Barnes. "We also had the chance to meet other key stakeholders that make the decisions for the response, and hear what those entities are doing to keep people safe if there were a radiological event."
Barnes also said that the exercise helped GDOT identify some areas for improvement and some potential areas of collaboration with other state agencies.
"The goal was for people to leave here today having learned something new, and I think we accomplished that," said Morrison. "This was only the first step in a continuing process to enhance REP response capability across the state."