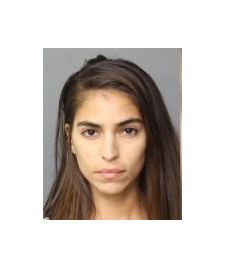 A former 'American Idol' contestant was sentenced last week to 45 months in prison for possessing with intent to distribute 400 grams or more of fentanyl.
According to court documents, Antonella Maria Barba, 32, of Point Pleasant, New Jersey, was parked in downtown Norfolk at approximately 11:05 p.m. in October 2018, when she was approached by law enforcement. A dog handler screened Barba's rental vehicle with a drug dog, which alerted on the vehicle. The canine officer searched Barba's rental vehicle and discovered a closed shoebox in plain view on the front passenger floorboard. The officer opened the shoebox and discovered a plastic bag containing a large quantity of a white, rock-like substance. Barba subsequently admitted she had landed at Washington-Dulles at around 4:00 p.m. on a flight from Los Angeles, and that she rented a car there and drove to Norfolk. The substance seized from Barba's rental car was submitted to the U.S. Customs and Border Protection Savannah Laboratory for forensic analysis, where a forensic scientist determined the substance to be fentanyl, a Schedule II controlled substance, with a total weight of 830.9 grams.
G. Zachary Terwilliger, U.S. Attorney for the Eastern District of Virginia, and Jim Stitzel, Assistant Special Agent in Charge of U.S. Immigration and Customs Enforcement's (ICE) Homeland Security Investigations (HSI) Norfolk, made the announcement after sentencing by U.S. District Judge Arenda Wright Allen. Assistant U.S. Attorney Darryl J. Mitchell prosecuted the case.
The Norfolk Police Department, the Virginia Beach Police Department, as well as the Chesapeake Sheriff's Office and the Portsmouth Sheriff's Office had active roles in this investigation.
Related court documents and information are located on the website of the District Court for the Eastern District of Virginia or on PACER by searching for Case No. 2:18-cr-158-2.