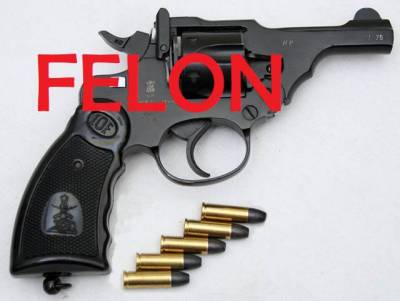 A felon with eight prior convictions, caught running an underground illegal gun trade while out on parole, was sentenced to 210 months in prison, said U.S. Attorney Charles "Charlie" Peeler.
There is no parole in the federal system. Ronnie Lee Hughes, 39, of Griffin, Georgia was sentenced on Wednesday, November 20, 2019 by U.S. District Judge Marc Treadwell to 210 months of imprisonment and five years supervised release. Defendant Hughes was found guilty of possession of a firearm by a convicted felon by a federal jury on July 17, 2019. Defendant Hughes has eight prior felony state convictions beginning in 1999, including four separate entering auto convictions, three separate burglary convictions and one theft by taking conviction. His past crimes occurred in Upson, Laurens, Pike and Monroe counties, all charged in Superior Court. His last conviction was in Monroe County Superior Court in December 2008 for burglary. Defendant Hughes was on parole when he was taken into custody by Lamar County deputies on August 31, 2016, arrested during an undercover operation into his illegal gun trade.
"The penalty is steep for convicted felons found with guns in Middle Georgia," said U.S. Attorney Charlie Peeler. "Stopping the underground illegal gun trade is crucial in our efforts to remove guns from dangerous persons and decrease violent crime in our communities. We are working closely with our law enforcement partners to investigate and arrest felons with guns, and we will continue to prosecute these offenders."
A Confidential Informant (CI) told Lamar County deputies that Mr. Hughes, a convicted felon on parole, was selling guns. Lamar County deputies worked with the CI to set up a meeting on August 31, 2016, with the intent of the CI to arrange a purchase of the guns from Mr. Hughes. In one conversation between the CI and Mr. Hughes, the defendant warned that the buyer arranged by the CI "better not be a cop" because he was a convicted felon and it was illegal for him to sell guns. At the appointed time and place for the sale, Lamar County deputies met Mr. Hughes and took him into custody, seizing four weapons and ammunition.
This prosecution is a part of Project Safe Neighborhoods, the centerpiece of the Department of Justice's violent crime reduction efforts.  PSN is an evidence-based program proven to be effective at reducing violent crime. Through PSN, a broad spectrum of stakeholders work together to identify the most pressing violent crime problems in the community and develop comprehensive solutions to address them.  As part of this strategy, PSN focuses enforcement efforts on the most violent offenders and partners with locally based prevention and reentry programs for lasting reductions in crime.
The case was investigated by the Lamar County Sheriff's Department and the Federal Bureau of Alcohol, Tobacco, Firearms, and Explosives. Assistant U.S. Attorneys William Keyes and Paul McCommon are prosecuting the case for the Government.